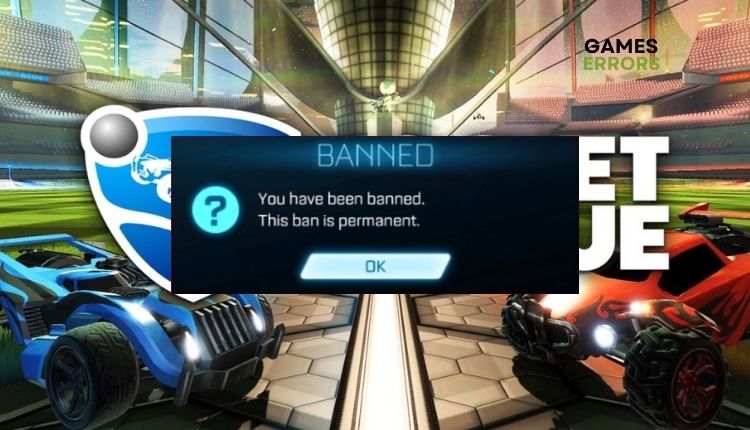 How to Get Unbanned From Rocket League – Quick Tips
If you're guilty but regret it, we'll help you get unbanned from Rocket League. 😁
X
INSTALL BY CLICKING THE DOWNLOAD FILE
Rocket League is a hybrid sports game, simple and addictive, ideal for relaxing with friends in multiplayer mode. But what if you get banned from Rocket League and can't continue playing temporarily or permanently? In most cases, you won't get banned for no good reason because there are some rules or regulations that you accidentally or intentionally broke. Of course, there is also the possibility that your account has been banned by mistake. The easiest way to get unbanned from Rocket League is to contact Epic but keep in mind that it can take a long time, and you may never get a reply from them. This article will explain why you can get banned and how to get unbanned from Rocket League.
Why do I get banned from Rocket League?
You can get banned from Rocket League if you have violated some of the rules, regulations, and behaviors required by the game. This is usually due to toxic behavior towards opponents, sharing accounts with others, selling someone else's account or items outside the game, harassing teammates, using bots and cheats, etc. Players do all of the above because of the desire for quick success in the game or material gain. Of course, you can get banned by mistake, but that is a rarer case.
How do I get unbanned from Rocket League?
Getting unbanned from Rocket League also depends on your behavior because if you continue as before, you will get banned again. We will note here that we distance ourselves from your behavior, including hate speech, racism, sexual insults, various threats, etc., because there is no way you will get unbanned from Rocket League again. On the other hand, if your offenses are milder, such as cheating or some negative behavior you have not done before, there is a chance that you can get unbanned from the game. You can do this in the following ways:
1. Appeal your ban to Epic
So, if you feel you've been banned from Rocket League by mistake or your offense is minor, file a complaint with Epic's support page (now they own the game). Do the following:
1. Log in to your account.
2. Click on the CONTACT US button.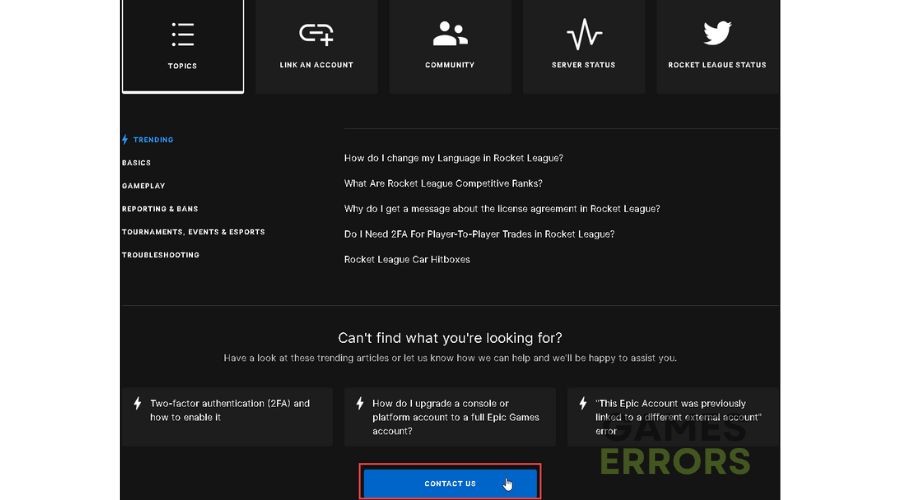 3. Input relevant subjects, such as "Why Have I Been Banned in Rocket League."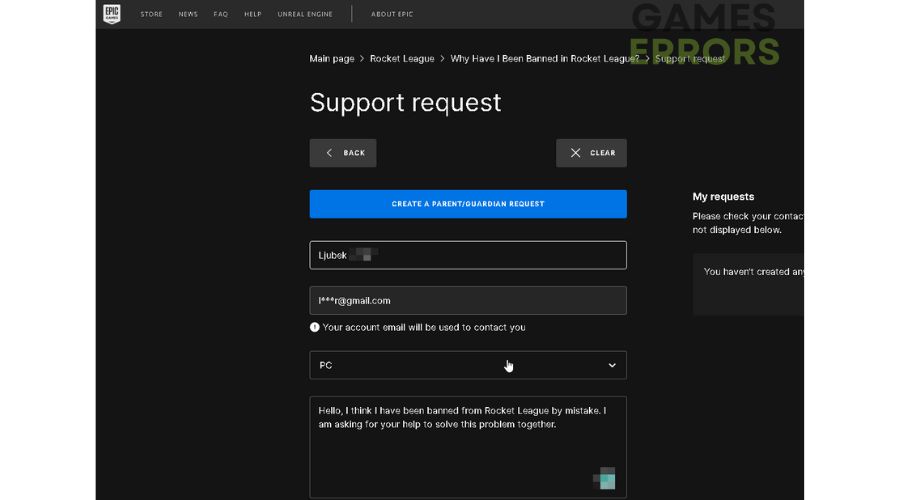 4. In the field to describe your problem, kindly and politely explain why you think the ban is unjustified. Attach screenshots, audio recordings, or video recordings in your defense if necessary.
5. Double-check that you have filled out and explained everything correctly. When you are sure everything is OK, press the SUBMIT button below the form, and your complaint will be sent to support for consideration.
6. It may take some time for them to decide on your appeal, but there is no guarantee that they will consider it or reply to your mail.
2. Wait for the ban to expire
Do you have plenty of time? The second solution is to wait to get unbanned in Rocket League. The ban can last seven days or more if your violation isn't so terrible. When the ban expires, you will be able to continue the game. The length of the ban also depends on your behavior and whether you have violated the game's rules more than once. Then the ban could be permanent, and you are left with nothing but the last option: to use a VPN service.
3. Use a VPN
Time needed: 5 minutes
A VPN service is the last option if you have received a unban rejection or don't have the patience to wait for a response to your appeal. Unfortunately, you must create a new account, but it's a small sacrifice if you want to continue playing Rocket League at all costs.
Uninstall Rocket League

Carefully delete all game data on your computer (such as cache and all associated folders).

Install VPN

We recommend installing ExpressVPN as it is a reliable, fast, secure VPN service. You can connect to a VPN server location in one of 94 countries to reduce ping and latency while playing online.

Log in to your VPN account

Connect to a VPN server outside your home country to get a new IP address.

Create a new Rocket League account

Choose your new account to have a different username and email address than the old one that was banned.

Launch Rocket League

Since you have successfully registered via VPN and have a new IP address, you are now unbanned from Rocket League.
Related articles:
Conclusion
Based on our tips, we hope you have successfully gotten unbanned from Rocket League. Don't hesitate to leave a comment if you still haven't succeeded or have a different solution.