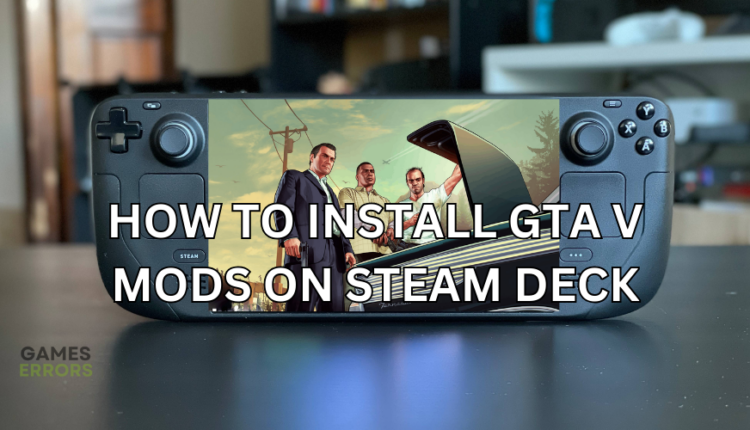 How to Install GTA V Mods on Steam Deck [A Detailed Guide]
Installing mods on Steam Deck may be complex, but we have simplified it in this troubleshooting guide 😉.
Do you want to know how to install GTA V mods on Steam Deck? Installing GTA V mods on your Steam Deck is not as straightforward as installing them on a PC. One wrong move and the mods won't work, or they can corrupt your original game.
Luckily, this guide will outline how to install GTA V mods on Steam Deck. It may seem complex at first, but if you follow this guide step by step, you won't encounter difficulties.
Why install GTA V mods on your Steam Deck?
Mods contain objects, characters, and cars that you can add to your original game to make it more entertaining. Some gamers prefer playing GTA V with specific themes, which may not be available in the original version. In this case, they must download and install different mods to cater to their needs. This way, they can customize the game's visual appearance to suit their taste.
So, if you want to make visual changes to your character's appearance, include unique content, and make infrastructural changes, you must install mods on your Steam Deck. It's essential to note that installing mods is not a must. It's a personal preference that makes GTA V theme-specific and more visually appealing and fun for gamers.
How to install GTA V mods on Steam Deck?
Time needed: 3 minutes
To install GTA V mods on Steam Deck, follow these steps:
Download ScriptHookV

First, download ScriptHookV on your Steam Deck.

Unzip file

After downloading the folder, unzip and open it. You'll see a folder labeled BIN. Double-click to open it. It should contain three files.

Delete file

Delete the file named nativetrainer.asi from the three files. Select it and press delete on your keyboard. You can also empty your recycle bin to ensure you delete the file completely from your PC.

Move other folders

Move the remaining two folders from their current location to the GTA V folder in the SteamApps folder.

Download trainer mod

Next, download the trainer mode you'd like to use. We recommend downloading Enhanced Native Trainer. Drag this folder and drop it in the SteamApps (GTAV) folder with the other two folders you moved.

Modify launch option

Now, before running GTA V, modify the launch options. Paste the following command into GTA V game launch options: WINEDLLOVERRIDES=" dinput8.dll=n,b" %command%. But this will only work if the game is installed in your Steam Deck memory.
If you installed it on the SD card, past the following command: STEAM_COMPAT_MOUNTS=/run/media/mmcblk0p1 WINEDLLOVERRIDES=" dinput8=n,b" %command%

Download mods

Now, you've installed the script that allows you to download mods on your Steam Deck. You can now download your preferred mods and install them.
What mods can you install on Steam Deck?
Now that you have the script for installing mods on your Steam Deck, you're free to download and install any mods to suit your preferences and tastes. However, we recommend only downloading mods from legitimate websites. While mods are a great way to make a game fun, many hackers create malicious mods that may corrupt your game files and trigger crashing issues.
To avoid such issues, download mods from trusted websites. This way, you can play these mods without any problems. Some of the mods you can install on your Steam Deck include:
GTA V TRuck Simulator: This mod allows you to drive Euro Trucks.
ATM Robberies and Bank Heists: This mode is ideal for gamers who want to rob banks and ATMs and perform heists.
Vice City Overhaul: This mod allows you to visit Vice City and even play as Tommy Vercetti.
Spiderman Mod: This mod allows you to become Spiderman and jump from building while shooting webs.
Two-Player Mod: This allows you to play with a friend or teammate.
Related articles:
Final Thoughts
Installing mods on your Steam Deck may not be as straightforward as installing them on a PC, but if you follow our guide, you'll have them on your Steam Deck in no time. Remember always to get mods from trusted websites to ensure they work correctly on your Steam Deck.