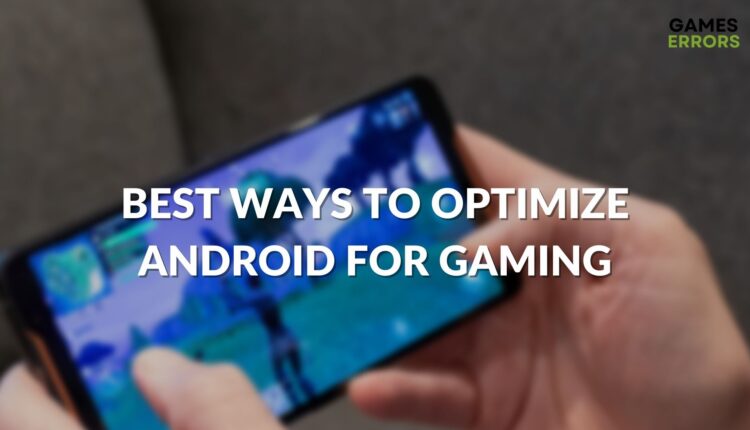 How to Optimize Android for Gaming: Easy Actions
Check out our effective tips on how to optimize Android phones for gaming 📱
X
INSTALL BY CLICKING THE DOWNLOAD FILE
Android games are becoming popular nowadays, especially among teenagers everywhere. But the Android games are coming with several lagging problems like battery and drainage problems. Yet, we can show you how to optimize your phone for gaming. 
In any case, there are many players that can't or don't have the resources to improve gaming performance on Android devices.
To overcome such issues and make your game perform better, we come up with some simple tricks that will describe how to optimize Android for gaming in detail.
Therefore, with this guide, we aim to make you fully understand how to improve gaming performance on Android devices with intuitive steps. 
How do I completely optimize my Android phone?
1. Enable the Android Developer option
To make your game perform better on Android mobiles, the most important thing you need to enable is the Developer settings of your mobiles. 
Here is how to improve gaming performance on Android by Developer options:
To open the developer mode, open Settings and select About Phone. (In an Android device, the developer mode is hidden).
Now, you will be able to see the Build number on your mobile screen. Top on the Build Number 7 times.
By clicking on the Build Number, your Developer option will be enabled. Now, go to the developer option and search for the Force 4x MSSA option and enable it.
Now, at last, reboot your phone and the Android Developer option is enabled on your device.
Note: Please note that the given enabling option will drain your phone battery to a larger extent but, along with this, it will surely boost the performance of your device. 
2. Remove unwanted applications
Nowadays, one of the biggest problems behind the poor gaming performance of Android devices is unwanted apps. We install a lot of apps that are not of our use which leads to the lagging of our device.
You should be aware that every app installed on our devices occupies some space and they also run in the background. The whole process results in reducing the speed of the mobile. So, make sure to uninstall the unwanted applications from your device because it will increase your Android performance much better.
3. Update your Android
To optimize your Android for gaming, you must be aware that the latest software update is successfully installed on your device.
If your software is not updated, you must check for the latest update and install it on your device. This is essential because every software updates come with some bug fixes which help in providing greater stability and high performance, and also add new features to your Android device.
You can check for the latest software updates for your device under the About Phone option in the settings of your Android device.
4. Turn off background services
Background services play a crucial role in reducing the speed of your Android device. Social networking applications such as Facebook, WhatsApp, Gmail, etc. run in the background which makes most of the processors of the phone busy.
These apps use the RAM space and they also drain the battery to a greater extent. That's why modern smartphone companies provide the device with a higher amount of RAM which increases the performance of Android devices.
You can disable the background services of your device manually or you can also select some of the apps.
To do so, you have to start the Android developer options for gaming on your device. And according to your device, you have to search for the Running Services to get to know about the RAM usage of the device.
5. Turn off animations
One of the most likely things in the Android device is the animations that are used in our devices. Animations can be noticed while opening or closing an application on our device while pulling over the notification panel while clicking on the icons of the screen, and many more.
Search for the Developer options in the settings of your device.
Now, go to the Windows Animation Scale.
Change the animation scale to 10x.
The fact that the animations give the user a better experience with the Android device, they also make the Android slower.
If you turn off the animation of your device, your screen will be displayed without animation.
6. Using the gaming performance boost applications
You can also optimize your Android by installing various gaming performance boost apps on the Google Play Store.
These apps can be installed on your device which will help in increasing the quality of the graphics and performance of your device.
Many of the gaming boost applications come with a special feature that will be in action only during playing games on your device or their settings can also be changed manually. 
Gaming has grown significantly and so has its performance requirement these days. Games like Pokémon Go, Jurassic World Alive, or PUBG demand a lot of processing resources from your smartphones. A game booster application would help improvise the distribution of resources.
Conclusion
In the end, these are the most practical tricks that can be used to help in optimizing your Android device for a better gaming experience. More so, in case you're a beginner and need to learn how to play video games better, our guide has valuable advice.
We believe that our solutions will help in making your Android device work more smoothly and save battery stability and life over time.
If you encounter any issues or errors while playing your favorite games and require support, feel free to contact us here. Our team is always ready to assist you and ensure your gaming experience is seamless and enjoyable.