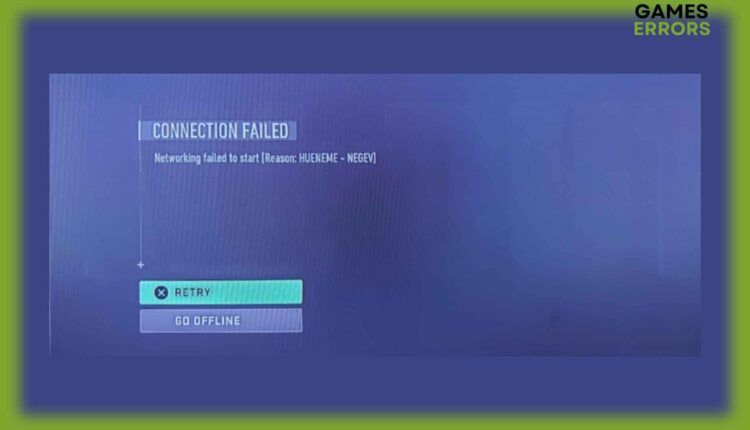 Hueneme Negev in MW2 & Warzone 2: Fixed [PC, Xbox, PS5]
This connection-related error occurs for players on different platforms. You can fix it regardless if you are a PC or console gamer! 💻🎮
X
INSTALL BY CLICKING THE DOWNLOAD FILE
Hueneme Negev error prevents players from connecting to Modern Warfare 2 and Warzone 2 game servers. The error is reported on PC, Xbox, and Play Station 5, so we explored the most common causes and possible solutions.
👾 Another connection error some players experience is the Hueneme Concord error.
Why do I get Hueneme Negev error?
You may wonder: 'What does Hueneme Negev mean on MW2/Warzone 2?'. You get Hueneme Negev errors due to faulty network settings, problems with your ISP, unreliable DNS, outdated network drivers, or other connection-related problems. Another possible scenario is that Activision servers are not working, so checking it before troubleshooting problems on your device is a good idea.
How to fix Hueneme Negev error in MW2 & Warzone 2?
Start with applying the following easy fixes:
Check if Activision servers are up and running. If so, continue troubleshooting since the problem is on your side.
Restart your internet modem or router.
Contact your ISP and ask them to check if everything is okay with your internet connection.
Try connecting with a different wireless or wired connection. (You can try using a mobile hotspot.)
If this doesn't remove the Hueneme Negev error for you, proceed with the solutions below.
1. Use Google DNS
Time needed: 3 minutes.
Many Reddit users removed the Hueneme Negev MW2 error after manually setting their DNS addresses to the ones provided by Google.
Use the Windows Key + R shortcut to open the Run dialog, type control, and hit OK.

Choose View network status and tasks under the Network and internet section.

Click on the Change adapter settings in the panel on the left.

Right-click your internet network and select Properties.

The green signal icon marks wireless, and the cable icon marks wired network.

Double-click Internet Protocol Version 4 (TCP/IPv4).

Enable manual DNS server addresses and type 8.8.8.8 for the Preferred DNS server and 8.8.4.4 for the Alternate DNS server.

Press the OK button and restart the PC.
2. Update the network driver
If your PC has an outdated network driver, it will prevent it from properly communicating with your local network and the internet. To avoid such problems, keep your drivers updated regularly.
Click the Windows icon, type Device Manager, find it under Best match, and click to open.

Double-click on the Network adapters.

Right-click on the network adapter you use for the internet connection and select the Update driver option.

Choose the Search automatically for drivers option in the Update Driver Wizard.
The Wizard will look for suitable drivers and prompt you with steps for installation if they are found.
Restart your PC.
If the Update Driver Wizard fails to find suitable driver updates, we advise you to use DriverFix to double-check if any updates are available. This tool will perform an additional search, with the possibility to manage and update all necessary drivers for your PC.
3. Use a VPN
Using a VPN can solve a network failed-to-start error in Modern Warfare 2 & Warzone 2 by providing a secure and alternative connection that bypasses any network or firewall restrictions causing the error. Here is how you do it:
Log out from your Steam or Batlle.net account.
Connect the VPN to the dedicated country server.
2.1. Download and install ExpressVPN.
2.2. Open the app and click three dots near the current location.
2.3. Write Canada (the most recommended server for MW2 & Warzone 2).
2.4. Click on Canada, and you will be connected to VPN.

Log back into your Steam or Battle.net account.
4. Disable Teredo
Teredo is an IPv6 tunneling protocol known for causing Hueneme Negev errors in MW2 and Warzone 2. This built-in Windows feature can be disabled in a few easy steps.
Click on the Windows icon and type Command Prompt.
Right-click Command Prompt under Best match, and select the Run as administrator option.

Type the following command and hit Enter on your keyboard.
netsh interface teredo set state disabled
Restart your PC to apply the changes.
👉 If you want to re-enable Teredo, open the Command Prompt and type netsh interface teredo set state type=default and hit Enter.
5. Change the account address
You can try changing your account address using an Activision account to play Call of Duty. This should be done only if the address is incorrect, as an incorrect address can cause connection errors.
Head to the Activision home page.
Click on the Login button in the top right corner.

Type in your email address and password, check the I'm not a robot checkbox, and click Sign In.

Click on the Profile button in the top right corner.
Select Basic Info from the left panel and click the Edit button next to the Address label.

Update your information and hit the Save button.
🎮 How to fix Hueneme Negev Xbox?
Reconnect Xbox to Wifi: Navigate to Settings, find General, and open Network settings. Disconnect from your WiFi network and connect again.
Manually restart Xbox: Hold the power button on your Xbox until it turns off completely, wait a few minutes, and turn it back on.
Clear MAC address: From Network settings, navigate to the Advanced Network Settings and open the Alternative Mac Address. Once there, hit the Clear button.
Update your Xbox: Navigate to Settings, open System, and then Updates. If your console software is outdated, you will see the Console update available message.
🕹️ How to fix Hueneme Negev PS5?
Restart PS5: Turn off your PS5, wait a few minutes, and then turn it back on.
Clear the PS5 cache: Turn off your PS5, open the Safe Mode, and find Rebuild Database & Clear Cache option.
Whitelist or unblock your PS5: Head to the admin panel of your network device, find Device Management or MAC Address Filtering menu, and remove your PS5 from the list of blocked devices.
Update your PS5: Navigate to Settings, select System, and check if an update is available under System Software Update and Settings.
Related articles:
Conclusion
Share with us what fixed the Hueneme Negev error for you. If you still struggling to connect to the game, give us more details, and we will do our best to assist you in troubleshooting the error.
If you encounter any issues or errors while playing your favorite games and require support, feel free to contact us here. Our team is always ready to assist you and ensure your gaming experience is seamless and enjoyable.