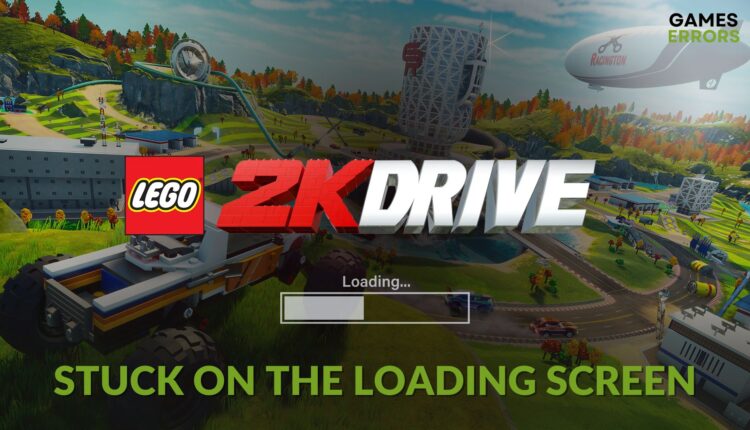 LEGO 2K Drive Stuck on Loading Screen: Best Solutions to Try
Update the GPU driver and repair LEGO 2K Drive if it gets stuck on the infinite loading screen 🎯
X
INSTALL BY CLICKING THE DOWNLOAD FILE
Is LEGO 2K Drive stuck on the loading screen on your PC? Don't worry. There are very successful ways to fix this problem.
Unlike many other modern titles, this new LEGO game is not very resource hungry. However, you still may encounter problems like the infinite loading screen. To enjoy the ultimate racing adventure on this item, you just need to take the proper steps.
Learn the ways to fix LEGO 2K Drive won't launch if needed.
What is preventing LEGO 2K Drive from loading?
In case the new LEGO 2K Drive takes forever to load, or it's taking an infinite amount of time on the launch screen, the followings are the most common reasons:
System requirements: If your PC doesn't have the required specifications, LEGO 2K Drive may get stuck on the infinite loading screen.
GPU driver issues: Outdated or problematic GPU drivers also can cause this loading screen freezing problem on the new LEGO 2K Drive.
Disk problem: Slow and problematic HDD or SSD can also be the root of this problem.
Missing or outdated related components: when your PC is missing some core game components, or there is a problem, an infinite loading screen on LEGO 2K Drive may appear as well.
How do I fix LEGO 2K Drive stuck on the loading screen?
First of all, we suggest you check the LEGO 2K Drive's system requirements and make sure your PC is capable. Then, do the following things before going through the main troubleshooting steps:
Disable your antivirus and firewall.
Run the game as an administrator.
Install Visual C++ and DirectX Runtime packages and restart your PC.
Enable game and high-performance mode from Windows settings.
Now, try the following methods to fix the infinite loading screen problem on LEGO 2K Drive:
1. Disable in-game overlay
Launch Steam or the game client you are using.
Go to its Settings, as shown in the screenshot.
Go to the in-game tab.
Relaunch Steam.
Not only just Steam, disable the overlay feature from other services too. It may solve the problem.
2. Update the GPU driver
This infinite loading screen issue on LEGO 2K Drive may appear due to a problematic GPU driver. So, you should update this driver to the latest version by following these steps to solve the problem:
Press Win + X on the keyboard and then click on Device Manager.
Expand the Display Adapters.
Right-click on your graphics card and click on Update driver.
Choose Search automatically for drivers.
Go ahead and finish the process.
Restart Windows.
To update a graphics card driver on a Windows 11 or 10 PC, DriverFix is one of the most popular choices. Particularly, gamers prefer this tool because it is more capable and can reduce various gaming performance-related problems.
3. Repair LEGO 2K Drive
Time needed: 3 minutes.
If the LEGO 2K Drive keeps getting stuck on the loading screen, repair the game files to fix this problem.
Wait for a few moments until it finishes the process.
For Epic Games Launcher users, it's even easier to repair the game files. Just go to the library, click on three horizontal dots under LEGO 2K Drive, and then click on Manage. At last, click on Verify.
4. Run in clean boot
Press Win + R to open Run.
Type msconfig and click on OK.
Navigate to the Services tab.
Click on Apply and OK.
Then, restart your PC.
If this method fails to work, return to the normal boot by undoing the changes.
5. Repair the common disk issues
Open This PC.
Right-click on the disk drive where you have installed LEGO 2K Drive and go to Properties.
Navigate to the Tools tab.
Give it some time to finish the process.
Now, you can launch LEGO 2K Drive and verify whether it remains stuck on the loading screen.
Extra steps:
You may still get the same problem. In this case, do these things:
Delete the locally saved game files or profile and see if it works.
Re-install the game.
Update Windows to the latest version.
Learn how to fix LEGO 2K Drive crashing if you are interested.
This article has shown how you can fix LEGO 2K Drive stuck on the loading screen problem on a PC. If you have any questions, let us know in the comment box.
If you encounter any issues or errors while playing your favorite games and require support, feel free to contact us here. Our team is always ready to assist you and ensure your gaming experience is seamless and enjoyable.