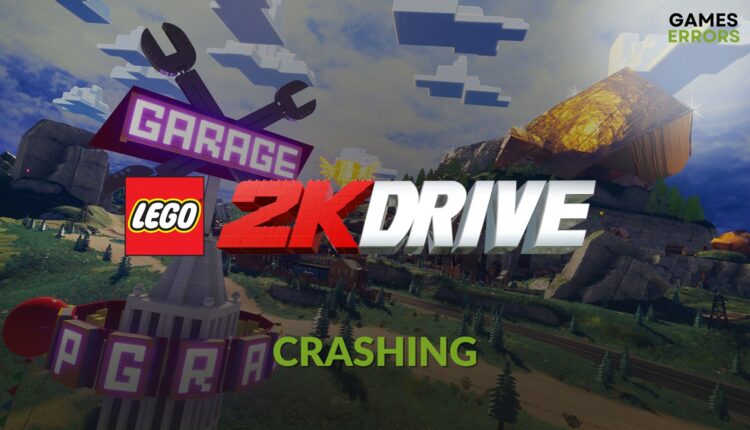 LEGO 2K Drive Crashing: How to Fix It Easily
Update the graphics card driver and follow these tricks to stop LEGO 2K Drive from crashing ✅
During gameplay or while launching, the new LEGO 2K Drive crashing issues can occur for some gamers. But, there are excellent solutions to fix this problem. This article will describe the whole procedure with some vital information.
This new LEGO game is an awesome choice for racing game fans. The massive open world of this title is full of fun and challenges. You should get a unique driving adventure from this item. But if it keeps crashing, you will lose interest.
What causes crashing problems on LEGO® 2K Drive?
Here are the possible reasons behind the crashing issues on this game:
GPU driver issues: If your graphics card driver has some problems, like it's outdated, corrupted, or buggy, LEGO 2K Driver may start crashing randomly.
Third-party services: Some third-party services, like your antivirus or firewall, can interfere and create this crashing problem. It also can cause LEGO 2K Drive infinite loading screen issues.
Problematic game components: In case the required game components are missing or corrupted, you may end up encountering this problem in this new LEGO open-world racing game.
How can I fix LEGO 2K Drive crashing problems?
Before taking the main steps to troubleshoot crashing issues on LEGO 2K Drive, we suggest you do the following things:
Check the system requirements of LEGO 2K Drive and determine whether your PC is capable or not.
Enable high-performance mode.
Disable your antivirus and firewall.
Ensure that you are not overclocking anything.
After ensuring the above things, go through these methods to solve this problem:
1. Update graphics card driver
Time needed: 3 minutes
To fix crashing issues on LEGO 2K Drive on your PC, update the graphics driver to the latest version.
Click on Search automatically for drivers.
Step forward and finish the process.
Outbyte Driver Updater is the best option to download and install the latest graphics driver on a Windows 11 or 10 PC. In addition, it can update multiple drivers with just a single click. Using this tool can reduce the chance of getting crashing issues on new modern games like LEGO 2K Drive.
⇒ Get Outbyte Driver Updater
2. Install missing game components
Visit the DirectX runtime page.
Download the installer.
Install it on your PC.
Next, visit the Visual C++ redistributables download page.
Download the package for X64 architecture.
Install it.
Restart Windows.
Now, launch LEGO 2K Drive and start enjoying the game. It should not crash like before.
3. Disable in-game overlay
In some cases, disabling in-game overlay may help. To do it, follow these steps:
Open Steam.
Go to its Settings.
Navigate to the in-game tab.
Relaunch Steam.
You should also disable in-game overlay from other places as well.
4. Clear shader cache
To fix LEGO 2K Drive crashing issues, clearing the shader cache can be a handy solution. Here are the steps to follow:
Press Win + I to open Windows Settings.
Go to Temporary files.
Tick DirectX Shader Cache.
Then, click on Remove files.
Please keep in mind that after clearing the shader cache, you may get laggy performance from this game for a while. But, after that, it will be OK automatically.
5. Repair LEGO 2K Drive
Go to the Steam game library.
Right-click on LEGO® 2K Drive and go to Properties.
Wait for a while until it finishes the process.
For Epic Games Launcher, go to the Library. Click on the three horizontal dots under this title and go to Manage. At last, click on Verify and give it time to finish the task.
After performing the above things, run LEGO 2K Drive and see if it still stops working randomly or not. It also will help if LEGO 2K Drive won't launch on your PC.
Extra steps:
In case the problem still persists, you should do the following things:
Disable XMP. If necessary, learn the methods to solve crashing issues on games after enabling XMP.
Update Windows to the latest version.
Uninstall any apps that can interfere with the game.
If nothing works, reset Windows.
If you are interested, learn how to stop any games from crashing on your PC.
This article has shown the methods to solve LEGO 2K Drive crashing problem on your PC. You can let us know in the comment box if you have a better suggestion that can help others.