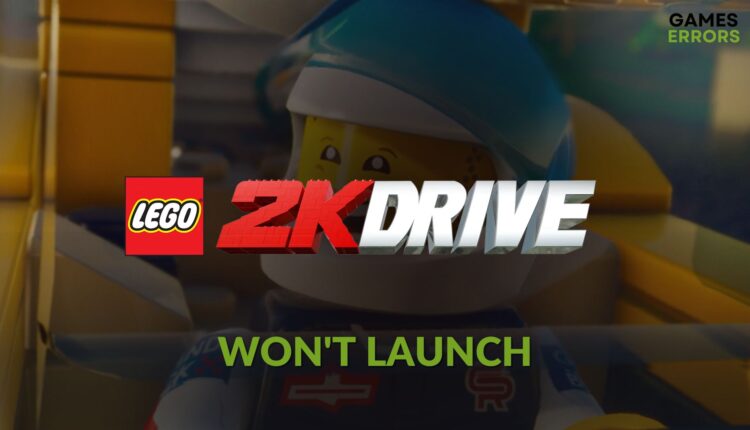 LEGO 2K Drive Won't Launch: Easy Ways to Run It
Clear the client cache and update the GPU driver if you encounter LEGO 2K Drive not launching problem 🎯
X
INSTALL BY CLICKING THE DOWNLOAD FILE
If you want to know how to fix LEGO 2K Drive won't launch, this article can be your ultimate guide. Here, you will learn about the necessary methods to get rid of this problem.
Who doesn't want to defeat some wild racing rivals in a game? Particularly, racing game lovers who are LEGO fans as well will not want to miss this opportunity. Unfortunately, for some of you, this game may not run on your PC.
If you are interested, learn the methods to fix LEGO 2K Drive stuck on the loading screen.
Why my LEGO 2K Drive is not launching on my PC?
If you are unable to open LEGO 2K Drive on your Windows 11 or 10 computer, it is most likely because of any of the following reasons:
Problematic game components: If the game components required to run this title successfully are missing, outdated, or corrupted, LEGO 2K Drive will not open on your PC.
Driver problems: Problematic graphics card driver can also be a major reason why this title is not running on your PC.
Third-party apps: Some third-party apps and services, including your antivirus and firewall, can be the root of this problem.
How can I fix LEGO 2K Drive won't launch?
Before going through any methods, we suggest you check the LEGO 2K Drive's system requirements and make sure that your PC has the required specifications. Then, do these quick things:
Try to run the game as an administrator to see what happens.
Disable your antivirus and firewall temporarily.
Ensure that your PC has not disk related problems.
Now, go through the following methods to fix the not launching issue on LEGO 2K Drive:
1. Update GPU driver
Open the Start Menu, type Device Manager, and hit Enter.
Expand Display Adapters.
Right-click on your GPU driver and then choose Update driver.
Select Search automatically for the driver.
Finish the process.
Also, update other drivers.
To update multiple drivers, including the one related to your GPU, DriverFix is the perfect solution. This tool can update all of them at once with just a single click. It is also more powerful, accurate, and capable compared to the device manager.
2. Install Visual C++ redistributable
Visual C++ packages are essential. If it's corrupted, missing, or outdated, games like LEGO 2K Drive won't launch. So, you should install/update/repair it by following these steps:
Click on the link for X64 architecture to download it.
Install this package on your PC.
Restart Windows.
3. Clear the client cache
Time needed: 2 minutes.
When you notice that the LEGO 2K Drive is not launching on your PC, immediately clear the cache from the game client like Steam to fix this problem.
Relaunch Steam.
4. Repair the game files
Go to the Steam game library.
Right-click on LEGO 2K Drive and then click on Properties.
Go to the Local Files tab.
Next, click on Verify integrity of game files.
Keep patience until it finishes the process.
Are you using Epic Games Launcher? Don't worry. You have a similar option too. Go to the library, click on three horizontal dots under LEGO 2K Driver, and then click on Manage. Next, click on Verify and wait for a while.
Now, try to launch LEGO 2K Driver and see if it works or not.
5. Run in clean boot
Open the Windows Search Box, look for System Configuration, and open it.
Navigate to the Services tab.
Next, click on Apply and OK.
At last, restart your PC.
After booting into the clean boot, try to run LEGO 2K drive and see what happens. If it launches in this mode, it means a third-party app or service is the culprit. Enable the services one by one from the System Configuration window until you reencounter the problem.
At last, uninstall the problematic app or service. Then, boot into normal mode.
More methods to try:
Are you still unable to open LEGO 2K Driver? Consider doing these things as well:
Update Windows to the latest version.
Re-install the game.
Update all of the drivers and essential components on your PC.
Learn how to fix LEGO 2K Drive crashing if necessary.
You have just learned what to do to fix LEGO 2K Drive won't launch. If you have any questions, let us know in the comment box.
If you encounter any issues or errors while playing your favorite games and require support, feel free to contact us here. Our team is always ready to assist you and ensure your gaming experience is seamless and enjoyable.