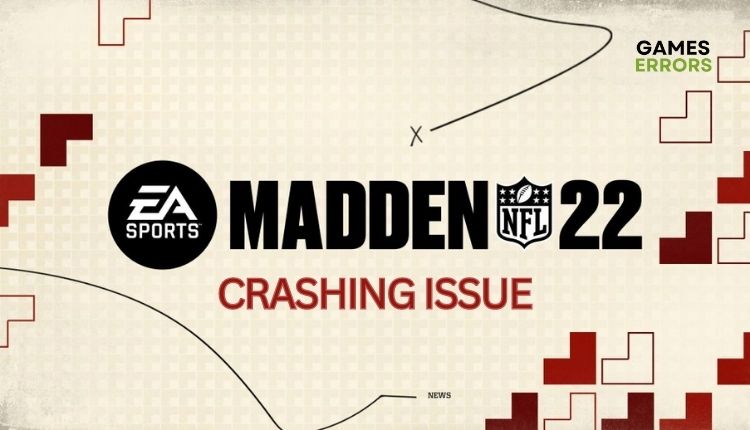 Madden 22 Crashing on PC/Xbox/PS [Fixed]
If you want to fix Madden 22 crashing issue, you can take our solutions. 🏈
X
INSTALL BY CLICKING THE DOWNLOAD FILE
Madden NFL belongs to that category of sports games that announce an unprecedented revolution on the field every time they come out, with pompous announcements and various epithets. Unfortunately, behind those promises and abstract phrases, there are usually only a few timid innovations and modest progress in presentation. However, Madden NFL 22 is still the best simulation of virtual American football, and there is every chance this will not change in the following versions. Due to poor optimization and too many bugs in the game, it is possible that Madden NFL 22 "treats" you with various problems during gameplay. Crashing during gameplay is common in Madden NFL 22, and here we will list solutions to overcome this problem.
Why does my Madden 22 keep crashing?
There are several main reasons why Madden 22 crashing like:
incompatible PC specification
outdated or corrupted GPU driver
corrupt game files
the game is not updated
demanding in-game graphics settings
heavy or unnecessary apps running in the background
How do I fix it when Madden 22 keeps crashing?
We advise you to do these simple steps first:
In case you still have MadenNFL 22 crashing issue, go to our following tips:
1. Update your GPU driver
Madeen 22 may experience startup issues, get stuck on the loading screen, crash, and get a black screen, all caused by outdated or corrupted graphics drivers. We recommend updating your GPU driver to the latest version. Do following:
1. Press the Windows+R keys to bring up the Run dialog.
2. Type; devmgmt.msc and hit Enter to open Device Manager.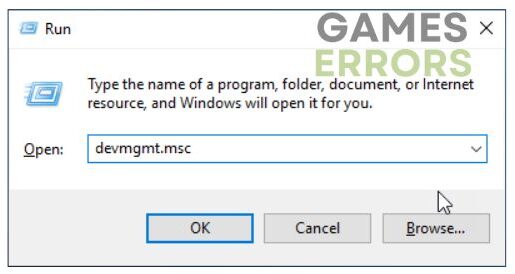 3. Double-click on the Display adapters to expand, right-click on GPU, and select Update driver.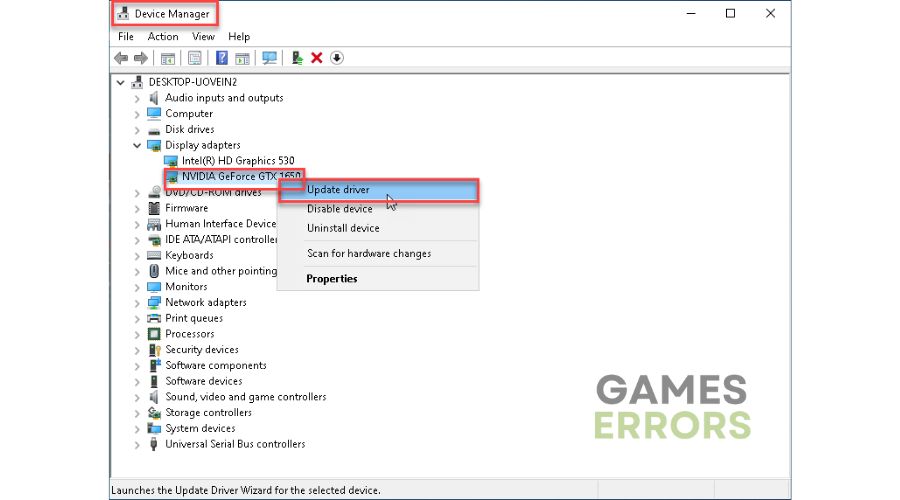 4. Follow the on-screen guide for searching, downloading, and installing the latest GPU driver version.
We want to point out here that there is an even more accessible, reliable, and faster way to have updated system drivers on your computer with Outbyte Driver Updater constantly. This tool will keep all your system drivers up-to-date, so you don't have to waste time manually updating them.
2. Repair game files
Time needed: 3 minutes
If one or more game files are missing or corrupted, you may have a Madden 22 crashing issue. Do the following for the Origin launcher:
Open games library

Run the game launcher and go to your games library.

Select Madden 22

Right-Click on the game icon and choose Repair.

Launch Madden 22

Wait for the file verification process to complete and launch a game to see if the crashing issue is gone.
3. Check for game updates
The developers regularly release new patches for Madden 22 to fix observed bugs and improve the stability and performance of the game. A new patch often fixes observed problems, such as possible game crashes, and the developers will urgently work to make the game as glitch-free as possible. Check for new game updates:
1. Run the game launcher and locate Madden 22 in your games library.
2. Right-click on Madden 22 icon and choose Update Game.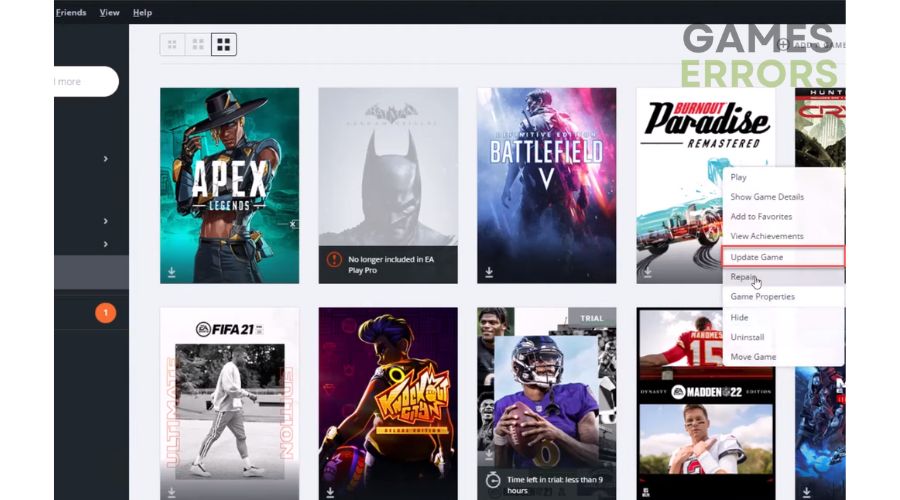 4. Temporarily disable the firewall
Windows firewall may block Madden 22 if you haven't put it on the exception list. We recommend temporarily disabling the firewall to see if the game crashes after that. Do the following:
1. Press the Windows + R keys on your keyboard to launch the Run dialog.
2. Type; firewall.cpl in the run dialog box and press Enter (or click on OK.)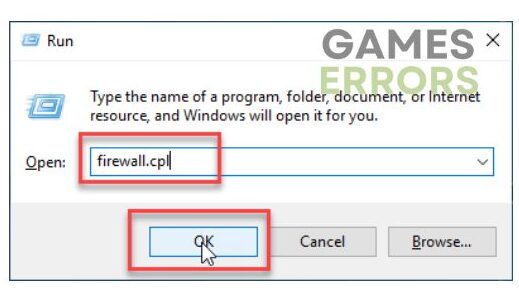 3. Click on Turn Windows Defender Firewall on or off.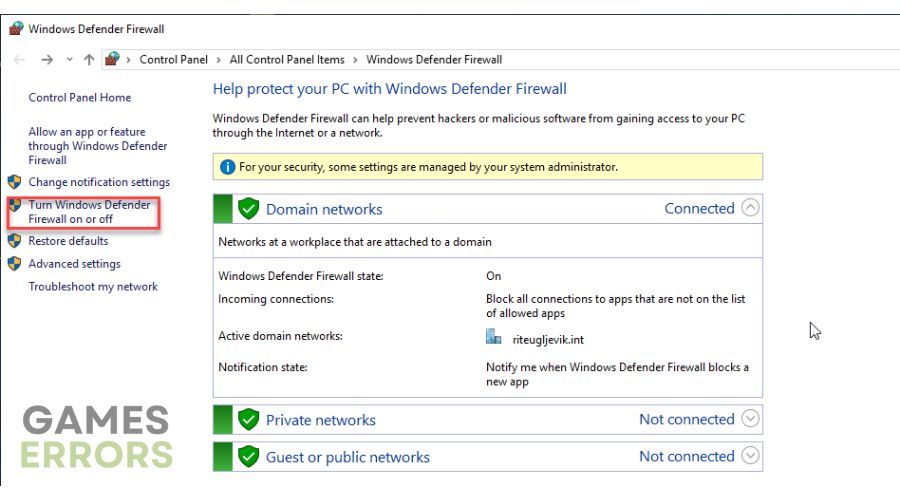 4. Click all Turn-Off Windows Defender Firewall radio buttons.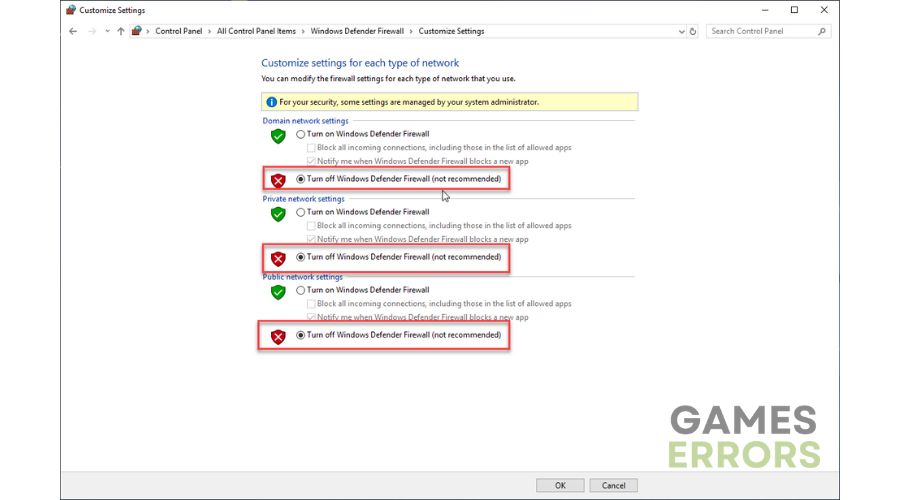 We strongly recommend that in addition to turning off Windows Firewall, you should temporarily turn off Windows Virus & Treat Protection or a third-party antivirus if you have one installed on your computer. Don't forget to turn your firewall and antivirus back on when you're done playing.
Extra steps:
If, after all our tips, the crashing issue in Madden 22 still exists, consider these options:
Update DirectX, .NET Framework, and VCRedist.
Close all unnecessary background tasks like antivirus, P2P, VPN, etc.
Perform clean boot (Ctrl+Shift+Esc and Disable all unnecessary apps from Startup).
Reinstall game.
🕹 How to fix Madden 22 crashing on Xbox?
Restart your console (Hold the Xbox button. In the menu that appears, choose Restart console).
Check any updates (My Games & Apps>Manage>Updates>Update All).
Clear console cache (Unplug the power cord for 5 minutes, then plug the power cord back and turn on your Xbox).
Delete and reinstall Madden 22 (My Games & Apps>Madden NFL 22>Uninstall)
🎮 How to fix Madden 22 crashing on PlayStation?
Restart your console (Hold the PS button on your controller, then select Power>Restart)
Check any updates (Select the game from the Home screen, press the Options button on your controller, and select Check for Update).
Clear console cache (same procedure as Xbox console).
Delete and reinstall Madden 22 (Select the game, press the Options button on your controller, and select Delete).
Related articles:
Conclusion
We hope that with our tips, you can successfully fix the Madden 22 crashing issue. Let us know which of our solutions worked for you, or if you have a different solution, leave a comment below.