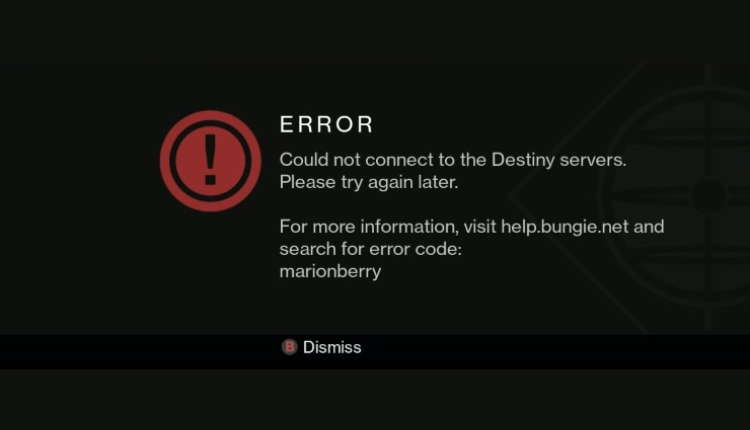 Marionberry Destiny 2: Quick Fixes for the Error
The Marionberry error is likely caused by networking issues
Destiny 2 is a free-to-play online multiplayer first-person shooting video game by Bungie. The game was released in 2017 for PlayStation 4, Xbox One, and Microsoft Windows. It is one of the most famous multiplayer games worldwide and requires a stable internet connection to function correctly as an online multiplayer game.But recently, many users have been complaining about Destiny 2 Error code Marionberry while playing the game. The entire message reads Could not connect to Destiny Servers. Please try again later. For more information, visit help.bungie.net and search for error code: Marionberry.The Marionberry Destiny 2 error mainly occurs while a player tries to launch and sign in to Destiny 2. Many users have also complained about not getting the character selection screen of this game and getting stuck on the screen of error code Marionberry.
Why do I keep getting error codes on Destiny 2?
Most Destiny 2 error codes occur due to a faulty or unstable internet connection. But these can occur due to several other reasons. Below is a list of the most common Destiny 2 error codes that users often complain about:
Destiny 2 error code Centipede: It is a general networking error code. This can be caused by a loss of connection to Destiny servers.
Destiny 2 error code Beaver: It occurs when the network is not working optimally for Destiny. A wrong configuration of the router can also cause this issue.
Destiny 2 error code Baboon: This error can occur due to packet loss or disconnections between your home network and Bungie. Certain WiFi setups, or mobile hotspots can also cause this.
Destiny 2 error code Cat: This occurs because of some conflict between the client and the server version of the game. To fix this, you'll need to update the game to fix the error.
Destiny 2 error code Chicken: The error code chicken means that the player has lost their connection to the servers. This will impact your ability to access your character
Destiny 2 error code Calabrese: This error can occur due to testing or maintenance from the developers' end.
If you keep receiving the same error code multiple times on Destiny 2, it could be due to some part of your internet connection or the Destiny servers themselves. So below, we've compiled a list of some troubleshooting methods.
What can I do to fix the Destiny 2 Marionberry error code?
1. Power cycle your console and modem/router
1.1 On your console
Power down your console.
Now unplug the power cord from the console and let it idle for 5 minutes.
Reconnect the power code and restart the console.
1.2 Router/Modem
Close Destiny 2 and shut down your Xbox One or PlayStation.
Now turn off all the network hardware and unplug the power source. After 1 minute, connect the power and turn on all the devices, including the router and modem. Open the console and play the game to see if the error code marionberry is removed.
The modem or router is responsible for all your network connections. Power cycling your console and router/modem can fix any temporary problems causing the error code.
2. Change your game console's DNS
2.1 On Playstation
Open Settings and click Network on your Playstation console.
Click on Set Up Internet Connection.
Select Wi-Fi or LAN and then choose Custom.
Now change the IP address settings to Automatic, the DHCP hostname to Do not specify, DNS settings to manual, and enter the Google DNS address.
Also, set MTU to Automatic and Proxy server to Do not use.
Restart the Playstation and check if the Destiny 2 error code Marionberry PS4 is fixed.
2.2 On Xbox One
Press the Menu button on your Xbox One.
Go to Settings and click on Network.
Now click on Advanced settings and then on DNS settings.
Select Manual.
Input the Google DNS in the primary and secondary fields.
Restart the console.
Your ISP's DNS can also be the reason behind the Destiny 2 Marionberry PC error every time you try to get online on the game. Simply changing your DNS server to a different one should get you back in the game. Google's DNS servers are always recommended as they manage to get rid of these problems.
3. Check the Destiny 2 servers
Visit the Destiny Server and Update Status Page.
On this page, you'll see all information on upcoming server maintenance periods or updates.
In case there are problems with the servers, you'll have to wait for the developers to fix them.
That's all on how you can fix Destiny 2 Error Code Marionberry. Several issues are to be blamed, but this usually occurs due to a bad Internet connection.
Follow the steps mentioned above to fix Destiny 2 error codes. If the troubleshooting methods mentioned above could not help you, perhaps consider waiting for some time.
We also have guides on other gaming issues, such as ESP-Buimet-003 and Cyberpunk 2077 has flatlined, that you can read for more fixes.
If you still have any issues, feel free to drop a comment below. We're eager to hear from you.