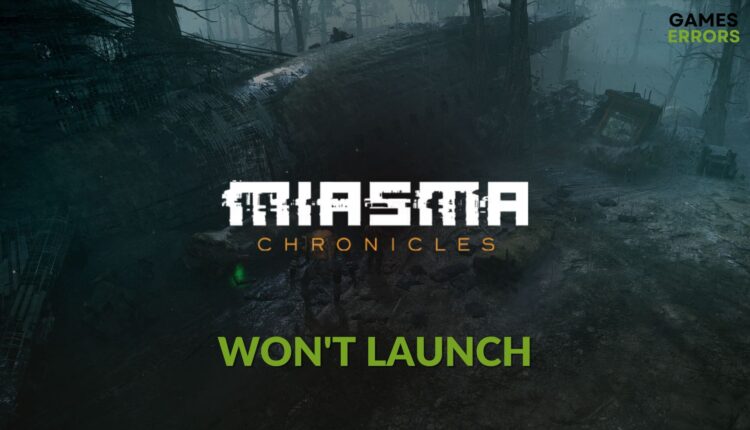 Miasma Chronicles Won't Launch: Best Ways to Solve It
Clear the cache and repair Miasma Chronicles if you see it's not launching on your PC 🚀
The new tactical RPG action game, Miasma Chronicles, won't launch on your Windows 11 or 10 PC if there is something wrong. But, if you can tweak certain things, this problem will go away.
Strategy games have a unique fanbase. The new Miasma Chronicles is a perfect choice for any gamers who prefer this type of item. However, this game may not run on your device if some unwanted problems exist.
Why is Miasma Chronicles not launching?
Normally, this game may not launch due to the following reasons:
Third-party services: If any of the third-party services interfere with the game process or your antivirus or firewall blocks Miasma Chronicles, it will not open on your PC.
Disk problem: Problematic or slow disk driver is a very common reason behind this issue.
Display driver problem: Missing, outdated, or buggy display driver can prevent Miasma Chronicles from running on your computer.
Corrupted components: Problematic or corrupted components related to Miasma Chronicles is another reason why it is not launching.
How do I fix the Miasma Chronicles won't launch?
We have prepared the best ways to run Miasma Chronicles successfully if you face the not launching problem. However, before trying these ways, you must do the following things:
Check Miasma Chronicles' system requirements and make sure your PC is capable.
Disable your antivirus and firewall.
Ensure that your game clients like Steam or Epic Games Launcher are up to date.
Now, you can go through these methods to get rid of the problem:
1. Update graphics card driver
Open the Windows Search Box, look for Device Manager, and open it.
Expand the Display Adapters category.
Right-click on the graphics card you are using and then click on Update driver.
Next, click on Search automatically for drivers.
Finish the process by following any onscreen steps.
Device Manager may say the best driver is installed even though it's not the actual situation. So, we suggest you use Outbyte Driver Updater. This tool can find your graphics card's latest official compatible driver and install it automatically.
2. Install missing game components
Miasma Chronicles will not run on your Windows 11 or 10 PC if Visual C++, DirectX packages, or similar game components are missing or corrupted. In this case, follow these steps to fix this issue:
Visit the Microsoft Visual C++ packages page.
Download it for the X64 system.
Install it on your PC.
Similarly, download and install DirectX Runtime.
Restart your PC.
3. Clear cache
Clearing the cache related to the game and the game client is one of the best methods to fix Miasma Chronicles won't launch or similar issues. To do it, follow these steps:
Open Steam.
Go to the Steam settings.
Click on OK.
Relaunch Steam.
If you use Epic Games, you will not get an option to clear the download cache. But, you will need to clear the webcache. For more, learn how to solve games not launching on Epic Games Launcher.
4. Repair the disk drive issues
Press Win + E on the keyboard to open File Explorer.
Go to This PC.
Right-click on the disk drive where you have installed the game and go to the Properties.
Navigate to the Tools tab.
Wait for a while.
5. Repair Miasma Chronicles
Time needed: 2 minutes
You should repair the game files to solve Miasma Chronicles not launching problem.
Keep patience until it finishes the process.
In case you use Epic Games Launcher, you can repair the game files there too. To do it, go to Library. Then, click on three horizontal dots for Miasma Chronicles and go to Manage. At last, click on Verify.
6. Re-install the game
After uninstalling, click on the Install button.
Choose the installation location and click on Next. Make sure it's on an SSD.
Give it some time to finish the process.
Now, run the Miasma Chronicles and see whether it has worked or not.
If you are interested, learn the ways to solve Miasma Chronicles' crashing issues.
This article has explained the methods to fix Miasma Chronicles won't launch. If you have a better suggestion, feel free to write it down in the comment box.
If you encounter any issues or errors while playing your favorite games and require support, feel free to contact us here. Our team is always ready to assist you and ensure your gaming experience is seamless and enjoyable.