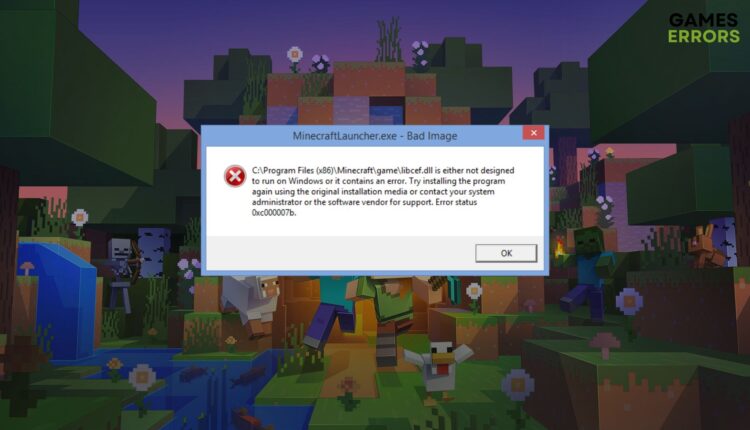 Minecraft Error 0xc00007B: Best Ways to Fix This Problem
Install and repair the missing components to fix error 0xc00007b on Minecraft 🎯
X
INSTALL BY CLICKING THE DOWNLOAD FILE
When you launch Minecraft, it may trigger an error code 0xc00007b. If you are one of the gamers who is randomly or repeatedly encountering this error, don't worry. This article has the solution you need.
Basically, this error code interrupts you after launching any video games on your Windows 11 or 10 PC. But here, we will give you the troubleshooting guides to solve this error on Minecraft.
If you are interested, learn how to fix you're too early error on Minecraft Launcher.
What causes Minecraft error 0xc00007b?
Minecraft may stop working by showing you the error code 0xc00007b. If it happens, it may be because of these reasons:
Missing or corrupted game components: If essential game components are missing, corrupted, or outdated, you may get this error code while launching Minecraft.
Outdated Windows: An incompatible version of Windows OS is also a very common reason why Minecraft may crash by showing the error code 0xc00007b.
Problematic game files: Problematic or corrupted game installation files also can cause this issue.
Disk problem: Problems with hard disk or SSD is also may be the reason.
There may be other reasons behind this problem as well. But the next part of this article will work no matter what causes the problem.
How can I fix Minecraft error 0xc00007b?
When this error code appears, you should do these quick things before going through the main troubleshooting methods:
Run Minecraft as an administrator and see if it helps.
Disable your antivirus and firewall.
Ensure that your hard disk or SSD is not physically damaged.
Now, go through these methods to fix Minecraft error 0xc00007b:
1. Update/Install essential game components
Download the installer for X64 architecture.
Install it on your PC.
Similarly, install DirectX runtime.
Restart Windows.
2. Repair/Install .NET framework
Time needed: 5 minutes.
Repair or reinstall the .NET framework packages on Windows to fix Minecraft error 0xc00007b.
Give it some time to finish the process.
Restart Windows.
Wait for a while.
Restart your PC.
3. Repair common disk issues
Open This PC.
Right-click on the disk drive where you have installed Minecraft and then go to the Properties.
Navigate to the Tools tab.
Keep patience until Windows finishes the disk repairing process.
4. Repair Minecraft game files
This error 0xc00007b can also appear due to corrupted game files. Doing the following things will solve this issue:
Open Steam or the game launcher you are using.
Go to the game library.
Right-click on Minecraft and click on Properties.
Go to the Local files tab.
Click on Verify integrity of game files.
Wait for a while until it finishes the process.
If you don't use Steam for Minecraft, you can repair the game files on the Xbox app. You also should repair the Minecraft Launcher files. Then see whether it fixes the error 0xc00007b or not.
This similar method is also helpful for Minecraft Legends connecting to your account error.
5. Re-install the game on an SSD
In case the previous 4 methods fail to fix this problem, you should consider re-installing the game. However, after uninstalling, install Minecraft on an SSD to solve the error code 0xc00007b. The slow and problematic hard disk can often be the reason behind this problem.
Are you still encountering the same problem? Update Windows to the latest version. Also, update the GPU driver using DiverFix. You should run a virus scan too.
If you are interested, learn the ways to fix Minecraft keeps crashing.
You have just learned how to fix Minecraft error 0xc00007b on a Windows 11 or 10 PC. Let us know in the comment box if you have any better suggestions.
If you encounter any issues or errors while playing your favorite games and require support, feel free to contact us here. Our team is always ready to assist you and ensure your gaming experience is seamless and enjoyable.