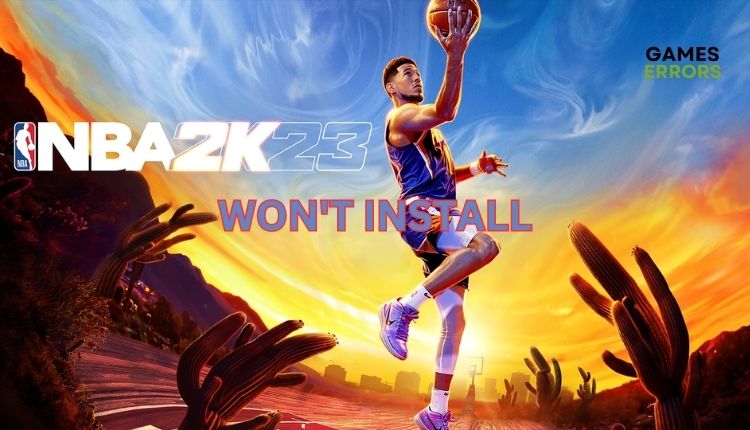 NBA 2K23 Won't Install on PC: How to Fix it
If your NBA 2K23 won't install, we have the proper fix. 🏀
NBA 2K23 is the best chapter of the series in years. In addition to the fine-tuned gameplay, various content and segments have been added to the game, providing countless hours of quality basketball content. The career mode should also be praised, which this year represents a step in the right direction. Finally, casual players have become their own, so NBA 2K23 is closer to the mainstream than ever before. So you want to play NBA 2K23 and pay for your copy of the game properly, but a problem arises because the game keeps crashing and freezing or won't install. What to do now, but give our solutions a chance to install the game successfully. So, in this guide, we'll explain why NBA 2K23 won't install and how to fix that problem quickly.
Why my NBA 2K23 won't install?
NBA 2k23 may not install successfully for these reasons: game server problem, your network connection is slow and unstable, you don't have enough disk space, and the system is not updated.
How do I successfully install NBA 2K23?
Before doing our troubleshooting tips, do the following first:
Check the NBA 2K23 server status. If the server is down, you must wait to become operational. After that, try downloading the game.
Update Windows to the latest version. (Update system software on consoles).
Pause or cancel other downloads to have enough bandwidth to download the game.
Check available disk space. The game takes over 130GB, so ensure free space before downloading.
Have you done all the previous steps but still having trouble downloading and installing the game? Then do the following:
1. Check your network connection
An unstable and poor internet connection can be one of the main reasons for NBA 2K23 won't successfully download and install. We recommend that you do the following:
Open an Internet browser and find one of the popular sites for measuring connection speed. This way, you will quickly see if you have problems with downloading, uploading, or lousy ping (latency).
If you use a WiFi network for gaming, keep the router and modem as close as possible to the computer or console. Also, disconnect all unnecessary WiFi devices from the network.
Power cycle your network devices (modem and router) by unplugging the power cord for 5 minutes. After that, plug in the power cord and wait until the LED indicators return to normal.
We recommend using a wired connection for a faster and more stable connection for gaming.
Check with your ISP (Internet Service Provider) if the problem is with their side or your network.
2. Update network driver
Your download speed may be slow or unstable because you use the wrong or outdated network driver. We advise updating this driver immediately to eliminate the potential issue cause.
1. Right-click Windows Start and select Device Manager.
2. Double-click the Network adapters and right-click on your network card to select Update driver.
3. Click on the Search automatically for drivers and wait to finish the update process.
4. Restart your PC, launch the Steam launcher, and see if you can download and install NBA 2K23.
Manually updating drivers requires time and prior knowledge to select the correct driver for your devices in the Windows system. That's why we highly recommend Outbyte Driver Updater. This tool will keep all drivers up-to-date and save you from tedious manual updating.
⇒ Get Outbyte Driver Updater
3. Temporarily disable firewall and antivirus
Windows firewall or antivirus can wrongly identify some legitimate processes and block them. Temporarily disable your firewall and antivirus, but only when you want to download and install NBA 2K23.
1. Press the Windows + R keys to launch the Run dialog.
2. Type the firewall.cpl and press Enter.
3. Click on Turn Windows Defender Firewall on or off.
4. Click on the Turn Off Windows Defender Firewall. Confirm changes on the OK button.
We recommend temporarily disabling Windows Virus & Treat Protection or third-party antivirus, depending on what you're using. Don't forget to re-enable your Windows firewall and antivirus when you're done downloading and installing NBA 2K23.
4. Change your DNS server
5. Check Steam launcher issues
If you bought the game on Steam for the PC platform, check whether the problems with the installation of NBA 2K23 are not hidden in the problems with this popular gaming platform. To install your NBA 2K23, you must download and install the game via the Steam launcher. We recommend checking if Steam has a slow download speed or other issues and how to fix it.
Conclusion
We hope we've helped you if you haven't been able to download and install NBA 2K23 so far. If you have any questions or suggestions, we will be glad to leave a comment.