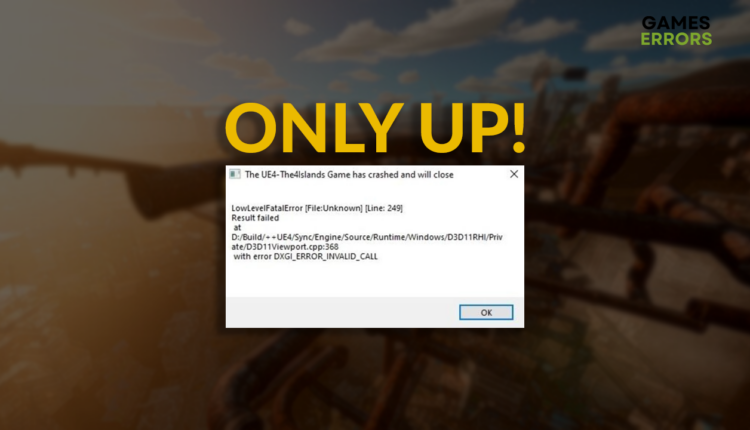 Only Up LowLevelFatalError: What Is It & How to Fix It
Is this error really fatal and unfixable? Spoiler alert, it's not that fatal, and we know how to fix it! 👾
Getting the Only Up LowLevelFatalError means losing the current game progress if the error occurred while playing. You can also expect similar issues in the future. Since there is no universal cause or fix for this issue, we compiled a list of the most effective solutions to make the LowLevelFatalError part of history.
If this error is not the only thing causing the headache while you play this indie simulation, learn how to fix problems with saving sensitivity in Only Up.
What is Only Up LowLevelFatalError?
LowLevelFatalError in Only Up is an error signaling that your GPU cannot load the game. It is caused by XMP, corrupted game files, faulty overclock settings, an outdated DirectX version, low virtual memory, an outdated GPU driver, or pilled-up Steam cache files.
How to fix Only Up LowLevelFatalError?
Resolve this error by performing some simple checks and fixes:
Disable XMP: Many gamers complain that games are crashing for them when XMP is enabled. This is also related to the LowLevelFatalError, as some claim that disabling this feature fixed the issue.
Verify the integrity of game files: Although this seems like a complicated process, it is effortless to do, and we made a guide for verifying game files on Steam to make it even easier!
Disable the overclock settings: If you have changed these settings in the past to enhance the computing power and get a few extra FPS in games, disable these settings and try playing Only Up.
Check the DirectX version: This library collection allows games to easily communicate with your PC's video and audio system.
Proceed with the step-by-step solutions listed below.
1. Increase Windows virtual memory
Time needed: 3 minutes
Your operating system automatically allocates virtual memory, but sometimes Windows fails to perform this task. This is why we advise you to manually increase virtual memory and prevent LowLevelFatalError from occurring.
Use the Windows Key + R shortcut to open the Run dialog, type control, and hit OK.

Click on the dropdown next to View by and select Large icons.

Click on the search, type Performance, and click on Adjust the appearance and performance of Windows.

Navigate to the Advance tab and hit the Change button under the Virtual Memory section.

Disable Automatically manage paging file size for all drives.

Select the Custom size button, enter values 2x of your RAM in MB, and hit the Set button.

For example, 8GB is 8192MB so you would enter twice as much – 16384MB.

Click OK and restart your PC to apply the changes.
2. Update the GPU driver
Since the LowLevelFatalError is directly related to your graphics card, we highly recommend you update the GPU driver if you experience it. This way, you will have the latest software for your graphics card and potentially avoid this annoying error.
Click the Windows icon, type Device Manager, and open it.

Double-click on the Display Adapters section.

Right-click on your GPU and select the Update driver option.

Select Search automatically for drivers.
Install the GPU driver update.
Restart your PC.
Want to automatize driver management and ensure a seamless gaming experience without interruptions? We recommend you install Outbyte Driver Updater, a swift and reliable tool that will handle this for you!
⇒ Get Outbyte Driver Updater
3. Clear Steam cache
Some files Steam stores on your PC can bring compatibility issues when launching Only Up. We advise you to clear them whenever you experience LowLevelFatalError.
Open File Explorer using the Windows Key + E shortcut.
Paste the path to the Steam directory and hit Enter.
The default one is C:\Program Files (x86)\Steam

Right-click on the appcache folder and select Copy.
Navigate to Desktop using Windows Key + D.
Create a backup of the appcache folder using the CTRL + V shortcut.
Return to the Steam directory, right-click on the appcache folder, and select Delete.

Restart your PC.
Extra steps
If you still experience the LowLevelFatalError when you want to play Only Up, try to:
🥶 Keep it cool: The LowLevelFatalError might occur due to the high temperatures of your setup. Ensure proper ventilation and change thermal paste for components that require it.
⬆ Update Windows: Click the Windows icon, type Check for updates and open these System Settings. Update any outdated details and restart your PC.
🔁 Reinstall Only Up: Uninstall the game and delete all game files and folders. Restart your PC and perform a clean installation of Only Up.
Conclusion
After applying everything, we advised, you shouldn't think about the Only Up LowLevelFatalError anymore. Comment with feedback on how it went and what solution resolved the problem on your PC.