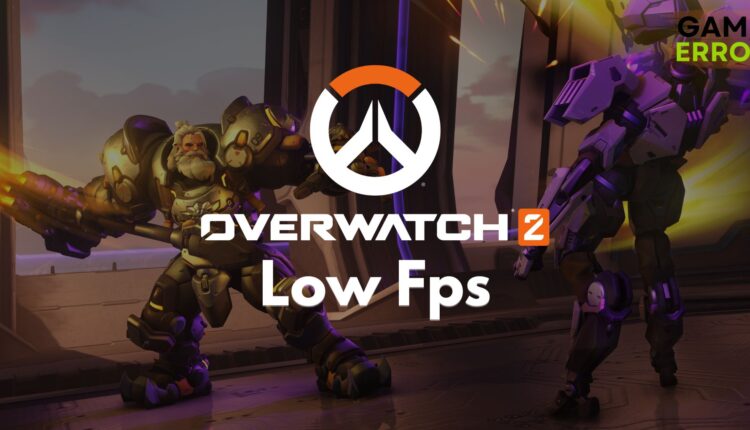 Overwatch 2 Low FPS: Why It Happens and How to Improve It
Everything was alright so far, but the game performs awfully now? No worries, we got you covered! 🚀
If you are struggling with Overwatch 2 low FPS, you are in the right place! Many players complain about the game's performance since they installed the latest game update, and we are here to navigate you through the troubleshooting process!
If you can't launch the game, learn what to do when Overwatch 2 is stuck on entering.
Why is my Overwatch 2 FPS so low?
Overwatch 2 FPS is low due to poor PC hardware specifications, an outdated version of Windows, resource-consuming background apps, an outdated GPU driver, a problematic game server, corrupted game files, misconfigured game options, or overheating of your PC.
❗You might encounter the Overwatch 2 low fps on a high end pc as well.
How do I fix bad FPS in Overwatch 2?
Apply the following checks and fixes:
Check the system requirements: Head to the Overwatch 2 system requirements page and check if your PC meets at least the minimum hardware requirements to run this game.
Update the Windows: Click the Windows icon, type Check for updates, and open these settings. If any components are outdated, download and install them.
Close background apps: Before launching the game, close all unnecessary apps and games to preserve hardware resources dedicated to Overwatch 2.
Proceed with the step-by-step solutions to increase FPS in Overwatch 2.
1. Update the GPU driver
Time needed: 5 minutes
Overwatch 2 low FPS on high-end PC usually occurs due to an outdated GPU driver. Although your graphics card is powerful enough to run the game, if the supporting software (the driver) is obsolete, the game's FPS will remain low.
Click on the Windows icon, type Device Manager, and open it.

Double-click on the Display Adapters section.

Right-click on your GPU and select Update driver from the dropdown menu.

Choose the Search automatically for drivers option.
Install the GPU driver update.
Restart your PC.
Many gamers use Outbyte Driver Updater to monitor, scan and update GPU drivers whenever necessary. This way, they save time which can be used to enjoy an interruption-free gaming experience.
⇒ Get Outbyte Driver Updater
2. Change the game server
Some players claim that the performance issue was related to the game servers they were playing on. Although there is no official confirmation regarding this, you can try to change Overwatch 2 server to another region.
Open the Battle.net Launcher.
Find Overwatch 2 in the Games tab.
Click the Regions button (globe icon) and select a different game server region.

Hit the Play button to launch Overwatch 2.
3. Verify game files
If Overwatch 2 low FPS all of a sudden ruins the gameplay, it is worth trying to verify the game files. This process will scan Overwatch 2 files and repair any corrupted files.
Open the Battle.net launcher and click on All Games.

Click on Overwatch 2 .
Click on the gear icon and select Scan and Repair.

Wait until the process is completed.
4. Reset Overwatch 2 options
After the update is completed, the game might save specific settings which prevent it from running correctly. This can be fixed without launching the game directly from the Battle.net launcher.
Open the Battle.net launcher.
Navigate to Overwatch 2 and click on the gear icon next to it.
Click the Reset In-Game Options button in the Game Settings tab, and click Done.

Extra steps
If you still struggle with low FPS on Overwatch 2, try to:
🥶 Keep it cool: Overwatch 2 support team claims that many players experience Overwatch 2 low FPS after the update due to overheating. Ensure proper ventilation and replace the thermal paste.
⏯ Disable instant replay (nVidia): Head to the nVidia control panel and disable instant reply, which can drastically lower gaming performance.
🔁 Re-install Overwatch 2: If nothing else helps you resolve the issue with the low FPS, uninstall the game and perform a clean installation afterward.
Related articles:
Conclusion
Dealing with Overwatch 2 low FPS can be annoying as this issue has no unique cause. However, we presented the most frequent causes and solutions for them, so we hope you are already enjoying the latest release of this first-person shooter!