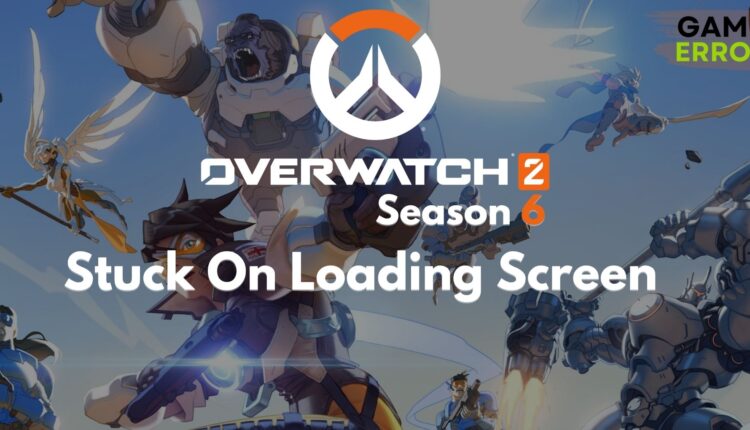 Overwatch 2 Stuck on Loading Screen: Fix It with Ease
If the Overwatch 2 becomes stuck, update GPU driver, clear cache and follow these methods 👇
If you are wondering why is Overwatch 2 Stuck on Loading Screen, know that it's a common issue gamers may encounter. The good thing is you can easily solve this problem.
Undoubtedly Overwatch 2 is an excellent FPS game. However, rather than enjoying, some gamers are going through infinite loading screen problems. However, it's not a big deal if proper steps are taken.
Why is Overwatch 2 taking so long to load?
If the Overwatch 2 gets stuck while loading on your Windows 11 or 10, it means any of the following reasons exist on your PC:
Outdated GPU driver: The first reason behind any freezing issues on the loading screen on Overwatch 2 is your GPU driver. If it's corrupted or outdated, you may end up encountering this problem.
System requirements: If your PC doesn't have the necessary specifications, you may also face this problem.
Problematic cache: Corrupted cache and game components also can cause Overwatch 2 or any other games to get stuck on loading screen issues.
Third-party services: Any background services can interfere and cause an infinite loading screen on Overwatch 2.
How do I fix Overwatch 2 stuck on loading screen?
Before doing anything, you should confirm that your PC meets the system requirements of Overwatch 2. After that, do these quick things before trying the main methods:
Install the latest DirectX runtime and Visual C++ packages.
Disable your antivirus, firewall and restart your PC.
Ensure that your PC doesn't have any disk-related problems.
🎯 Now, you can try the following effective methods to resolve the infinite loading screen problem:
1. Update the GPU driver
Time needed: 4 minutes
You should update your GPU driver as the most effective method to fix Overwatch 2 stuck on the loading screen.
Click on Search automatically for drivers and finish the process.
Step forward and finish the task.
Restart your PC.
Using Outbyte Driver Updater to update a GPU driver is a far better option compared to the built-in device manager of Windows. This tool can find the best optimized and compatible latest official driver for your graphics card which enhances your gaming experience.
⇒ Get Outbyte Driver Updater
2. Reset the in-game option
Sometimes, some of your graphic settings might have a compatibility issue with your GPU or monitor, resulting in issues such as Overwatch 2 stuck on entering the game. By using the reset in-game option, the game will go back to the default settings, and your problem might be solved.
Launch the Battle.net app.
Go to Overwatch 2.
After that, click on Reset In-Game Options.
Follow any onscreen steps to complete the process.
Relaunch the Battle.net app.
Now, play Overwatch 2 and see if it still gets stuck while loading or not.
3. Clear cache
To resolve freezing issues on the loading screen on Overwatch 2, you can clear the related cache file and see if it works. For this, follow these steps:
Close Overwatch 2 and the Battle.net launcher.
Press Win + R on the keyboard to open Run.
Locate the Blizzard Entertainment folder and delete it.
Similarly, delete the Battle.net folder.
Relaunch the Battle.net app.
4. Repair Overwatch 2
Repairing and verifying the game files of Overwatch 2 is another effective method to fix the infinite loading screen problem.
Go to the game library on the Battle.net app like before.
Go to Overwatch 2.
Click on the gear icon and choose Scan and Repair.
Click on Begin Scan.
Finish the process.
5. Run in clean boot
In case Overwatch 2 still gets stuck on the loading screen, you must try to perform a clean boot by following these steps:
Open Run like before.
Type msconfig, and hit Enter.
Go to the Services tab.
Then, click on Apply and OK.
At last, restart Windows.
Now, run Overwatch 2 and see if it still freezes while loading or not. If everything seems OK, it means a third-party service is the source of the problem. Find and uninstall it from your PC.
Extra methods to fix Overwatch 2 loading screen stuck issue:
Are you still getting infinite loading screen problems with Overwatch 2? Try these methods as well:
Re-install the game.
Add more RAM if necessary.
Update Windows to the latest version.
If you are interested, learn how to stop any games from crashing.
Related Articles:
We hope that our solutions fixed your Overwatch 2 stuck in loading screen issue. If you have any questions, write them down in the comment box.