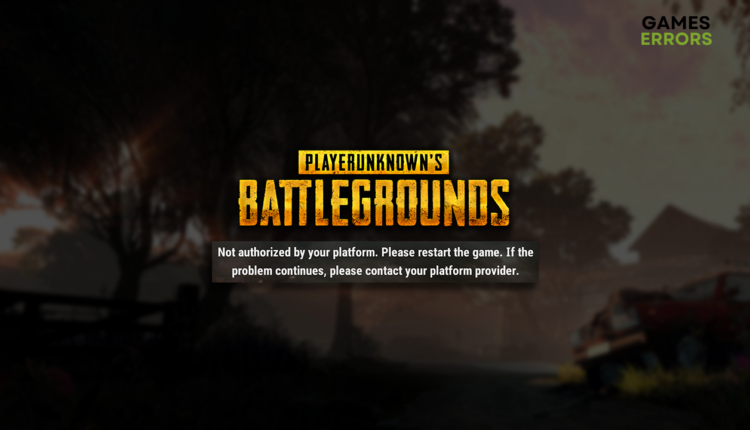 PUBG Not Authorized by Your Platform [Solved]
It might be difficult to grasp this error message, especially if you recently played the game without interruptions. Luckily we know what causes it and how to fix it! 🚀
You were ready for some battle royale time when you saw the PUBG not authorized by your platform error message. We will not let this ruin your plans! Join us and follow the solutions we propose to eliminate this error once and for all!
Another common problem is related to the game version. Learn what to do when PUBG doesn't update.
Why is PUBG not authorized by your platform?
Your platform does not authorize PUBG due to server maintenance, temporary game problems or issues on your device, troubling home network, corrupted game files, an outdated network driver, or pilled-up Steam cache files.
How to fix PUBG not authorized by your platform?
Begin troubleshooting with some easy checks and fixes:
Check for maintenance: If the PUBG team is working on a (un)expected server maintenance, they will leave a message on the PUBG: BATTLEGROUNDS Support Twitter profile.
Restart the game and your device: As the error message indicates, restart the game or the whole device to remove potential temporary issues.
Restart network devices: Find your router or modem which manages your home network, and press the restart button, which is usually located on the back side of the device.
PUBG not authorized by your platform problem can be fixed with the solutions listed below.
1. Verify game files
Corrupted game files are the most frequent cause of PUBG not authorized by your platform error on the client side. Luckily, Steam and Epic Games have a system for game file verification.
For Steam users:
Launch Steam and go to the Library.
Right-click on PUBG: BATTLEGROUNDS and select Properties.
Select the Local Files tab, and click on Verify integrity of the game files.

For Epic Games users:
Open Epic Games Launcher and navigate to the Library.
Find PUBG: BATTLEGROUNDS, hit the three vertical dots, and select Manage.
Click the Verify button.

2. Update the network driver
Time needed: 5 minutes
An outdated network driver can cause issues in the communication between your PUBG client and the game server. Keep the network driver updated to prevent this and other potential networking issues.
Click the Windows icon, type Device Manager, and open it.

Double-click on the Network Adapters section.

Right-click on your internet adapter and select Update driver.

Select the Search automatically for drivers option.
Install the driver update.
Restart your PC.
Are you looking for a way to automatize the whole process? Outbyte Driver Updater can be your best friend when it comes to driver management. It will scan, monitor and update the network and other drivers whenever necessary!
3. Delete Steam cache files
Every app and game store cache files on your device. These files help the app run and launch smoother but can cause issues, such as PUBG not authorized by your platform error. This usually happens for Steam users, so if you are one of them, you can follow the steps below to delete Steam cache files.
Open File Explorer using the Windows Key + E shortcut.
Paste the path to the Steam directory and hit Enter.
The default one is C:\Program Files (x86)\Steam

Right-click on the appcache folder and select Copy.
Navigate to Desktop using Windows Key + D.
Create a backup of the appcache folder using the CTRL + V shortcut.
Return to the Steam directory, right-click on the appcache folder, and select Delete.

Restart your PC.
Extra steps
If you still experience PUBG not authorized by your platform error message, try to:
🌐 Use an alternative network: Some players report that the issue occurred when they connected from a specific network. The best option is to make a wired connection to another network.
🔁 Reinstall PUBG: Although you already verified game files, uninstalling the game and installing it again might be a good idea.
⏳ Wait for the fix: If you did everything we advised you to do up until now, the only thing left to do is to wait until the PUBG team removes the issue. Comment so others can know they are not alone!
Related articles:
Conclusion
This was everything worth mentioning regarding the PUBG not authorized by your platform error message. Comment to let us know if it was helpful and give us more details, such as how long are you experiencing the problem and what solved it.
If you encounter any issues or errors while playing your favorite games and require support, feel free to contact us here. Our team is always ready to assist you and ensure your gaming experience is seamless and enjoyable.