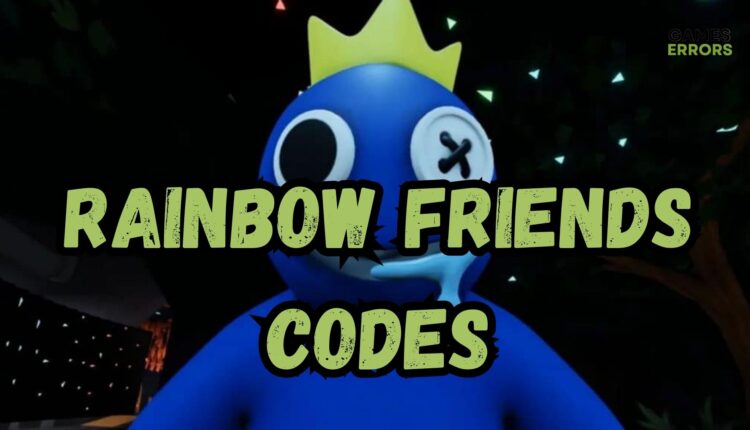 Rainbow Friends Codes In Roblox: Complete List For September 2023
With the latest and most coveted Rainbow Friends codes, you'll be equipped to seize countless opportunities for a captivating gaming journey!🗝️
If you're looking for free rewards and exclusive items for Rainbow Friends, you should definitely use our dedicated list of codes for 2023.
These will help you level up your game and stand out in the vibrant world of Rainbow Friends. Get ready to unlock exciting new content and make your virtual journey even more enchanting!
Can you get gems for free in Rainbow Friends?💡
Currently, the only functional method to acquire gems within Rainbow Friends involves purchasing them using real money through the in-game store.
For now, there are no intentions from the developers to introduce alternatives for getting crystals.
What are the Rainbow Friends codes?🚀
1. Active codes
| | |
| --- | --- |
| Codes | Rewards |
| 🤑5Million  | Redeem the code for 1000 WINS |
| 😄Friends  | Redeem the code for 50 WINS |
| 🏎️RACE4  | Redeem the code for 250 WINS |
| 🌈Rainbow  | Redeem the code for 100 WINS |
| 🎈release | Redeem the code for 25 WINS |
| 💫Trails  | Redeem the code for 50 WINS |
2. Expired codes
At this moment, there are no expired codes in this game. Nonetheless, we anticipate that a few codes may become invalid in the near future, so make sure to redeem them while they remain active.
How to redeem Rainbow Friends codes?🎁
Launch Roblox Rainbow Friends on your preferred device.
Select the Twitter bird icon located on the left side of your screen.
Simply copy and paste one of the codes provided above.
Press the Enter key to receive your reward.
How to get more free codes for Rainbow Friends?🆓
📖Check Our Guide: Regularly visit our dedicated Rainbow Friends code guide. We strive to provide the latest working codes and we update our guide whenever new codes are released or existing ones expire.
👀Stay Updated: Keep an eye on the official Roblox channels, developer announcements, and the Rainbow Friends community for news about new codes. Developers often release codes during events or updates.
🎮Join Discord: Some game developers maintain Discord servers where they share exclusive codes with the community. Joining these servers can give you access to unique codes.
📱Follow Social Media: Follow the official social media accounts of Rainbow Friends and its developers. Codes are sometimes shared on platforms like Twitter, Instagram, and Facebook.
🎉Participate in Events: Keep an eye out for in-game events and competitions. Some events may offer codes as rewards, so actively participating can lead to more codes.
🎯Related articles:
As our Rainbow Friends journey comes to an end, we hope you've found today's codes valuable in enhancing your gameplay experience.
By redeeming them, you'll gain access to exclusive items and rewards that will make your in-game adventures even more delightful.
Remember to stay updated with the latest codes, and be on the lookout for new additions to further enrich your in-game experience. Keep spreading joy and positivity with your Rainbow Friends!