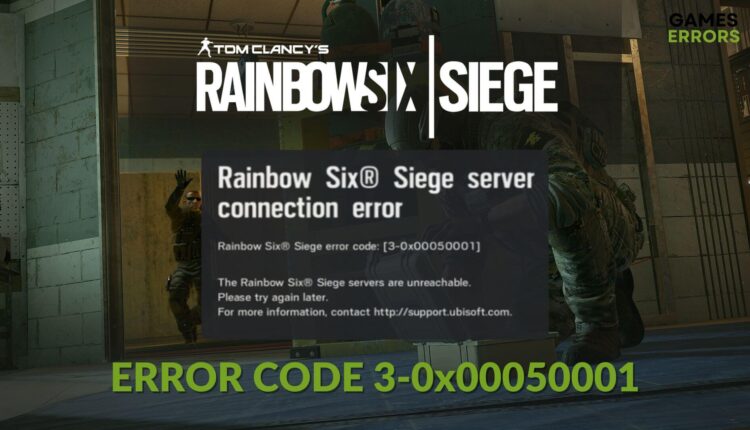 Rainbow Six Siege Error Code 3-0x00050001: How to Fix
Are you unable to play the Tom Clancy's Rainbow Six® Siege because of error code 3-0x00050001? These are the most effective methods to get rid of this issue 🎯
While trying to play Rainbow Six Siege, if you get the error code 3-0x00050001, don't worry. This article will discuss this problem and also provide the most effective solutions.
Undoubtedly, Tom Clancy's Rainbow Six Siege is an excellent tactical multiplayer FPS game from Ubisoft. However, for some reason, you may get various error codes while accessing or logging into this title. In recent days, the error 3-0x00050001 has been bugging a lot of gamers. It's not something serious. You can fix it by tweaking the right things.
Check out this guide on how to solve Rainbow Six Siege error code 0-0x00100608 if needed.
What is error code 3-0x00050001 in Rainbow Six Siege?
The error code 3-0x00050001 means there is a server problem or there is something preventing your PC from communicating with the Ubisoft server.
Usually, this problem pops up when any of the following reasons exist:
Server issues: If you get this error code on this multiplayer FPS, it is mostly because of a sudden server problem on Ubisoft's part.
Network problem: Your network settings and internet connection issues have a big role in error code 3-0x00050001 on Rainbow Six Siege.
Security software: Some antivirus and firewalls may create conflicts and interfere with this game and cause this error code.
Problematic game components: Else, if any core game components get corrupted, it can be another reason behind the error 3-0x00050001 on this game.
How do I fix Rainbow Six Siege error code 3-0x00050001?
We have prepared the methods to solve the Rainbow Six Siege error code 3-0x00050001 for both PC and PlayStation consoles. However, before going through these methods, quickly do these things to avoid any unwanted hassles:
Check the Rainbow Six Siege server status page and see if everything is OK.
Power cycle your internet modem, router, PC, or console.
Ensure that you have a stable internet connection.
Disable any proxy or VPN.
Now, try these methods one by one to solve this issue on this multiplayer FPS:
1. Disable Firewall
Time needed: 2 minutes
Disabling the firewall and antivirus is one of the most effective ways to fix the error code 3-0x00050001 on Rainbow Six Siege.
Go to Private Network, as shown in the screenshot.

Turn off the switch under the Microsoft Defender Firewall section.

Similarly, disable the Firewall for Public Network.
Restart Windows.
If you use any other antivirus or firewall, you will need to disable them as well. Then, see whether it works or not.
2. Update the game
Open Steam.
Go to its game library.
Right-click on Tom Clancy's Rainbow Six® Siege and go to the Properties.
Navigate to the Updates tab.
Relaunch Stesm.
In case you use Ubisoft Connect for this game, you will need to update this title from there. It should fix the error code 3-0x00050001.
3. Change DNS
Press Win + I to open Windows Settings.
Navigate to the Network & internet and then Wi-Fi or Ethernet, depending on which connection you are using.
Select Manual from the dropdown menu.
Toggle the switch on for IPv4.
Restart your PC.
4. Reset network
If none of the previous methods work, reset your network settings and see whether it fixes the error code 3-0x00050001 on Rainbow Six Siege or not. For this, follow these steps:
Open Windows Settings like before.
Navigate to the Network Reset.
Click on the Reset Now.
Restart your Windows PC.
Now, launch the game and see what happens. We also suggest you repair the game files. If possible, update your network driver using Outbyte Driver Updater. Also, consider updating Windows to the latest version.
How to fix Rainbow Six Siege error code 3-0x00050001 on PS5?
Go to PS5's Settings and then select System.
Navigate to the System Software and then tap on System Software Update and Settings.
Next, tap on Update System Software.
Last, select Update Using Internet.
Also, update the Rainbow Six Siege game.
Change DNS.
Consider clearing the PlayStation cache too.
Now, see whether the error code 3-0x00050001 exists on Rainbow Six Siege or not. If it doesn't help, try from a different network or re-install the game. Also, consider resetting your device.
If you are interested, learn how to fix Rainbow Six failed to do the action.
This article has explained what causes Rainbow Six Siege error code 3-0x00050001 and how to fix it on a PC or PlayStation. If you have any other helpful suggestions, feel free to write them down in the comment box.
If you encounter any issues or errors while playing your favorite games and require support, feel free to contact us here. Our team is always ready to assist you and ensure your gaming experience is seamless and enjoyable.