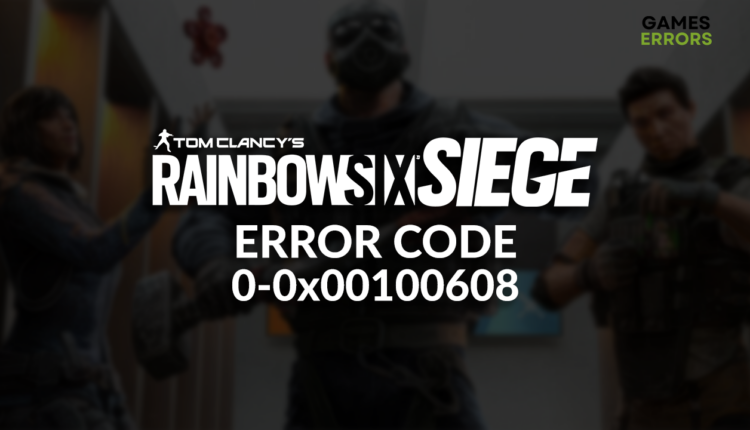 Rainbow Six Siege Error Code 0-0x00100608 [Quick Fix]
This unexpected error code will ruin your R6S time and prevent you from playing multiplayer. Luckily, we are here to assist! 👾
X
INSTALL BY CLICKING THE DOWNLOAD FILE
Is your gaming experience ruined by the Rainbow Six Siege error code 0-0x00100608? If so, you are in the right place. We know the most frequent causes for this network-related error, so we paired them with the best fixes you can apply to fix it!
Can't communicate with other players? Learn how to fix voice chat in Rainbow Six Siege.
What is Rainbow Six Siege error code 0-0x00100608?
Error code 0-0x00100608 in R6S means the game is not fully downloaded and occurs due to service downtime, problems with network devices, Windows-related permission issues, corrupted game files, outdated network drivers, pilled-up cache files, or other network-related misconfigurations.
How to fix Rainbow Six Siege error code 0-0x00100608?
To resolve this error code quickly, apply these checks and fixes:
Check R6S service status: Ubisoft publicly announces any PC, PS4, and Xbox service outages. Head to the Rainbow Six Siege service status page and check for issues.
Restart your network devices: The error suggests the game is not fully downloaded. This can happen if the network is bugged, which can be solved by restarting your modem and router.
Launch the game with permissions: Right-click on the R6S executable (.exe) file, select Properties and go to the Compatibility tab. Enable Run this program as an administrator option and hit OK.
Proceed with the solutions from the list below.
1. Verify game files
Corrupted game files can make the game server refuse the connection from your game client. The server might not be able to detect that game is installed, but files are corrupted, so you can use the game distribution platform game verification system to do so.
For Steam users:
Launch Steam and go to the Library.
Right-click on Tom Clancy's Rainbow Six® Siege and select Properties.
Select the Local Files tab, and click on Verify integrity of the game files.

For Epic Games users:
Open Epic Games Launcher and navigate to the Library.
Find Tom Clancy's Rainbow Six® Siege, click the three vertical dots, and select Manage.
Click the Verify button.

2. Update the network driver
Time needed: 5 minutes
An outdated network driver will cause numerous network-related issues, preventing R6S from updating and eventually leading to the error code 0-0x00100608.
Click the Windows icon, type Device Manager, and open it.

Double-click on Network Adapters.

Right-click on your internet adapter and select Update driver.

Select the Search automatically for drivers option.
Install the driver update.
Restart your PC.
We suggest you use a driver updater tool to automatize the whole process. We recommend Outbyte Driver Updater, a swift and portable one that can take control of the complete driver management, saving you a lot of time you can dedicate to plying R6S.
3. Delete cache files
Every app and game on your PC stores cache files locally on your PC so it can launch quickly and run smoothly. However, if these files are not saved properly, it can result in game errors and make the game server recognize the game as outdated or not completely installed.
Use the Windows Key + R shortcut to open the Run dialog, type %localappdata%, and hit OK.

Press CTRL + A to select all files in the folder.
Hit the Delete key to delete all the files in the folder.
➡ If prompted to confirm, click on Yes.
➡ If some files can't be deleted, click on Skip.
Extra steps
If you still get the error code 0-0x00100608 in Rainbow Six Siege, try to:
⏳ Give it time: Next time you get the error code 0-0x00100608, wait at least 10 minutes, hit the confirm button, and the game might load normally.
💿 Enable the compatibility mode: Right-click on the game or game launcher, select Properties, go to the Compatibility tab, and enable Run this program in a compatibility mode for Windows 8.
🔁 Reinstall Rainbow Six Siege: Some players claim that the only way for them to troubleshoot the issue was to uninstall the game and install it again.
Related articles:
Conclusion
If you successfully solved Rainbow Six Siege error code 0-0x00100608, comment and tell us what the most effective solution was. Also, if you find any alternative fixes, let us know, and we will spread the information to the other gamers seeking assistance.