Rainbow Six Siege Packet Loss: What Is And Fixes
Don't let the Rainbow Six Siege packet loss issue ruin your gaming experience. Here's how to fix it 😉.
X
INSTALL BY CLICKING THE DOWNLOAD FILE
Rainbow Six Siege is a popular online multiplayer game that requires a flawless connection to run smoothly. Unfortunately, many players have reported encountering Rainbow Six Siege packet loss issues that cause rubberbanding, stutters, disconnects, and high ping. The packet loss issue makes the game unplayable and unenjoyable for many fanatics. If you're experiencing the same, we have created this detailed guide to help you resolve the issue.
What causes packet loss in Rainbow Six Siege?
Packet loss occurs when a network packet fails to reach its intended destination. This triggers issues such as high ping, latency, unresponsiveness, and connection timeouts. Some of the possible causes of the Rainbow Six Siege packet loss issue include:
Internet connection issues: If your internet connection is slow, sluggish, and unreliable, you'll likely encounter packet loss problems during gameplay.
Server problems: If Rainbow Six Siege servers are experiencing network congestion, overload, or downtime, it affects how your PC connects to them.
Issues with your router or modem: If your router or modem has an internal error, it's likely to affect your internet connection and cause packet loss.
Network congestion on your side: If you have multiple programs running on your PC and consuming network bandwidth, you'll encounter packet loss problems.
Corrupt or missing files: Your Rainbow Six Siege files may be corrupt or missing and cause packet loss and high ping.
How do I fix Rainbow Six Siege packet loss?
✅Before jumping into our solutions, do the following quick things first:
Verify Rainbow Six Siege server status. If the servers are down, scheduled for maintenance, or experiencing outages, you may have to wait till they're up to try connecting again.
Check your internet connection to ensure it works fine.
Verify the integrity of Rainbow Six Siege files to remove corrupt and missing files.
If you encounter the Rainbow Six Siege packet loss issue, try the following fixes:
1. Power cycle your router or modem
Your router or modem may contain a temporary glitch or bug that triggers packet loss issues during gameplay. Power cycling your modem can help remove this glitch to ensure a flawless network connection. Here's how to do this:
Press down the power button til your router/modem turns off.
Unplug the router/modem from the power socket.
Wait a few minutes before plugging it back in.
Turn on your router/modem and check whether the packet loss issue is solved.
2. Update your network drivers
Time needed: 2 minutes
Since packet loss is a network-related issue, we recommend updating your network drivers to help solve it. Updating your network drivers removes corrupted or outdated drivers that cause connection problems. To do this:
Open Device Manager

Right-click the Windows Start Menu and select Device Manager.

Expand Network Adapters.

Select the Network Adapters tab to expand the category.

Update driver

Right-click the dedicated network adapters for your internet connection and select Update driver.

Choose update method

Click Search automatically for drivers and let Windows install the latest network drivers on your PC.

Save changes

Restart your PC to save changes and launch Rainbow Six Siege to see if the issue is solved.
If you don't want to manually update your network drivers, use Outbyte Driver Updater. This tool will automatically find and install the latest drivers on your PC, eliminating the hassle, effort, and time it takes to update them manually. With Outbyte Driver Updater, you no longer have to worry about missing or outdated device drivers.
3. Use a VPN
A VPN can help establish a fast and secure connection between your PC and Rainbow Six Siege servers. It can also bypass ISP throttling and reduce ping and latency, which normally trigger packet loss issues. Here's how to use a VPN for gaming:
Download and install your preferred VPN. We recommend ExpressVPN, which offers fast, reliable, and secure connections.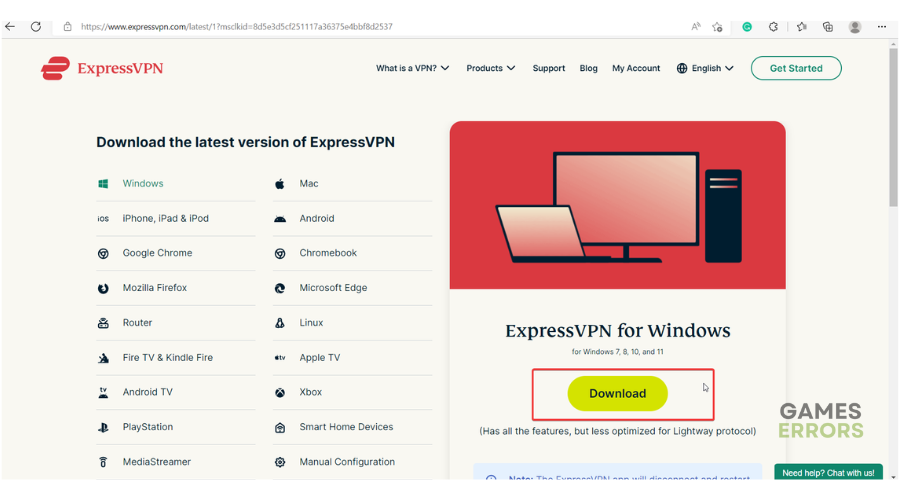 Launch it on your PC and log in with your credentials.
Connect to a local region (choose one with functional servers).
Launch Rainbow Six Siege and check whether the issue persists.
4. End network-intensive processes
Ending network-intensive processes frees up more bandwidth for Rainbow Six Siege. To do this:
Open Task Manager.
Click the Performance tab and select Open Resource Monitor.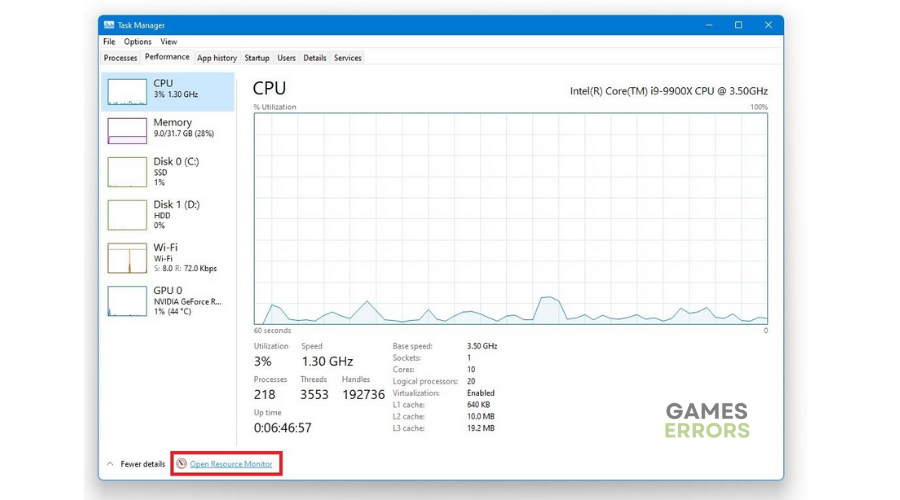 Next, select the Network tab and click Processes with network activity.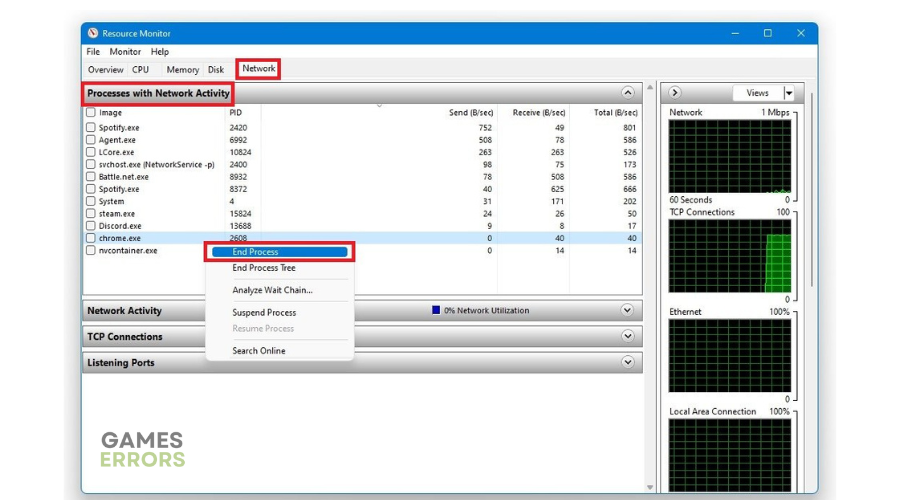 Right-click a process from the list and select End Task.
Launch the game to see if the issue is solved.
Related articles:
Conclusion
The Rainbow Six Siege packet loss issue causes game unresponsiveness and connection timeouts. Remember to power cycle your router or modem, update your network drivers, use a VPN, and end network-intensive processes.