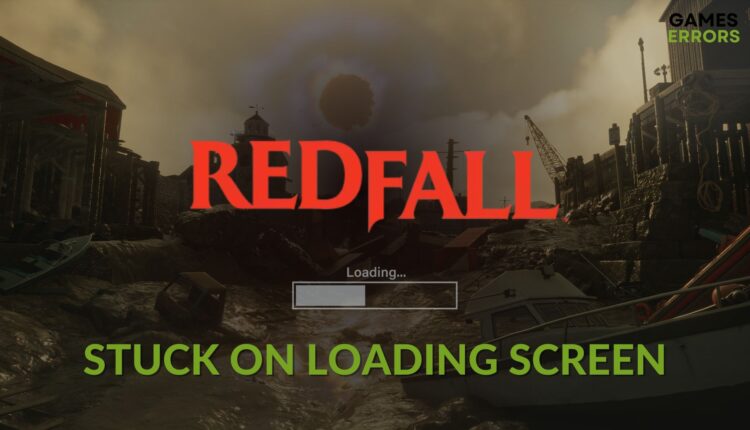 Redfall Stuck on Loading Screen: Easy Fixes You Can Apply
Update the GPU driver and repair the game files if Redfall becomes stuck while loading ✅
When you try to play, Redfall may get stuck on the loading screen if there is something wrong. Unfortunately, like you, many users may encounter this problem. However, we have the solutions for you.
For any vampire lover, Redfall is undoubtedly an excellent game. This title is open-world in nature. So, a lot of gamers have put their attention towards this masterpiece. But if it doesn't load or freezes on the loading screen, you may lose interest in playing this item.
Learn how to solve Redfall won't launch if needed.
Why is Redfall freezing on the loading screen?
If Redfall takes forever or an infinite amount of time while loading on your PC, it can be because of these reasons:
System requirements: If your PC doesn't have the essential specifications to run Redfall, it may not load at all and remain stuck in the launch or loading screen.
GPU driver issue: Problematic GPU driver also may be the reason behind this problem.
Third-party services: Third-party services often cause freezing issues on the loading screen in games like Redfall.
Disk problem: Slow disk performance and other disk-related issues also may cause this problem.
Else, problematic game files also can trigger this type of issue.
How do I fix Redfall stuck on the loading screen?
First, we suggest you ensure that your PC meets Redfall's system requirements. Then, do these things quickly before proceeding to the main methods:
Disable your antivirus and firewall.
Try to run this game as an administrator.
Delete the locally saved files and relaunch this vampire action adventure to see if it helps.
Then, follow these methods to fix the infinite loading screen problem on Redfall.
1. Update graphics card driver
Time needed: 2 minutes
Updating the GPU driver to the latest version is the best way to fix if Redfall becomes stuck on the loading screen:
Click on Search automatically for drivers.
We suggest you update the GPU driver using Outbyte Driver Updater. This tool is extremely powerful and accurate in finding and updating any type of driver on a Windows 11 or 10 PC. In addition, it helps to reduce the chance of getting various game-related errors.
⇒ Get Outbyte Driver Updater
2. Enable high-performance mode
Press Win + I to open Windows settings.
Restart your PC.
3. Repair Redfall
To fix the infinite loading screen on Redfall, you also should repair the game files by following these steps:
Open Steam or the game client you are using.
Go to the game library, as shown in the screenshots.
Right-click on Redfall and then on Properties.
Give it some time to finish the task.
Similar options are available for the Xbox app and Epic Games Launcher. In the Xbox app, you can right-click on Redfall and go to Manage. Then, go to the Files tab. There you will get the Verify and Repair option.
In Epic Games Launcher, go to the game library. Then, click on the three horizontal dots under Redfall and go to Manage. Then, click on Verify.
4. Repair disk problems
Open This PC.
Right-click on the local disk where you have installed Redfall and click on Properties.
Navigate to the Tools tab.
Then, click on Scan drive.
Wait for a while.
If Redfall is not loading because of slow disk performance due to bad sectors and similar issues, the above steps will solve the problem.
5. Run in clean boot
Open the Windows Search box, look for System Configuration, and open it.
Navigate to the Services tab.
Click on Apply and OK.
Restart your PC.
In Clean Boot, run this game. Then, see if everything is fine or not. If fine, try to enable the services one by one from the System Configuration window. Run the game every time you enable a single service until you reencounter the same issue. Then, uninstall the problematic service.
If the above methods don't work, consider re-installing the game. You also can Update Windows to the latest version or reset it to see if it works.
Learn the methods to fix Redfall crashing if necessary.
The above methods are sufficient to fix Redfall stuck on the loading screen. Which one has worked for you? You can let us know in the comment box.