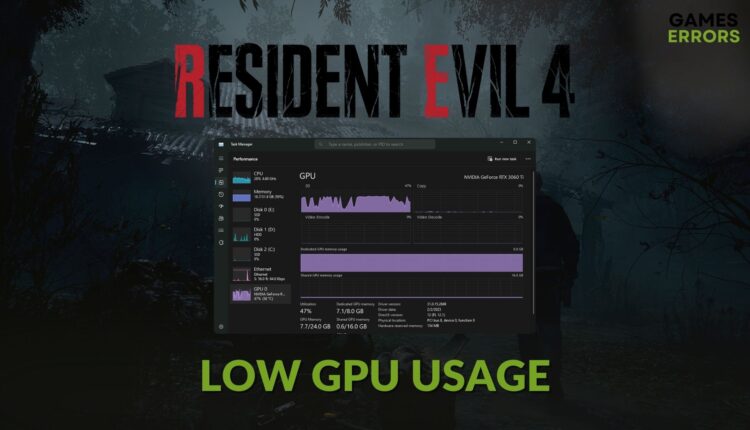 Resident Evil 4 Remake Low GPU Usage: Easily Fix This Problem
To increase GPU usage on the new Resident Evil 4, update the graphics driver and follow these methods 🚀
X
INSTALL BY CLICKING THE DOWNLOAD FILE
If you are experiencing Resident Evil 4 Remake low GPU usage problem on your PC, you can take some effective steps to solve this problem. This article will tell you about these steps and also will explain why this problem may occur.
A high-end AAA title like Resident Evil 4 Remake is very much GPU demanding. Notably, it supports a GPU-intensive feature Ray Tracing. But, if this survival horror action-adventure title fails to utilize the GPU power, you will not get the enhanced experience. In some cases, this game may become unplayable.
Why is my GPU utilization so low on Resident Evil 4 Remake?
Usually, these are the most common reasons behind RE 4's low GPU usage problem:
CPU Bottleneck: CPU bottleneck is the most common reason why you may encounter low GPU usage in a game.
Outdated driver: A high-end GPU will not perform well without a proper driver. It will bring poor FPS problems on Resident Evil 4 and also cause low video card usage issues.
Improper settings: Improper in-game and PC settings also can be responsible for this problem.
Hardware issues: Internal hardware faults, problematic cooling systems, etc., are also common reasons behind this type of issue.
How do I fix Resident Evil 4 low GPU usage?
Before getting started, you must ensure the following things:
Make sure that you are using the genuine version of the game.
Install Microsoft Visual C++ packages and DirectX Runtime and restart your PC.
Ensure there are no hardware issues and the cooling system is sufficient for GPU and CPU.
Now, you can go through the following methods to resolve the poor GPU utilization problem on RE 4 remake:
1. Update graphics card driver
Time needed: 3 minutes.
To fix Resident Evil 4 Remake low GPU usage problem, you must update the graphics driver to the latest version:
Select Search automatically for drivers and update the driver.
DriverFix is the best option for installing the latest version of the game-ready driver, including the one related to your GPU. This tool can also update multiple drivers at once with a single click.
2. Disable Vsync
Vsyinc is helpful. However, sometimes it can cause low GPU utilization problems on certain games like Resident Evil 4. So, you should disable this feature by following the steps given below:
Go to Manage 3D Settings and scroll down to locate Vertical Sync.
Restart your PC.
Now, launch RE 4 and start playing and see whether if the Graphics Card usage is still low or not.
3. Change graphics preference
Press Win + I to open Windows Settings.
Go to Graphics.
Select Resident Evil 4 from the app list and go to Options.
Restart your PC.
If you don't see Resident Evil 4 on the app list, you can manually add it. Then, perform the above steps.
4. Tweak in-game settings
Launch the Resident Evil 4.
Go to Options.
Navigate to the Graphics Settings.
Increase the Frame rate limit to Vairable or 120 FPS or anything higher.
Enable FidelityFX Super Resolution 2.
Turn on Ray Tracing.
Increase the texture quality.
Also, increase resolution and other things if necessary.
Save it.
Now, launch Resident Evil 4. The above things should increase GPU usage in this game.
5. Roll-back graphics driver
Open Device Manager, like before.
Right-click on the graphics driver to go to its Properties.
Navigate to the Driver tab.
Finish the process.
6. Re-install the graphics driver
6.1 Uninstall the driver
In Device Manager, right-click on your GPU driver and choose Uninstall.
Restart Windows.
6.2 Install again
Depending on your GPU model, visit AMD, Intel, or NVIDIA driver download page.
Select your graphics card model from the drop-down options and click on Search.
Download the driver.
Install it.
7. Repair Resident Evil 4
Open Steam.
Go to the Steam game library.
Go to the Local files tab.
Click on Verify integrity of game files.
Wait for a while until it finishes the process.
8. Upgrade CPU
If none of the above methods work, it may be because of the CPU bottleneck issue. Your Graphics Card is hugely more powerful than your processor. As a result, GPU is not getting enough instructions/output from the CPU. So, the usage is low. If you upgrade your CPU, it will go away.
However, before making this decision, you must be sure of what you are going to do. You also should re-install the game and try to know if it is a known problem with the current version.
If you are interested, learn how to fix the Resident Evil 4 Remake crashing.
You have learned what you should do if Resident Evil 4's GPU usage is low. If you have any questions, feel free to let us know in the comment box.
If you encounter any issues or errors while playing your favorite games and require support, feel free to contact us here. Our team is always ready to assist you and ensure your gaming experience is seamless and enjoyable.