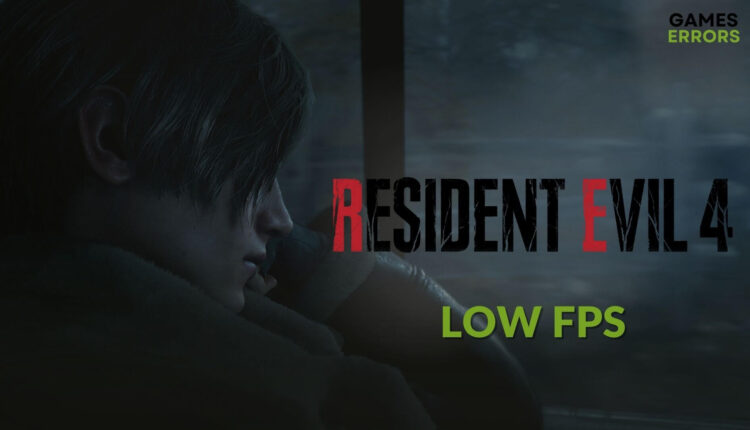 Resident Evil 4 Remake Low FPS: How to Improve FPS & Avoid Lag
If Resident Evil 4 Remake keeps lagging, update the GPU driver and follow these methods 🚀
You may go through low FPS problems with Resident Evil 4 Remake. In this case, you can take some effective steps, which are described in this article, along with other helpful information.
In this Survival Horror game, you will act as an agent who will need to find the President's daughter. You need to explore a European village. The new remake has made a lot of improvements in the gameplay and graphics.
You will find a hyper-real atmosphere while exploring the game world. But, if the frame rate is very poor, you will not get the actual experience.
Why is the Resident Evil 4 Remake so laggy?
If the new RE 4 Remake is lagging, performing very poorly, and giving very unstable and low FPS, you should figure out why it may happen. For some users, it may occur in a high-end PC too. However, usually, these are the common reasons behind this problem:
System requirements: If your PC doesn't have the recommended hardware, mainly the GPU, the new Resident Evil 4 won't launch or become stuck while loading, or even if it runs, it will give you a very sluggish performance.
Graphics driver problem: Without a proper driver, even a high-end GPU like RTX 4090 will not perform well. So, you will get a poor frame rate.
Third-party services: Excessive active third-party services can also cause low FPS issues on RE 4 Remake.
CPU bottleneck: Some PCs may have a good GPU, but the CPU is unable to handle it properly. As a result, you will notice low GPU utilization and poor performance on high-end games like Resident Evil 4 Remake.
Improper settings: Any settings unsuitable for your PC can also trigger this problem.
Resident Evil 4 remake FPS drop/low FPS is an issue that could easily be solved following our easy solutions.
How do I fix Resident Evil 4 Remake low FPS problem?
To overcome this poor performance issue on the latest RE 4, you should take these primary steps before going through the actual solutions:
After ensuring the above things, you can proceed to the following methods to fix Resident Evil 4 Remake low FPS problem:
1. Update the graphics card driver
Time needed: 3 minutes
To improve the frame rate per second (FPS) on Resident Evil 4 Remake, you must update the GPU driver to the latest version.
Click on Search automatically for drivers and complete the process.
You need the best game-ready graphics driver to gain more FPS on RE 4. For this, we suggest you use Outbyte Driver Updater. It can find the most appropriate driver and install it on your PC with just a single click.
⇒ Get Outbyte Driver Updater
2. Disable fullscreen optimization
Even though fullscreen optimization is meant to improve performance, it may also do the opposite. So, disable this feature for the new Resident Evil 4 and see what happens. To do it, follow these steps:
Open Steam and go to the Game library.
Right-click on Resident Evil 4, hover the mouse cursor on Manage and click on Browse local files.
Right-click on RE4.exe and then click on Properties.
Go to the Compatibility tab.
Click on Apply and OK.
Disabling the full-screen option could get you rid of Resident Evil 4 remake lag.
3. Enable game mode
Press Win + I to open Windows Settings.
Toggle the switch on to enable Game Mode.
Launch RE 4 and see if it has improved the performance or not.
4. Reduce background services
Right-click on the Taskbar and go to Task Manager.
Make sure you are on the Processes tab.
Select the process you want to disable and click on End Task.
Disable any unnecessary services you find. However, don't end any processes you are not familiar with. It may create problems.
5. Tweak in-game graphics settings
Launch the new RE 4.
Go to Options.
Go to the Graphics Settings.
Turn off Ray Tracing.
Lower the texture quality.
Lower other settings if possible.
Save it.
Play the Resident Evil 4 Remake and see whether you still get low FPS or not.
6. Change graphics preference
Open Windows Settings.
Click on Graphics.
Select Resident Evil 4 and click on Options.
Restart your PC.
7. Roll back the graphics driver
Open Device Manager as shown in method 1.
Expand Display adapters and Double-click on the graphics driver to open its properties.
Navigate to the Driver tab.
Follow any on-screen steps to finish the process.
8. Re-install the graphics driver
8.1 Uninstall the driver
In the Device Manager, right-click on the GPU driver and click on Uninstall.
Restart Windows.
8.2 Install again
Visit AMD, Intel, or NVIDIA driver download page based on your graphics card chipset.
Select your GPU model and click on Search.
Download the driver and install it on your PC.
Restart Windows.
9. Repair the game files
Navigate to the Local files tab.
Click on Verify integrity of game files.
Give it some time to finish the process.
Now, you can play the RE 4 Remake. You should no longer encounter any performance issues.
Extra tips:
If the new Resident Evil 4 still keeps lagging, you can do these things:
Uninstall your antivirus and firewall to see what happens.
Update the game.
Uninstall the RE 4 completely and install it on an SSD.
Update Windows to the latest version.
Uninstall any unnecessary software.
If necessary, learn how to solve the Resident Evil 4 Remake crashing.
This article has described how you can solve Resident Evil 4 Remake low FPS issues and improve performance. Let us know in the comment box if you have any questions or suggestions.