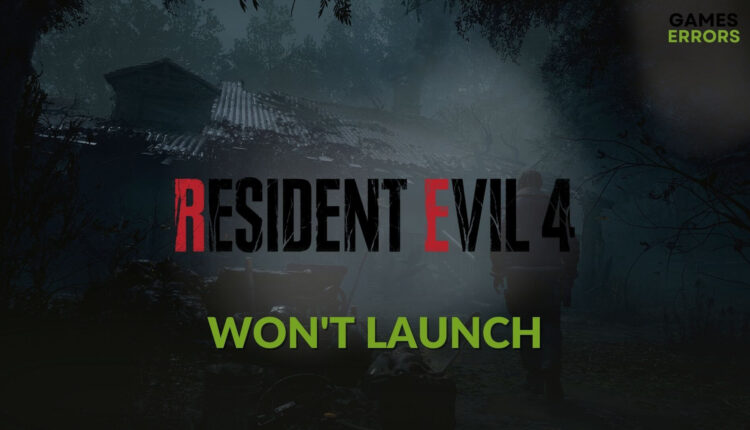 Resident Evil 4 Remake Won't Launch: How to Fix
If you are unable to run the Resident Evil 4 Remake, launch it as an admin or repair the game files ✅
If you see that Resident Evil 4 won't launch even though there is no problem with your PC's specifications, you must take some steps. This article will describe these steps in detail and also tell you why it happens.
You may be waiting to play the new RE 4 to enjoy the gameplay with modern graphics and an excellent storyline. But, If this horror game doesn't open on your PC, you will miss the whole thing. Unfortunately, it is happening on a lot of computers, including some high-end ones.
Why is Resident Evil 4 Remake not opening on my PC?
If you are unable to run the new Resident Evil 4 Chainsaw demo or the full version, you should try to find out what's happening there. In most cases, you will discover the following things behind this problem:
System requirements: If your PC doesn't have the required specifications, you won't be able to launch this game. Even if you are able to run, the Resident Evil 4 Remake will crash randomly.
Graphics driver problem: Problems with the graphics card driver are one of the most common reasons why a gamer may not be able to play a title on their PC.
Problematic game components: Some game components like Visual C++ packages and DirectX are essential for gaming. If somehow any of these become missing or corrupted, you won't be able to play the RE 4 remake.
Third-party services: Third-party services also can prevent Resident Evil 4 from launching on your PC. Your Antivirus or Firewall also may block this game's operation.
How do I fix Resident Evil 4 Remake won't launch?
First, you should check Resident Evil 4 Remake's system requirements to determine whether your PC is capable of running this title or not. If there is no issue, take these quick steps before going through the main methods:
Disable your Antivirus and Firewall to see if it helps.
Make sure that your PC is not having any disk-related problems.
Restart your PC.
Now, you can follow the solutions described below to fix Resident Evil 4 Remake won't run:
1. Run RE 4 Remake as an administrator
Open Steam.
Go to the Game library.
Right-click on Resident Evil 4, go to Manage, and click on Browse local files.
Right-click on RE4.exe and go to Properties.
Navigate to the Compatibility tab.
Click on Apply and OK.
Now, open the Resident Evil 4 Remake and see if the problem is solved or not.
2. Update the graphics card driver
Open the Start Menu, type Device Manager, and hit Enter.
Expand Display adapters.
Right-click on the graphics card driver and then choose Update driver.
Click on Search automatically for drivers and finish the process.
To update any type of driver, Outbyte Driver Updater is one of the favorite choices of gamers. This tool can find the ideal game-ready drivers according to your PC's specifications and install them automatically or with just a single click.
⇒ Get Outbyte Driver Updater
3. Install the missing game components
In case you see that Steam is showing preparing to launch or launching status, but the Resident Evil 4 is not opening, it may indicate that one or more game components have been corrupted or missing. So, you should install them by following these steps:
Download the package for X64 architecture.
Install it on Windows.
Go to the DirectX Runtime page.
Download the installer.
Install it on your PC.
Restart your PC.
4. Clear cache
If Steam's download cache has some problems, you may not be able to run any games, including RE 4 Remake using this platform. So, clear the cache according to these steps:
Open the Steam like before.
Go to Settings, as shown in the screenshot.
Restart Steam.
5. Tweak graphics preference
Press Win + I on the keyboard to launch Windows Settings.
Click on Graphics.
Click on Resident Evil 4 and then click on Options.
Restart Windows.
You can manually add this game if you don't find the RE 4 Remake in the list.
6. Repair the game files
Time needed: 3 minutes
If you see that the Resident Evil 4 Remake is not launching on your high-end PC, even though there is no problem with the system requirements, you should repair the game files to fix this problem.
Wait for a few minutes until Steam finishes the process.
Now, try to run RE 4 Remake and see if it works now or not.
7. Run in clean boot
Open the Windows Search box, type msconfig, and hit Enter to open the System Configuration window.
Navigate to the Services tab.
Click on Apply and OK.
Restart Windows.
In case you see that you have successfully launched the Resident Evil 4 Remake in a clean boot state, it means a third-party service is the source of the problem.
So, Enable the services one by one from the System Configuration window until you reencounter the problem. Then, remove that specific service/app from your PC.
Additional Methods:
If the Resident Evil 4 Remake is still not launching, consider doing these things as well:
Re-install the game.
Update Windows to the latest version.
You also can learn how to stop any games from crashing if necessary.
The above methods will help you to fix Resident Evil 4 Remake won't launch or similar problems. If you have any better suggestions that may help others, feel free to let us know in the comment box.