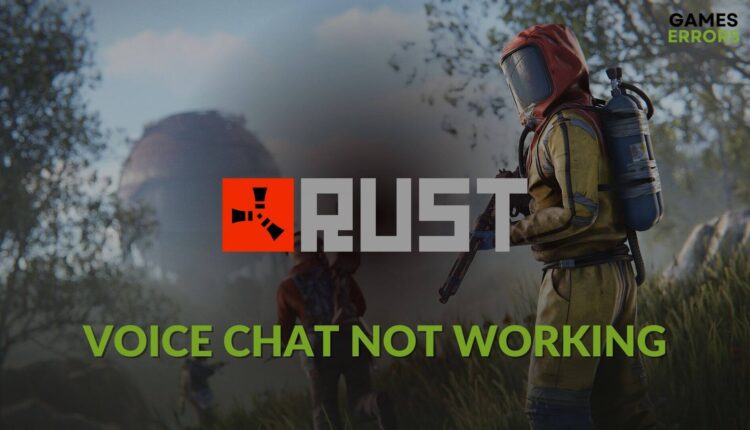 Rust Voice Chat Not Working: Fix This Issue Easily
If the voice chat feature doesn't work on Rust, change the default microphone and tweak these settings 🎯
X
INSTALL BY CLICKING THE DOWNLOAD FILE
Is voice chat not working on Rust? This article will explain why it happens and how to solve this problem.
Multiplayer experience in survival open-world games like Rust is fantastic. But, if a specific feature like voice chat or microphone doesn't work, you will not get the proper experience. You may have experienced different problems, too, like Rust being stuck on the loading screen.
But this article is all about the solutions for voice chat issues in this game.
Why is voice chat not working on Rust?
If you cannot use the voice chat feature because it is not working or showing errors, it may be because of the following reasons:
Microphone issues: The root of the problem can be the microphone you are currently using. If it has physical damage or any other internal issues, voice chat on Rust will not work.
Permission-related problem: If Windows or any security software doesn't allow microphone access, you will end up experiencing this problem.
Improper in-game settings: Improper settings in your game also may be why voice chat is not working on Rust.
Audio driver problem: One of the most common reasons behind this problem is your audio driver. If it is outdated or corrupted, the microphone and other audio devices on your PC may not work correctly, which can prevent you from using the voice chat feature.
Problematic game files:
How do I fix the Rust voice chat not working issue?
We have found the best solutions to make the voice chat feature work on Rust. However, before trying out the main methods, we suggest you do these quick things:
Make sure you have a stable internet connection.
Ensure that your microphone has no internal problems.
Complete any pending restart on Microsoft Windows.
Disable your antivirus software and see if it helps.
Now, follow these methods to fix the Rust voice chat not working issues:
1. Allow Microphone access
Press Win + I to open Windows Settings.
Turn on Microphone access.
Now, launch Rust and try to use the voice chat feature and see whether it works or not. If you have security software that may block the microphone access, try to whitelist Rust and Steam from there too. It may help.
2. Update the audio driver
Time needed: 3 minutes.
Currently, one of the most working methods to fix the Rust voice chat not working problem is updating the audio driver to the latest version.
Select Search automatically for drivers.
Finish the update process.
You should use DriverFix to update any type of driver on your PC. Gamers love this tool because it reduces the chance of getting game-related errors and audio problems. Also, it helps to boost gaming performance.
3. Change the default microphone
If there is something wrong with the mic settings, you may notice that the voice chat feature is not working on Rust. So, we suggest you verify and set your preferred microphone as the default device to fix this problem, as shown below:
Open the Windows Settings like before.
As shown in the screenshot, click on your preferred microphone and set it as the default device.
Relaunch the game.
4. Tweak in-game voice chat settings
Launch Rust.
Press Shift + Tab to open the Steam overlay.
Go to the Voice tab.

Change the Voice input device to the correct one. We suggest you set it to Default.
Save it.
Now, this game will use the default microphone device. You can launch Rust and verify if it has fixed the voice chat not working issues or not.
5. Repair Rust
Open Steam.
Right-click on Rust and go to its Properties.
Go to the Local Files tab.
Click on Verify integrity of game files.
Give it some time to finish the process.
Now, run Rust and see if the voice chat issues are still there or not. If the problem still persists, update Windows to the latest version. Also, consider updating or re-installing the game.
If necessary, learn what to do if Rust keeps crashing.
This article has described how to fix Rust voice chat not working. Let us know in the comment box if you have any questions or suggestions.
If you encounter any issues or errors while playing your favorite games and require support, feel free to contact us here. Our team is always ready to assist you and ensure your gaming experience is seamless and enjoyable.