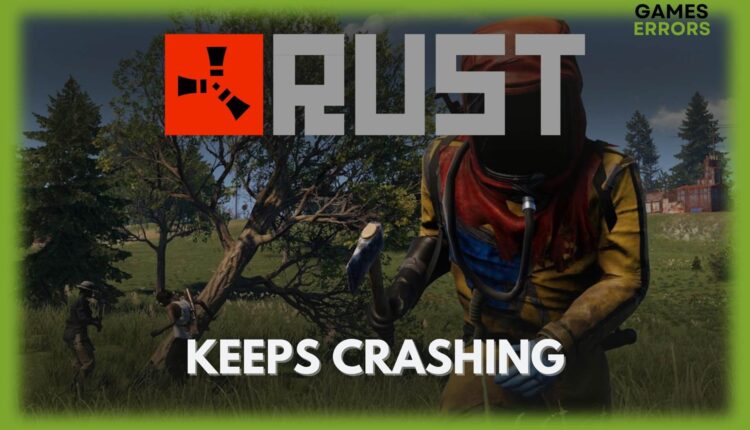 Rust Keeps Crashing on PC? Quick Ways to Fix It
Stop Rust from crashing with our expert solutions. Learn why crashes occur and how to troubleshoot them in our informative article.
X
INSTALL BY CLICKING THE DOWNLOAD FILE
Does Rust keeps crashing when you're trying to join the Rust server, or does it close on its own while playing? Don't worry. Rust crashing is a common problem that most PC players encounter. The good news is we've found quick and effortless solutions that can help you fix Rust crashing.
Why Does Rust Keep Crashing On PC?
Rust may not be very demanding, but it ceases to run on some computer configurations. Thus, you should check the system requirements before making any fixes. Ensure no programs and applications run in the background if your PC barely meets the requirements.
Apart from that, there are quite a few more reasons that keep Rust crashing. These include the following:
Outdated graphics drivers

Corrupt game files

Outdated steam client

Improper internal settings

Low virtual memory

Compatibility issues
Ensure the server is utilizing a good server host, but chances are that the issue is with your end rather than the server. After that, try each of these options until Rust starts working.
How Do I Fix Rust Keeps Crashing on PC?
You may occasionally experience Rust crashing, but most often, the game will cease functioning. The problem can happen at any point during the game and is frequently a frustrating experience.
Begin the troubleshooting procedure with a search for updates. If Rust is still crashing, here are some workarounds and potential fixes to run the game.
1. Update Your Graphics Driver
It's crucial to see if the graphics driver can support Rust before attempting more complex fixes. One of the reasons why more than half of the games, including Rust crash, is an outdated graphics driver. Here's how to fix it:
On your desktop, enter Device Manager in the search box and click the "Device Manager" icon in the results list.
Select the Display adapters icon.

It will show a list of the display adapters installed on your PC.

Right-click the display adapter you are using to play the game and click Update driver.
Choose Search automatically for drivers.
Windows will automatically look through your computer for the best, most recent graphics drivers and install them.
Alternatively, you can use a tool like DriverFix to search, download and install drivers automatically.
2. Close Background Programs and Applications
Unnecessary programs on your computer could interfere with Rust and cause errors while you're playing. You can resolve this by visiting the Task Manager and closing any additional programs in the background. Here's how to go about it:
Press Ctrl+Shift+ESC to launch Task Manager.

Click the "Process" tab to see the unnecessary programs running in the background straining your RAM and CPU.

Right-click on it and select "End Task" to close it.



3. Check Your Game Files' Integrity
Verify each game file to ensure no missing or corrupt files interfere with its efficient functioning. You can validate your Rust files' integrity from Steam through the following steps:
Run Steam and go to the Library.

Right-click Rust and click "Properties."

Select the Local Files tab.

Choose "Verify integrity of game files."




Relaunch Rust after you complete scans to check the condition.
3. Choose a High Power Plan Option
All PCs have a balanced power plan by default. As a result, your PC may occasionally automatically slow down to conserve energy, which could lead to Rust crashing. Try switching the power plan to balanced or High-performance mode for better results. The steps are as follows:
Press Win+R to open the Run Dialog box.

Enter the "powercfg.cpl" command into the box and click Enter.

Select the Ultimate Performance or High-Performance option.

Restart your PC and game to see the condition. If Rust still keeps crashing, then check on the next fix.
4. Reinstall Rust
Delete Rust and reinstall it if you've tried all the solutions listed above, but the program is still crashing on your computer. Reinstalling Rust will likely fix the crash issue.
Navigate Steam and press Library.

Right-click Rust and choose Uninstall, then delete.

On the taskbar, right-click the Steam tab and click Exit.

Press Win+E

On the address bar, paste C:\Program Files (x86)\Steam\steamapps\common, and click the Enter button on the keyboard.

Click the Rust folder, and press the Del key to delete the folder.

Rerun Steam to download and install Rust.
These are the best solutions to help you resolve the RUST crashing issue. Ensure you meet the minimum system requirements to run the game smoothly.
Failure to do this makes you likely to experience game issues such as crashing, lagging, and freezing. Hopefully, you won't receive any more reports of Rust keeps crashing after following the above steps.
Looking for more tips to improve your Rust gameplay? Check out our top Rust game tricks to become a successful player.
If you encounter any issues or errors while playing your favorite games and require support, feel free to contact us here. Our team is always ready to assist you and ensure your gaming experience is seamless and enjoyable.