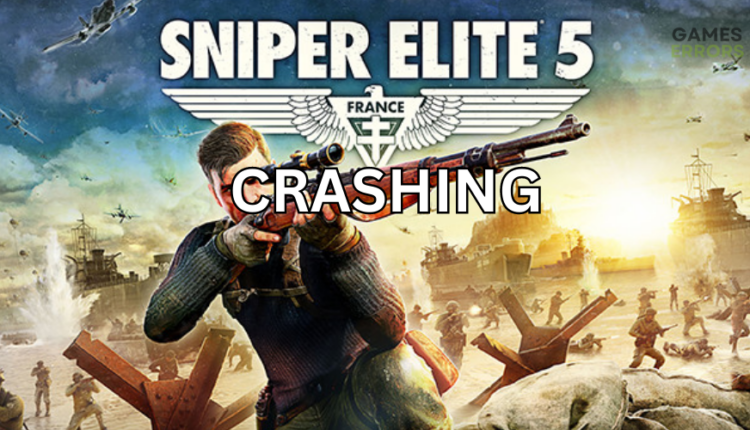 Sniper Elite 5 Crashing On PC: 3 Simple Fixes
If your Sniper Elite 5 keeps crashing on PC, it can be frustrating. Luckily, we can help fix this below 😉.
Sniper Elite 5 is the latest successor in the Sniper Elite series. The game has eye-catching graphics, stunning visuals, and fantastic cinematics. However, many players have reported encountering random crashes while playing the tactical shooter video game. The Sniper Elite 5 crashing happens unexpectedly, which can be frustrating when all you want to do is play.
If you're a victim of the Sniper Elite 5 crashing, we have created this troubleshooting guide to show you the solutions.
Why does Sniper Elite 5 keep crashing?
Here are some possible reasons why Sniper Elite 5 keeps crashing on your PC:
How do I fix Sniper Elite 5 crashing on PC?
✅There are some general troubleshooting fixes you should try before jumping into our solutions. They include:
If you're still unlucky and experience Sniper Elite 5 crashing, we recommend trying the following three simple fixes:
1. Update graphics drivers
Time needed: 2 minutes
Updating graphics drivers is the simplest way to resolve crashing issues with graphics-related programs running on your PC. To do this:
Open Device Manager

Type Device Manager in the Windows search bar and click Open.

Expand category

Double-click the Display Adapters tab to expand the drop-down menu.

Identify dedicated driver

Identify the dedicated driver Sniper Elite 5 uses from the list of options. Right-click it and select Update driver.

Choose the appropriate update method.

Select Search automatically for drivers.

Complete process

Let the process complete, and restart your PC to apply changes.

Launch game

Launch Sniper Elite 5 to see if the issue is solved.
Alternatively, use Outbyte Driver Updater – a trusted third-party app that automatically updates and installs your graphics drivers hassle-free. This will save you the hassle and time required to update them manually.
2. Switch to the dedicated GPU
Windows automatically uses integrated HD graphics to run programs and applications. However, integrated HD graphics can't support heavy-resource games like Sniper Elite 5, which causes it to freeze or crash during gameplay. To resolve this, we recommend forcing your PC to use the dedicated GPU to run Sniper Elite 5. Here's how to do this:
Right-click an empty area on your desktop and select NVIDIA Control Panel.
On the top right corner, select 3D Settings and choose Manage 3D Settings.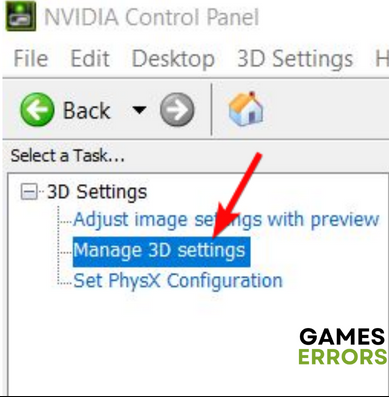 On the left pane, select the Program Settings tab and choose Sniper Elite 5 from the context menu.
Next, navigate to the Global Settings tab and select the preferred graphics processor for this program tab, then choose High-Performance Nvidia Processor.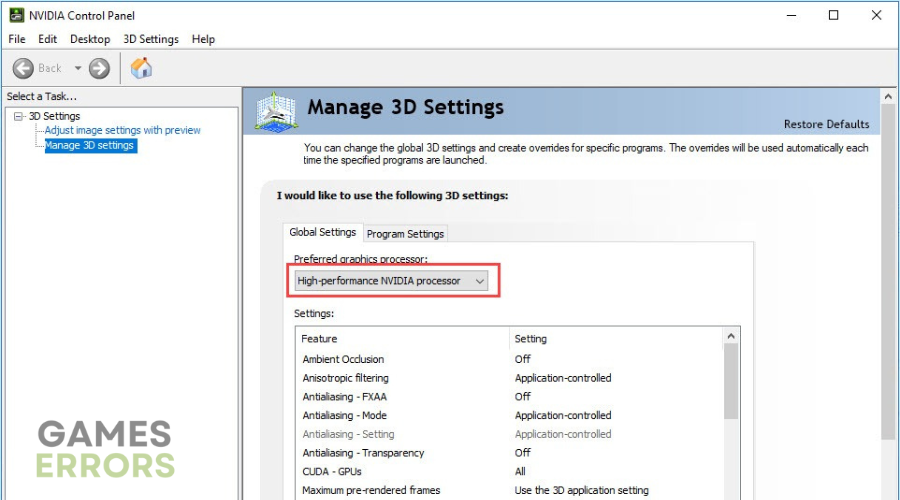 Apply the changes and restart your PC.
Launch Sniper Elite 5 to see if the issue is solved.
3. Disable fullscreen optimizations
Some players report fixing the Sniper Elite 5 crashing issue by disabling fullscreen optimizations. To do this:
Launch Steam on your PC.
Navigate to the Games Library section.
Find Sniper Elite 5, right-click it, and select Manage.
Select Browse local files to open the Sniper Elite 5 installation folder.
Right-click SniperElite5.exe and choose Properties.
Select the Compatibility tab and check the box next to Disable fullscreen optimizations.
Click Apply to save changes and launch the game to see if it crashes.
➕Other fixes worth trying to fix Sniper Elite 5 crashing
Additional solutions that may help fix the crashing issue include:
If interested, here's Sniper Elite 4 Crash on Startup: How to Fix it Quickly
Related articles:
Conclusion
The Sniper Elite 5 crashing issue has plagued many players, but we have three simple solutions that may help fix it – Update graphics drivers, switch to a dedicated GPU, and disable fullscreen optimizations.