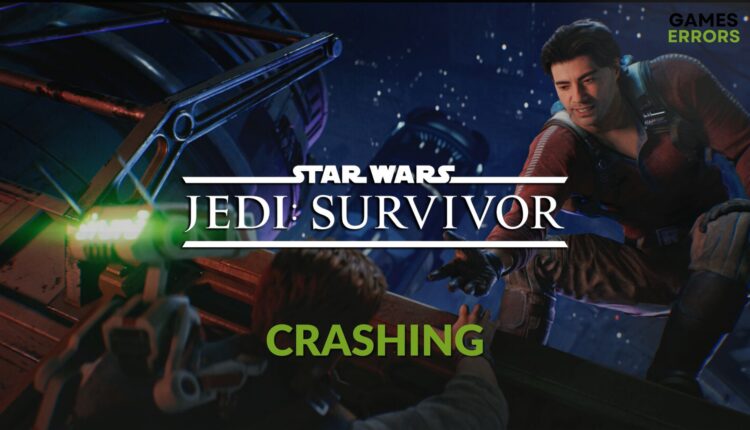 Jedi Survivor Crashing PC: Here's How to Stop It – Explained
Is Star Wars Jedi: Survivor crashing on startup or in the mid-game? Update the GPU driver and repair it as you blink ✅
X
INSTALL BY CLICKING THE DOWNLOAD FILE
Crashing problems in the Star Wars Jedi Survivor can completely prevent you from playing this game. So, knowing about its solution is a better idea.
This third-person sci-fi action-adventure title is now a center of attention for Star Wars lovers. It is the latest addition to this game series, where you will stand against the darkness and fight against various types of enemies. For some reason, in the middle of the gameplay or during startup, this item may stop working and crash.
Why does Jedi Survivor keep crashing PC?
Jedi Survivor keeps crashing on PC due to many reasons, but, these are the most common ones:
Video driver problem: If the GPU driver is outdated or has some issues, the graphics card will not run at its full potential. As a result, the Star Wars Jedi: Survivor may keep crashing.
Overclocking: Any type of overclocking, especially memory overclocking, can be the reason why SW Jedi Survivor crashes randomly.
Problematic game components: Corrupted, outdated, or missing game components are very common things that may work behind this situation.
System requirements: Like many other modern video games, Star Wars Jedi: Survivor is a pretty resource-demanding game. If your PC doesn't have the required specifications, this game will not run or may crash. Star Wars Jedi: Survivor crashing at startup may be caused by this.
Jedi Survivor crashing on startup is most reported among players. Follow our easiest methods to get back in the game!
How do I stop Jedi: Survivor from crashing?
To fix Jedi Survivor crashing on startup, you can follow some specific methods. However, before that, we suggest you do these quick things:
After ensuring the above things, follow these methods one by one to fix Star Wars Jedi: Survivor crashing issues:
1. Update graphics card driver
Time needed: 3 minutes.
To resolve crashing problems on Star Wars Jedi: Survivor, you should update the graphics card driver to the latest version.
Click on Search automatically for drivers.
Restart your PC.
To update the graphics driver more conveniently and accurately, DriverFix is an excellent option. Compared to the built-in device manager, it is more powerful and helpful. This tool can install the latest official drivers, which helps to solve various game crashing issues.
2. Install/update missing game components
Visit the DirectX Runtime download page.
Download the installer.
Install it on Windows.
Similarly, download Microsoft Visual C++ Redistributable.
And then install it for X64 architecture.
Restart your PC.
3. Clear shader cache
Press Win + I on your keyboard to open Windows Settings.
Click on Temporarily files.
Check DirectX Shader Cache.
You can check all other options if you want.
Then, click on Remove files.
Relaunch the game.
Clearing the shader cache is an excellent way to prevent crashing problems on Star Wars Jedi Survivor. However, after clearing, you may experience low FPS, stuttering, and laggy experience for a while. It will go away over time.
4. Repair Star Wars Jedi Survivor
Open Steam.
Go to the game library.
Right-click on Star Wars Jedi Survivor and then click on Properties.
Keep patience until it finishes the process.
If you use the EA app for this game, you will need to repair the game files from there. For this, go to the game library. Click on three horizontal dots for this title and then click on Repair.
5. Disable XMP
Star War Jedi: Survivor may crash if you have enabled the XMP from the BIOS settings. So, you should disable it and see what happens. To do it, follow these steps:
Turn off your computer.
Then, turn it on.
Keep pressing F12/Del/F2 button, depending on your motherboard model, until you see the BIOS/UEFI dashboard.
Locate Advanced Memory Settings and navigate to it.
Then, find the Extreme Memory Profile (XMP) and disable it.
Save the settings.
Restart your PC.
Now, run the game and see what happens.
For more suggestions, please check out this guide on how to fix game-crashing issues with XMP enabled.
6. Run the memory diagnostic tool
Open Run by pressing Win + R on the keyboard.
Type mdsched and click on OK.
Restart your PC.
After that, run the Star Wars Jedi: Survivor and see if it has worked.
Extra tips:
The game may still crash. In this case, consider doing these things:
Uninstall any recently installed apps.
Identify the problematic programs using the clean boot.
Update Windows 11 or 10 to the latest version.
Re-install the game.
For even more suggestions, learn the additional ways to solve game crashing issues.
This article has shown how you can stop Star Wars Jedi: Survivor from crashing on your PC. If you have any questions, let us know in the comment box.
If you encounter any issues or errors while playing your favorite games and require support, feel free to contact us here. Our team is always ready to assist you and ensure your gaming experience is seamless and enjoyable.