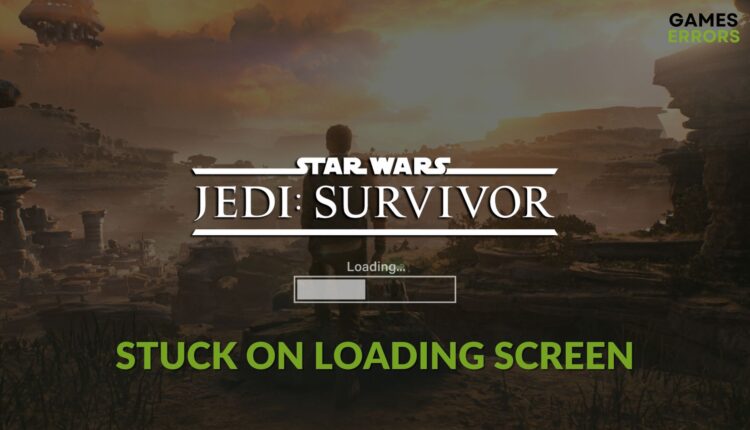 Jedi: Survivor Stuck on Loading Screen: Fix The Infinite Loading
Repair Star Wars Jedi: Survivor infinite loading screen by updating the GPU driver💥
After launching, you may notice that Star Wars Jedi: Survivor is stuck on the loading screen. Like you, many other gamers may experience the same problem. This article has the perfect solutions for this issue.
You may want to explore the extraordinary new planets and have a sci-fi adventure gameplay experience. But, after opening the game, if it freezes while loading, all of the excitement will turn into great frustration. However, tweaking the right things can save you from this unwanted situation.
If you are interested, learn how to solve Star Wars Jedi: Survivor won't launch.
Why is Star Wars Jedi: Survivor taking forever on the loading screen?
Star Wars Jedi: Survivor may take an infinite amount of time in the loading screen if any of the following reasons exist:
GPU driver problem: Outdated, missing, or corrupted graphics card driver is a very common reason behind this type of problem.
System requirements: If your computer doesn't meet the system requirements adequately, Star Wars Jedi: Survivor may crash or take forever to load.
Corrupted game components: Any related game files or components may get corrupted or missing. It is another reason this Star Wars game may freeze while loading.
Third-party services: Some third-party background services may also cause this problem.
How can I fix Star Wars Jedi: Survivor stuck on the loading screen?
Before taking the main steps, it's always better to do these initial things:
Now, if necessary, go through the following troubleshooting methods one by one to solve this problem:
1. Repair the game files
Time needed: 2 minutes
When Star Wars Jedi: Survivor is stuck on the loading screen, repairing the game files is the best solution you can try.
Wait for a while until it finishes the process.
If you use the EA app, go to the game library. Click on the three horizontal dots on the Star Wars Jedi: Survivor and then click on Repair.
2. Update the GPU driver
Open the Windows Search Box, search for Device Manager, and open it.
Expand Display adapters.
Right-click on the graphics driver and click on Update driver.
Next, click on Search automatically for drivers.
Go ahead and finish the process.
We suggest you use Outbyte Driver Updater to update the GPU driver, as there is no better alternative. This app can automatically find the latest compatible official driver and install it on your PC. Besides, you can update all of the drivers on your PC with just a single click by using this tool.
3. Repair common disk problem
To fix the infinite loading screen problem on Star Wars Jedi Survivor on Windows 11 or 10, you should repair the common disk problems and see if it helps. The following steps will help to do it:
Press Win + E to open the File Explorer.
Right-click on the drive where you have installed SW Jedi Survivor and go to the Properties.
Navigate to the Tools tab.
Then, click on Scan Drive.

At last, restart your PC.
4. Run in clean boot
Open the Start Menu, type System Configuration, and hit Enter.
Go to the Services tab.
Restart Windows.
In the clean boot, you may be able to run this game. If yes, it means a third-party service is the root of the problem. Try to find it out and uninstall it to solve the problem permanently.
5. Re-install Star Wars Jedi: Survivor
Go to the Steam game library.
Right-click on Star Wars Jedi: Survivor, then hover the mouse cursor on Manage, and click on Uninstall.
After that, click on Install.
Keep patience until it finishes downloading and installing.
In the EA app, you can re-install this title in a similar way. It will help if the Star Wars Jedi: Survivor is stuck on the loading screen.
Yet, the problem may still occur or come back. In this case, we suggest you update Windows to the latest version. Also, look for the memory problem. You also should consider re-installing Windows if no other methods help.
For more suggestions, we recommend this guide on how to solve infinite loading screen issues on any game.
This article has explained why Star Wars Jedi Survivor may get stuck on the loading screen and how to fix this issue. In case you have a question or suggestion, let us know in the comment box.
If you encounter any issues or errors while playing your favorite games and require support, feel free to contact us here. Our team is always ready to assist you and ensure your gaming experience is seamless and enjoyable.