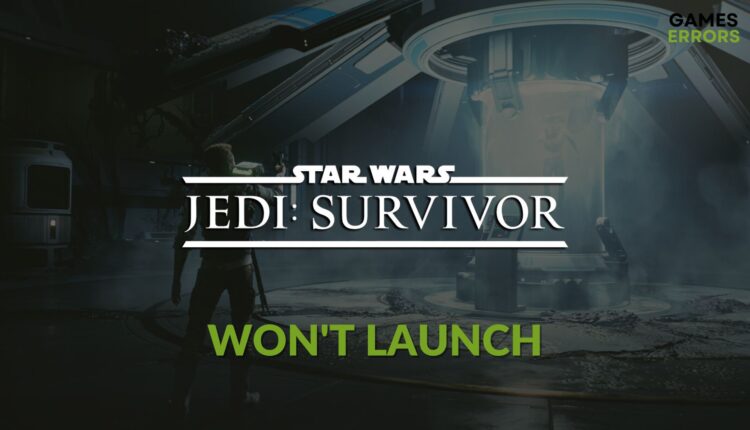 Jedi Survivor Won't Launch: How to Fix it Easily
If you cannot run Star Wars Jedi: Survivor on your PC, clear the client cache and follow these tricks 🎯
X
INSTALL BY CLICKING THE DOWNLOAD FILE
When something is wrong, Star Wars Jedi: Survivor won't launch on your Windows 11 or 10 PC. However, anyone can easily get rid of this situation by identifying the reasons and applying the most practical solutions.
This Sci-Fi action-adventure title is one of the most anticipated games right now, particularly for Star Wars lovers. Like some other recently released items, it is a pretty resource-demanding game. You may have a powerful PC with a decent GPU. Even so, this title may not launch or open on your computer.
Why is Star Wars Jedi Survivor not launching on your PC?
If you cannot open Star Wars Jedi: Survivor on your Windows PC, you'll surely find any of these reasons in most cases:
System requirements: To run a video game, your PC must have every bit of the required specifications. Not meeting the system requirements may be why this title is not launching on your PC. Even if it does, Star Wars Jedi: Survivor will crash randomly.
GPU driver: Outdated or problematic graphics drivers may be another reason behind this problem.
Third-party services: Some third-party services may create conflict and cause launching issues on Star Wars Jedi Survivor.
Disk problem: Slow or problematic HDD or SSD can also be the root of this problem.
Corrupted game components: If the related game components and files have some issues, you may not be able to open this title on your PC.
How to fix Star Wars Jedi Survivor won't launch?
First, you must ensure that your computer meets the minimum system requirements for Star Wars Jedi: Survivor. If there is no issue, do these things quickly before going through the actual methods:
Install Visual C++ redistributables and restart your PC.
Disable your antivirus and firewall.
Make sure that there are no disk performance-related problems on your computer.
If everything seems alright till now, take these steps to get rid of the launching problem on Star Wars Jedi Survivor:
1. Clear client cache
Time needed: 2 minutes
Corrupted cache files with the client may prevent games from opening. So, clear the client cache to fix Star Wars Jedi: Survivor won't launch.
Relaunch Steam.
If you use the EA app, click on three vertical lines in the top left corner, go to Help, and then click on App recovery. At last, click on Clear cache and restart the launcher.
2. Update the display driver
Press Win + R on the keyboard to open Run.
Type the following command and hit Enter: devmgmt.msc
Expand Display adapters.
Right-click on your GPU driver and then click on Update driver.
Click on Search automatically for drivers.
Complete the updating process.
You should use Outbyte Driver Updater to update any type of driver on your PC. This dedicated driver updating tool is a top choice for pro gamers as it finds the latest official GPU driver and installs it on Windows 11 or 10. As a result, gamers get a better error-free gaming experience.
3. Enable high-performance mode
To fix launching issues for Star Wars Jedi: Survivor, you also should make sure that high-performance mode is enabled as it's a high-end AAA game. For this, follow these steps:
Press Win + I on the keyboard to open Windows Settings.
Relaunch the game.
If it's a laptop, try playing this title while connecting to the power cable.
4. Repair Star Wars Jedi Survivor
In Steam, go to the game library.
Right-click on Star Wars Jedi: Survivor and then click on Properties.
Go to the Local files tab.
Click on Verify integrity of game files.
Give it some time to complete the process.
For EA App, you can go to the game library. Then, click on three horizontal dots on Star Wars Jedi Survivor thumbnail and then click on Repair.
5. Run in clean boot
Open Run.
Type msconfig and click on OK to open the System Configuration window.
Navigate to the Services tab.
Restart your PC.
In the clean boot, run this game and see what happens. If Star Wars Jedi: Survivor launches successfully, try to enable the services one by one from the system configuration windows until you reencounter the same problem. Then, uninstall the problematic services from your computer.
Are you still getting the same problem? If yes, reinstall the game. Also, consider updating Windows to the latest version and see if it helps.
If you are interested, learn how to solve games not launching on EA App.
These are the most effective methods to follow if Star Wars Jedi: Survivor won't launch. Let us know in the comment box if you have any questions or concerns.