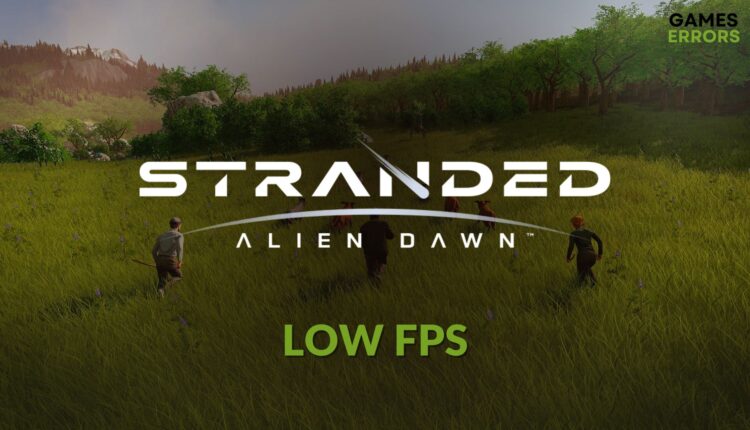 Stranded: Alien Dawn Low FPS: How to Boost Performance
To boost frame rate on Stranded: Alien Dawn, update the GPU driver and tweak these things 🚀
X
INSTALL BY CLICKING THE DOWNLOAD FILE
You may face Stranded: Alien Dawn low FPS even though this game is playable with some old low-end GPUs. However, don't worry. This article will tell you how to fix this problem.
This planet survival game has excellent graphics with a lot of amazing elements. The visuals have made it very appealing to the gamer. But, laggy or stuttering or unstable frame-dropping issues can ruin the experience. Luckily, this issue is solvable.
Learn what to do when Stranded Alien Dawn won't launch if necessary.
What is causing frame dropping problem on Stranded Alien Dawn?
If you experience frame dropping, low FPS, unstable and laggy performance issues on Stranded: Alien Dawn, it is because of any of the following reasons:
Graphics driver problem: The most common reason behind any performance issue on Stranded: Alien Dawn is your GPU driver problem. If it's outdated or buggy, FPS-related issues will appear.
Improper settings: Improper in-game settings and also PC settings can be the root of this issue.
Outdated components: Outdated or problematic game components also can affect Stranded: Alien Dawn's performance on your Windows 11 or 10 PC.
Problematic background services: Too many active background services can reserve a large number of system resources which may affect the frame rate second son Stranded: Alien Dawn.
How can I fix the Stranded: Alien Dawn low FPS issue?
Before going through the main procedures, we suggest you do the following things to make the whole troubleshooting process a lot easier:
After completing the above recommendations, follow the methods mentioned below to boost the frame rate on Stranded: Alien Dawn:
1. Update GPU driver
Time needed: 2 minutes.
To fix the low FPS problem on Stranded: Alien Dawn, updating the graphics card driver is the best method.
Click on Search automatically for drivers.
Restart your PC.
We strongly recommend DriverFix for updating any type of graphics card driver. This tool can find and install the most appropriate game-friendly driver which helps to boost gaming performance.
2. Reduce background tasks
Right-click on the Taskbar and open Task Manager.
Go to the Processes tab.
Select the process you want to disable and then click on the End Task button.
Do the same for all other nonessential and resource-hungry tasks.
While ending tasks, make sure you are selecting the ones you are familiar with. Killing any essential processes may create different problems.
3. Change graphics preference
You can change graphics optimization settings on Windows for Stranded: Alien Dawn to solve the low FPS problem. To do it, follow these steps:
Press Win + I on the keyboard to launch Windows Settings.
Navigate to Graphics.
Select Stranded: Alien Dawn from the list and then click on Options.
Close the Settings.
4. Repair the game files
Open Steam and go to the game library.
Right-click on Stranded: Alien Dawn and go to its Properties.
Go to the Local Files tab.
Click on Verify integrity of game files.
Wait for a while.
Relaunch the game.
If you use the Epic Games launcher, you can find a similar option to repair the game files there. After repairing Stranded Alien Dawn, play it and see whether still has a low frame rate or a lagging problem or not.
This method will also work if Stranded: Alien Dawn is stuck on the loading screen.
5. Roll back the GPU driver
You may encounter frame-dropping issues after updating the GPU driver. In this case, roll back it to the previous version to solve the problem. Here are the steps to follow:
Open the Device Manager like method 1.
Right-click on the display driver and go to Properties.
Navigate to the Driver tab.
Click on OK.
6. Re-install the GPU driver
In the Device Manager, right-click on your GPU driver and then click on Uninstall.
Restart your PC.
Visit the official GPU driver download website, depending on the model you are using.
Download and install the driver.
Re-installing the GPU driver should boost performance and stability on Stranded: Alien Dawn. However, if the problem still persists, we suggest you update all other drivers on your PC. Also, update Windows to the latest version.
If necessary, learn how to solve Stranded Alien Dawn crashing.
This article has explained why Stranded Alien Dawn may give low FPS and how to improve the situation.
If you encounter any issues or errors while playing your favorite games and require support, feel free to contact us here. Our team is always ready to assist you and ensure your gaming experience is seamless and enjoyable.