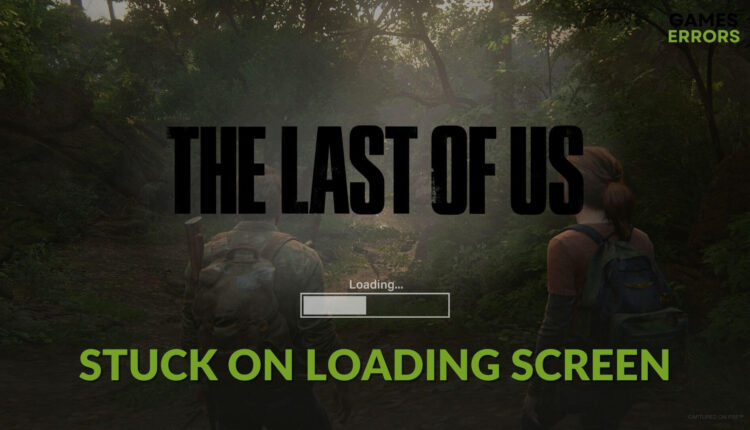 The Last of Us Stuck on Loading Screen on PC [Quick Fix]
Update GPU driver, clear cache and repair The Last of Us game files if it remains stuck while loading ✅
X
INSTALL BY CLICKING THE DOWNLOAD FILE
Is The Last of Us stuck on the loading screen on your PC? Do you want to fix this problem? This article will help you with the most effective solutions.
The emotional storytelling and gameplay have made this title very appealing to gamers. The stunning graphics will surely blow your mind. But if it freezes while loading or stays on the launch screen forever, you will miss a lot of things.
Why is The Last of Us Part 1 stuck on the loading screen?
If you dig deeper into why The Last of Us is taking an abnormally long time or freezes while loading, you will end up finding any of these reasons:
System requirements: This item has strict system requirements. If your PC doesn't meet these requirements properly, it may take forever to load.
Graphics driver problem: Graphics driver is essential. If it is buggy, corrupted, or outdated, you may face infinite loading screen problems on The Last of Us.
Corrupted cache: Corrupted cache files either on the game or the client may be another reason why The Last of Us is stuck on the launch screen.
Disk-related problem: Slow and problematic disk is a common reason behind loading screen freezing issues on a large game like The Last of Us.
Corrupted game files and components: Else, corrupted game files and components can trigger The Last of Us won't launch or get stuck while loading problem.
Other factors also may work behind this problem. However, it will not create a problem in getting rid of this situation.
How do I fix The Last of Us stuck on the loading screen problem?
First, you must confirm that your computer meets The Last of Us's system requirements. If there is no issue, take these primary steps before going through the main methods:
Now, to fix The Last of Us stuck on the loading screen, follow the methods mentioned below:
1. Update graphics driver problem
Time needed: 3 minutes.
In most cases, an outdated display driver prevents The Last of Us from loading on your PC, which is why you may see an infinite loading screen. Updating this driver will fix this problem:
Click on Search automatically for drivers and follow any onscreen steps.
Finish the updating process.
DriverFix is a favorite choice for pro gamers to update the GPU driver to the latest version. This tool has a significantly more extensive database than the other tools, allowing it to detect outdated drivers more efficiently. It also can update multiple drivers with just a single click.
2. Clear cache
Launch the Steam desktop app.
Relaunch Steam.
Now, launch The Last of Us and see if it still gets stuck while loading or not.
3. Enable high performance
Sometimes, your computer may not use sufficient power for a highly resource-hungry game like The Last of Us. As a result, it may not load at all. So, you should enable high-performance mode from both graphics and power settings, as shown below:
Press Win + I on the keyboard to open Windows Settings.
Navigate to Graphics.
Locate The Last of Us in the list. If you don't see it, manually add it by clicking on the Browse button.
Click on it and then click on Options.
Restart Windows.
4. Repair common disk issues
If The Last of Us remains stuck in the loading state, it can be because your SSD or hard disk is performing poorly, and this game is not able to utilize the components well. So, you must try to repair the basic disk issues by following these steps:
Press Win + E to open the File Explorer.
Go to This PC.
Right-click on the disk drive where you have installed The Last of Us, and go to Properties.
Navigate to the Tools tab.
Wait for a while until Windows finishes the process.
5. Repair The Last of Us
Give Steam some times to finish the process.
6. Run in clean boot
Press Win + R to open Run.
Type msconfig and click on OK to open the System Configuration options.
Navigate to the Services tab.
Click on Apply and OK.
Restart your PC.
If you don't encounter an infinite loading screen problem in the clean boot, try to identify which third-party service is causing the problem. Then, uninstall it.
Extra methods:
Are you still encountering the problem? Try these methods as well:
Re-install the game on an SSD.
Update Windows to the latest version.
Consider resetting the Windows.
If you are interested, learn what you should do if The Last of Us keeps crashing.
You have learned about the methods to fix The Last of Us stuck on the loading screen problem. Which one has worked for you? Let us know in the comment box.
If you encounter any issues or errors while playing your favorite games and require support, feel free to contact us here. Our team is always ready to assist you and ensure your gaming experience is seamless and enjoyable.