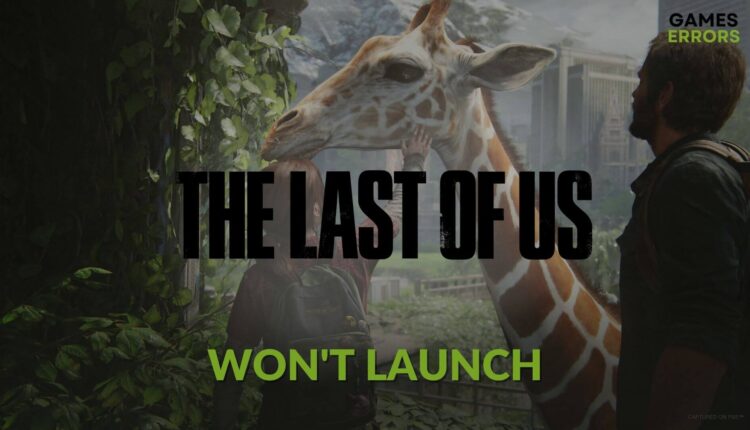 The Last of Us Part 1 Won't Launch: Make It Run Successfully on PC
Is The Last of Us not launching on your PC? Update the GPU driver and repair the game files 🎯
X
INSTALL BY CLICKING THE DOWNLOAD FILE
When you notice that The Last of Us won't launch on your PC, you must take some effective steps to fix this problem. This article will describe these steps and also the reasons behind this problem.
Part 1 of The Last of Us is a story-rich game with excellent graphics. But, if it doesn't run at all on Windows 10 or 11, it will be an immense frustration for you. Luckily, you can solve this problem and play this zombie action-adventure title successfully.
Why is The Last of Us not launching on my PC?
When you cannot run The Last of Us on Windows 11 or 10, you should try to find out the reasons. In most cases, you will find any of the following ones:
System requirements: The Last of Us has very specific system requirements. If your PC doesn't meet it, this game may not launch on your computer.
Video driver issue: Outdated or buggy video driver can be another reason why this game is not running on your PC.
Third-party apps. Including your Antivirus and Firewall, many other apps and services can create conflicts and stop The Last of Us from running on your computer.
Corrupted game components: If some essential game components or files get corrupted or missing, The Last of Use will crash or not launch.
How can I fix The Last of Us won't launch or similar problems?
First, you must ensure that your PC meets The Last of Us's system requirements. Then, do these quick things before going through the main methods:
If everything is OK, follow these methods to fix The Last of Us won't launch:
1. Run The Last of Us as an administrator
Open Steam.
Go to the steam game library.
Right-click on the EXE file of this game and go to Properties.
Go to the Compatibility tab.
Click on Apply and OK.
Now, try to launch The Last of Us Part 1 and see what happens.
2. Update the display driver
Right-click on the Windows logo button on the taskbar and go to Device Manager.
Expand Display Adapters.
Right-click on the GPU you want to update and click on Update driver.
Select Automatically search for drivers.
Complete any more on-screen steps to finish the process.
We suggest you use DriverFix to update the graphics card driver. This tool can find the most recent version of the drivers when the device manager may show a message that the best driver is installed, though it's not the case. Else, this tool is more capable and powerful.
3. Clear cache
If The Last of Us is not launching or opening, you should clear the cache of the game launcher you are using. It can be the Steam or Epic Games Launcher. For this, follow these steps:
Open Steam or the game launcher you are using.
Relaunch Steam.
For Epic Games Launcher, you will need to go to the local app data folder and look for anything that starts with web cache related to Epic Games. Then, delete such folders.
4. Repair The Last of Us
Time needed: 2 minutes.
To fix The Last of Us won't launch, you must verify and repair the game files on Steam or Epic Games Launcher.
Wait for a while until it finishes the process.
Epic Games Launcher has a similar option. You can click on the three horizontal dots under The Last of Us, go to Manage and click on Verify. It will solve the launching problem there.
5. Run in clean boot
Press Win + R to open Run.
Type msconfig and click on OK.
Go to the Services tab.
Click on OK.
At last, restart Windows.
If you don't face the problem in the clean boot, it means a third-party service is a culprit. Try to find it out and remove it from your computer to fix The Last Of Us's launching problems.
6. Re-install the game
Go to the Steam game library.
Complete any additional steps to uninstall the game.
Click on the Install button to download and install this Zombie action-adventure game again.
Choose the installation location located in an SSD and click on Next.
Finish the installation process.
Now, try to play the game and see what happens. If the problem still persists, update Windows to the latest version. Then, see what happens.
This article has explained the methods to fix The Last of Us won't launch. If you have any questions, let us know in the comment box.
If you encounter any issues or errors while playing your favorite games and require support, feel free to contact us here. Our team is always ready to assist you and ensure your gaming experience is seamless and enjoyable.