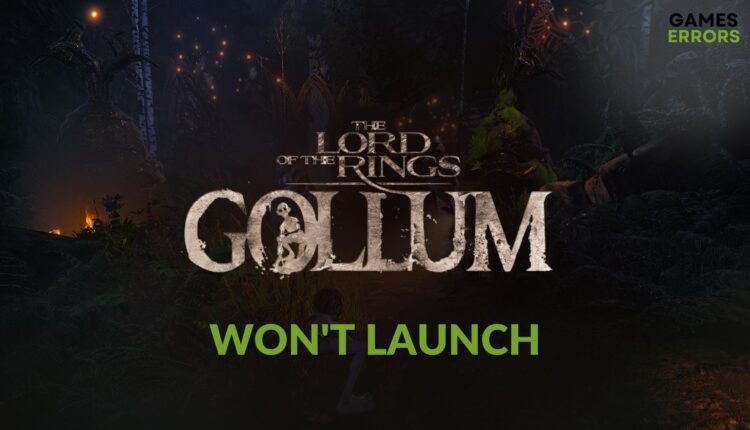 The Lord of the Rings: Gollum Won't Launch: Correct Solutions
Clear cache and repair the LOTR: Gollum installation if it's not launching on your PC 🎯
X
INSTALL BY CLICKING THE DOWNLOAD FILE
The new anticipated game, The Lord of the Rings: Gollum, won't launch on your PC in specific situations. But, if you follow this article, you will be able to solve this problem.
The fantasy world, puzzles, and amazing storyline of this LOTR game can blow your mind. However, for some gamers, this title may not run at all, even though they have a high-end PC. If it happens to you, tweak a few things to get rid of this situation.
Why is The Lord of the Rings: Gollum not opening on my PC?
If the new LOTR: Gollum doesn't run on your Windows 11 or 10 PC, it means the following reasons exist:
System requirements: If your PC doesn't have the required specifications, this game will not launch. Even if you can run, The Lord of the Rings will crash randomly.
Graphics driver problem: An outdated or faulty GPU driver is one of the most common reasons behind any game launching-related issues.
Problematic game components: Games like LOTR: Gollum will not run on your computer if the essential game components and files get corrupted.
Third-party services: Some third-party services like your antivirus and some other apps can create conflict and cause not launching issues on The Lord of the Rings: Gollum.
Incorrect settings: Incorrect settings and configuration on your PC also can trigger this problem.
How do I fix The Lord of the Rings: Gollum won't launch?
First, make sure that your PC meets the system requirements of The Lord of the Rings: Gollum. If there is no problem, do these quick things before going through the main methods:
After that, you can try the following methods to fix not launching issues on LOTR: Gollum:
1. Update the graphics card driver
Double-click on Display Adapters to expand it.
Right-click on your graphics card driver and click on Update driver.
Next, click on Search automatically for drivers.
Step forward and finish the process.
Restart Windows.
Consider using DriverFix to update any type of driver on your PC. Device Manager may fail to detect outdated ones that may increase the vulnerabilities. However, this dedicated tool can automatically keep all of your drivers, including the video driver, up to date, which enhances gaming performance.
2. Run the game as an administrator
Open Steam or the game client you are using.
Navigate to the game library.
Right-click on the EXE file that can launch the LOTR and go to Properties.
Go to the Compatibility tab.
At last, click on Apply and OK.
Now, run LOTR: Gollum and see if it opens or not.
3. Clear cache
Launch the Steam desktop app.
Go to its Settings, as shown in the screenshot.
Relaunch Steam.
For the Epic Games Launcher, there is no such option in its settings. In this case, you will need to clear the web cache. For details, learn how to solve games not launching on Epic Games.
4. Repair The Lord of the Rings: Gollum
Time needed: 2 minutes.
Repairing the game files of The Lord of the Rings: Gollum is one of the most working solutions to fix the not launching problem.
Keep patience until it finishes the process.
Are you using Epic Games Launcher for this LOTR game? If yes, navigate to the Library. Then, click on three horizontal dots under this title and go to Manage. Next, click on Verify.
5. Run in clean boot
Press Win + R on the keyboard to open Run.
Type msconfig and click on OK.
Navigate to the Services tab.
Then, click on Apply and OK.
Restart Windows.
If you can run LOTR: Gollum in this mode, it means a third-party service is the main problem. Identify and uninstall it from your PC.
Extra methods:
Is the problem still bugging you? Try these things:
Re-install the game on an SSD.
Scan your PC with a good antivirus.
Reset Windows.
You have just learned how to fix The Lord of the Rings: Gollum won't launch on your PC. If you have any questions, write them in the comment box.
If you encounter any issues or errors while playing your favorite games and require support, feel free to contact us here. Our team is always ready to assist you and ensure your gaming experience is seamless and enjoyable.