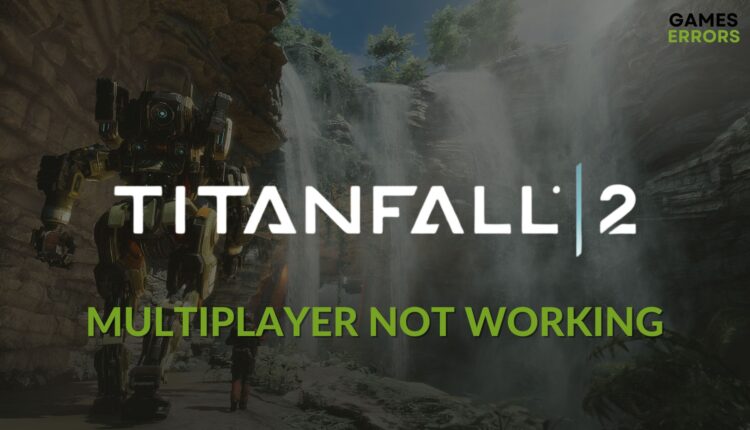 Titanfall 2 Multiplayer Not Working: Try These Fixes
If Titanfall 2 multiplayer doesn't work on your PC or Console, follow these tricks 🎯
If multiplayer is not working on Titalfall 2, it must be a frustrating experience. But taking the right steps can take you out of this unwanted situation.
Single or multiplayer, both are amazing if it is an FPS Sci-Fi game. Titanfall 2 is a very popular and visually stunning title that millions of gamers have liked. However, when some users attempt to play it with their friends or strangers online, it may not work. This article will explain this problem and give you the appropriate solutions.
Why is my Titanfall 2 multiplayer not working?
The multiplayer feature may not work on Titanfall on your PC, Xbox or PlayStation if any of the following reasons exists:
Connection problem: If your internet is not stable or there is something wrong, multiplayer may not work properly on Titanfall 2.
Problematic game files: Corrupted, missing, or outdated game files may also cause this problem. It also may cause crashing issues on any video game.
Outdated components: If the OS or Firmware or any essential gaming elements are not up to date, you may fall into this situation.
Server problem: Titanfall 2 multiplayer also may not work if there is a server outage going on.
Whatever causes this problem is not a big deal if you know the right way to troubleshoot this problem.
How can I fix Titanfall 2 multiplayer not working?
Before going through the main troubleshooting methods, we suggest you do these things:
Check Titanfall 2 server status and understand if it's a serverside issue or not.
Power cycle your PC/Console and the internet router.
Ensure that you have a stable internet connection.
Now, follow these tricks if Titanfall 2 multiplayer is not working:
1. Change the DNS
Press Win + I to open Windows Settings.
Click on Edit next to the DNS server assignment.
Select Manual.
Enable IPv4.
Restart your PC.
2. Update drivers
Updating the drivers, especially the one related to the network adapter, also can help to solve multiplayer gameplay issues on Titanfall. To do it, follow these steps:
Open the Windows Search box, search for Device Manager, and open it.
Expand Network Adapters or the device category you prefer.
Right-click on a driver and choose Update driver.
Select Search automatically for drivers.
Update all other drivers in the same way.
To update multiple drivers at once with just a single click, use Outbyte Driver Updater. In addition, this tool is more powerful, accurate, and capable. That's why it's a top choice for pro gamers.
⇒ Get Outbyte Driver Updater
3. Reset the network
Time needed: 2 minutes
When multiplayer doesn't work on Titanfall 2, you should reset the network settings on Windows 11 or 10 to fix this problem.
In Windows Settings, go to Network & Internet settings and then navigate to Advanced network settings.

Restart your PC.
4. Repair Titanfall 2
Open Steam or the game client you are using.
Go to the game library.
Right-click on Titanfall 2 and then go to Properties.
Go to the Local Files tab.
Click on Verify integrity of game files.
Give it some time to finish the process.
5. Update Windows
Go to Windows Settings.
Install any available update and restart your PC.
Now, try to play multiplayer in Titanfall 2 and see whether it works or not. If not, uninstall the game. Delete the local saved files and related folders. Install the game again.
🎮 How to fix Titanfall 2 multiplayer not working on Xbox?
Go to My Games & Apps and select See all.
Select Titanfall 2.
Tap on Manage game and add-ons and then Saved data.
Delete all.
🕹️ Fix multiplayer not working on Titanfall 2 in PS5.
Go to Settings.
Select Application Saved Data Management.
Go to Storage and tap on Delete.
Choose Titanfall 2 and then tap on Select All.
Delete everything.
If it doesn't help, rebuild the database in safe mode.
If none of these steps help, re-install the game completely. You can also consider resetting your PC/Xbox/PS5 to eliminate this problem.
Learn how to fix game launching issues on EA App if necessary.
This article has discussed how you can fix Titanfall 2 multiplayer not working issue. Let us know in the comment box if you have any concerns or suggestions.