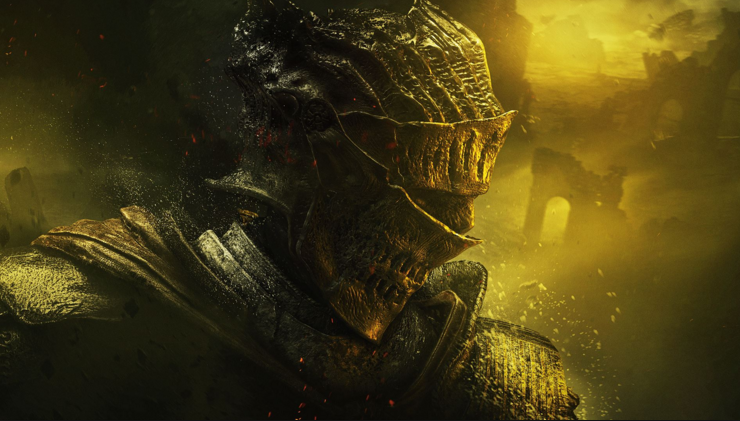 Top 6 Fixes for Dark Souls 3 Errors, Crashes, Low FPS, Controller Issues
Dark Souls 3 was finally released, after a delay of a few weeks, yesterday on Steam for PC. The game is developed by FromSoftware, and it continues to push the boundaries with the latest, ambitious chapter in the critically-acclaimed and genre-defining series. The launch of the game is not as good as everyone expected. A lot of players complained about Dark Souls 3 errors and bugs. The most encountered errors in the game are Crashes, mainly at the first bonfire and random crashes, problems with the FPS like Low FPS and FPS Drops, technical issues about the controller support and other graphics related bugs.
If you are looking for a Dark Souls Remastered Review, you can find it here.
First, make sure that you meet the system requirements below to run properly the game. After that if you encounter issues with the game follow our solutions and workarounds below. If our solutions won't help you fix the bugs get in touch with the game support team so that they can properly document your experiences. Also, make sure that you read our fix for the major issues of the game if these solutions won't work, you can find it at the end of the post!
MINIMUM:
OS: Windows 7 SP1 64bit, Windows 8.1 64bit Windows 10 64bit
Processor: Intel Core i3-2100 / AMD® FX-6300
Memory: 4 GB RAM
Graphics: NVIDIA® GeForce GTX 750 Ti / ATI Radeon HD 7950
DirectX: Version 11
Network: Broadband Internet connection
Storage: 25 GB available space
Sound Card: DirectX 11 sound device
Additional Notes: Internet connection required for online play and product activation
RECOMMENDED:
OS: Windows 7 SP1 64bit, Windows 8.1 64bit Windows 10 64bit
Processor: Intel Core i7-3770 / AMD® FX-8350
Memory: 8 GB RAM
Graphics: NVIDIA® GeForce GTX 970 / ATI Radeon R9 series
DirectX: Version 11
Network: Broadband Internet connection
Storage: 25 GB available space
Sound Card: DirectX 11 sound device
Additional Notes: Internet connection required for online play and product activation
How to Fix Dark Souls 3 Errors
Below you can find a list of the top 6 Dark Souls 3 issues that we managed to find a solution or workaround to fix them. Please follow all the steps in the solutions properly and comment at the end of the post if you are unable to use them. You can also use our patch to fix the Crashes, FPS and to Add Controller Support to the game, you can find this patch at the end of the post.
1) Dark Souls 3 Crashes, a lot of players are encountering random crashes in the game. Most of them happen at the start of the game, in the tutorial where you need to defeat some enemies and a giant boss, here the game keeps crashing constantly. If you want a definite fix for the crashes check our patch at the end of the post.
"The game will randomly crash with a white screen. This has happened to me twice so far. Is there anybody else out there having this same issue? Is there any way to fix it?"
"Many of us have the issue that we crash at the bonfire. We load, walk and crash again. The fix, which works for many, is setting the Lighting quality to LOW and then loading the game. Good luck! Turn the auto adjusts graphics settings OFF. Seems to only effect NVIDIA cards that are below the 900 series. Setting the power management option to prefer maximum performance fixed the autosave framerate drops for me."
Some workaround that may help you fix the crashes:
Change your class to Knight. It seems that starting a new game with a Knight character might fix the crashes in the tutorial.
Try lowering the graphics settings.
Verify the integrity cache of the game from Steam Library-> Dark Souls 3 Properties (right click)
Dark Souls 3 Bonfire Crash, this is the most encountered crash in the game. It happens when you try to defeat the giant boss from the tutorial. To fix it follow the solution below.
Solution for Bonfire Crash: According to /u/Toakan, /u/Hey-Gang, /u/shorefire, and /u/LamboDiabloSVTT (from Reddit) crashing at bonfires may be fixed by setting "Lighting" to "Low." This has been corroborated by members of other forums, and it may be considered a semi-confirmed fix. Or you can try to take off any shield and run to the bonfire
Or you can try to take off any shield and run to the bonfire if the solution above doesn't work for you.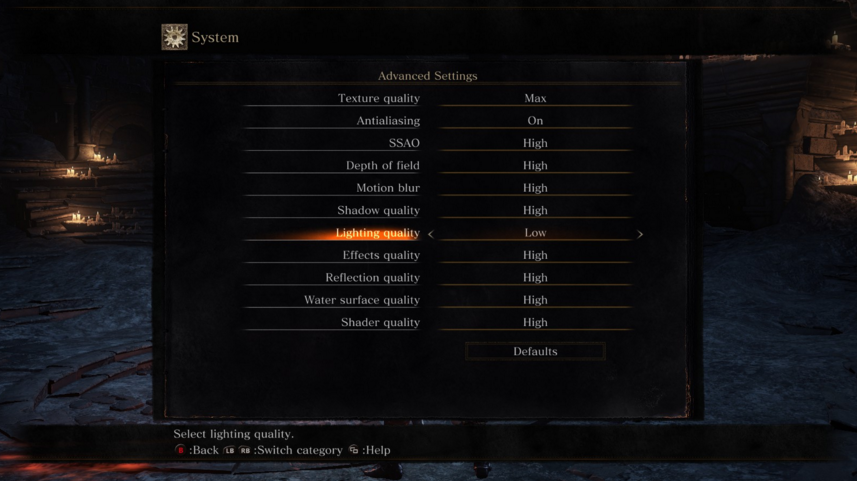 Another type of crash seems to be related with player character's hair rendering problems, putting on some clothes and helmet seems to help.
2) Dark Souls 3 Controller Issue, a lot of players are complaining about the incompatibility of the game with PS4 DualShock 4 controller. To fix this issue follow the solution from Reddit below. If you want a definite fix for the controller issue check our patch at the end of the post.
Solution: Users from Reddit said: There seem to be many issues with DkS3's compatibility with DS4 controllers. According to /u/spacemate, "The main issue seems to be the game not recognizing the controller. The fix for this is to go to the DS4 Window settings. Tick the first option, "Hide DS4 Controller". Launch the game. Controller will work (at least hopefully for most people)." This is, as of yet, unconfirmed.
For other controllers check this workaround here: According to /u/legallegends, "So for people with ds3 not recognizing their controller I tested this fix and it works. What I did was install the Logitech drivers (In my case a Logitech dual action). Downloaded the 64bit version of 360ce from http://www.x360ce.com/ Copy pasted to the ds3 directory in steam and opened it, It recognized ds3 and downloaded a config. I did have to switch around the bindings a bit, hope that might help some people."Another possible controller fix, "Check your device manager and under "human interface devices" disable everything named "HID-compliant game controller."
3) Dark Souls 3 Crashes at Higher Resolution, it seems that the game crashes on higher resolution, like 1440p – 4K. To fix this issue just go back to 1080p resolution. This resolution of 1440p requires a lot of system performance, it requires with almost 50% more.
4) Dark Souls 3 200MB File Size in Japan, after buying Global Keys the File Size of the game install shows just 200MB for some users in Japan. This file is just a bonus soundtrack of Dark Souls 3. If you are in Japan, follow the tips below to fix this issue.
Tips: Change Your Steam Client Language to Japanese and select install on the 200MB file. The full 17GB of data will start downloading. The bad part now is that you will have the game in Japan, even though you entered a Global Key. You can try to change the game language to English from the properties but do a backup of the files before to be sure that the game files won't redownload again.
5) Dark Souls 3 Low FPS, a lot of gamers encounter performance issues like Low FPS and FPS Drops. Most of them are playing the game on a Nvidia graphics card. At 1080p, they are barely getting 20-25 FPS, and they meet the recommended system requirements. To fix the FPS issues of the game follow the workarounds below or for a definite and simple fix check our patch at the end of the post.
"I am running the game fine with some tweaks at the Nvidia control panel ( v sync adaptive and tripe buffering on ). Most of the time the game run at 60 fps with high/medium settings and depth of field and blur off, but when I begin to fight an enemy or change the camera the fps go to around 54 and after 2 or 3 seconds go to 60 again, I know it's not a big deal but its annoying when I am playing, I tried to put on low, and the game runs better, but the game doesn't look good ( obviously ) . I know my PC isn't high end, but at least it should run at solid 60 fps on medium. There is someone with the same specs as mine with solid 60 fps? Should I test a new driver? I saw some people saying that are playing on a 960 with steady 60 fps, but mine 960 just don't."
Workarounds:
For Nvidia users that encounter Low FPS: revert to Driver 314.22
You can also try the following method to increase game performances: Go to Nvidia control panel by clicking anywhere on the desktop. Here go to Manage 3d Settings.  Then click on program settings and select switch power management mode. Now, you need to select Prefer Maximum performance option.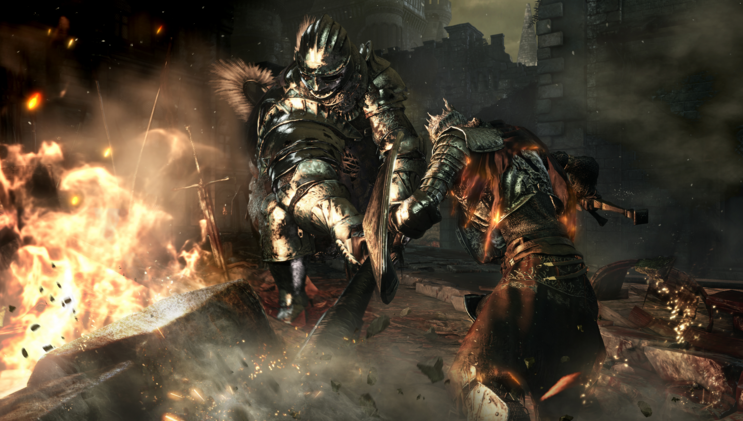 6) Dark Souls 3 60 second Crash, it seems that some players encounter a weird crash from 60 seconds to 60 seconds. To fix this issue, you need to expand your virtual memory. Follow the steps below to do this tweak in Windows 7 and 8.
Windows 7
Click the Start button
Go to Control Panel
Select System and Maintenance and click System
Click Advanced system settings
Go to Advanced tab > Performance > Settings.
Click the Advanced tab >Virtual memory > Change
Click Custom and the Initial size (MB) and Maximum size
Windows 8.1
Go to My Computer Properties
Click on System and from Advanced System Settings > View Advanced tab
Click Settings displayed under Performance
Click Performance Options and Enter Advanced Tab
Click Change button under Virtual memory
Clear the

Automatically manage paging file size for all drives

check box.
Under

Drive [Volume Label]

, click the drive that contains the paging file you want to change.
Click

Custom size

, type a new size in megabytes in the

Initial size (MB)

or

Maximum size (MB)

box, click

Set

, and then click

OK

.
Dark Souls 3 Fix Patch for Major Issues:
Our team of developers managed to release a patch that helps you fix the errors described above. You can see how our patch looks like below, where you can also find a tutorial on how to use it and a download link. Please follow the tutorial step by step before asking any questions regarding your issues. Our patch won't interfere with your Steam account, it will just change some files and .dll in the game folder in order for the errors to be fixed.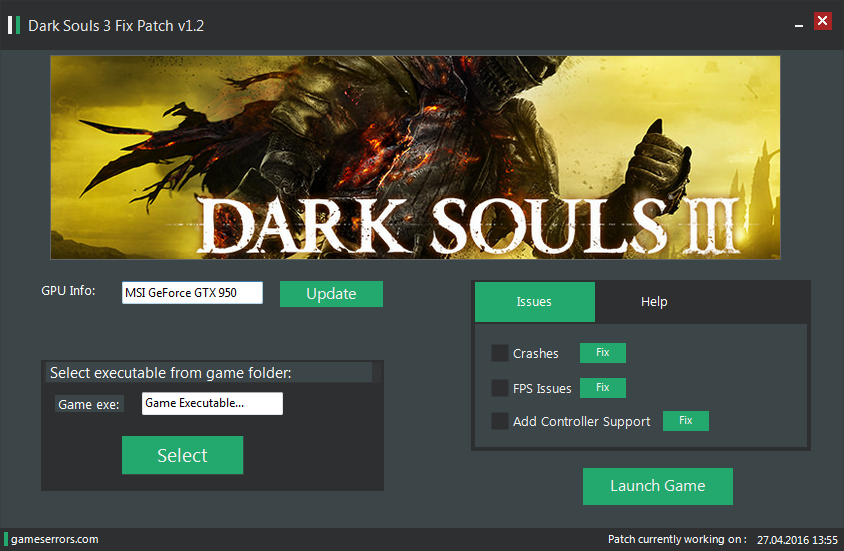 Follow the tutorial below to apply the patch correctly to your game.
How to apply our patch:
Download the archive of the patch from here: download
 Extract the downloaded archive on your PC, and open the patch from the folder.
Your GPU will be selected automatically, make sure that you use your dedicated GPU if you have a laptop!
Select the game executable from the game folder, if you used the default install folder it should be: "C:\Program Files (x86)\Steam\Steamapps\common\Dark Souls III"
 Select your issue or issues from the box to the right and click the corresponding "Fix" button.
After your errors are successfully fixed you can click the "Launch Game" button and play Dark Souls 3.
How to download: Well, you might think that our download service is pretty annoying but is very effective. To download you just need to complete a simple offer, it usually takes a few minutes, and after that, you will be able to download the patch. We use this service because is the only way to support our developers and to keep releasing and updating patches for games. Thank you! We hope you understand us and have fun playing Dark Souls 3!
We hope that our guide helped you fix your Dark Souls 3 errors and that now you are playing and enjoying the game. If you encounter any other issue or if you don't know how to apply a solution or a workaround from above, please comment below and we will help you fix your game.