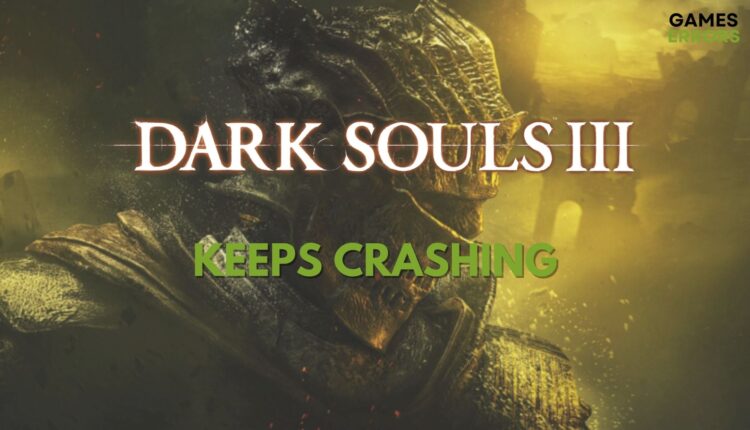 Dark Souls 3 Keep Crashing on PC: How to Fix It For Good
Dark Souls 3 keeps crashing on startup or in the mid-game? We've got your PC's back🎯
X
INSTALL BY CLICKING THE DOWNLOAD FILE
Dark Souls 3 is developed by FromSoftware, and it continues to push the boundaries with the latest, ambitious chapter in the critically-acclaimed and genre-defining series.
The launch of the game is not as good as everyone expected. A lot of players complained about Dark Souls 3 issues and bugs.
Mostly encountered errors in the game are crashes, mainly at the first bonfire or issues with the controller support, crashing on the loading screen, or when loading a save.
Plus, you may run into Dark Souls 3 crashing display driver or even crashes when streaming on Discord.
Why do Dark Souls 3 keep crashing?
In a few words, the game can potentially crash if you're running corrupted game files or because of overlay apps that run in the background and determine Dark Souls 3 crashing randomly.
You should also check that you meet the system requirements below to run properly the game. After that, if you encounter issues with the game, follow our solutions below.
MINIMUM:
OS: Windows 7 SP1 64bit, Windows 8.1 64bit Windows 10 64bit
Processor: Intel Core i3-2100 / AMD® FX-6300
Memory: 4 GB RAM
Graphics: NVIDIA® GeForce GTX 750 Ti / ATI Radeon HD 7950
DirectX: Version 11
Network: Broadband Internet connection
Storage: 25 GB available space
Sound Card: DirectX 11 sound device
Additional Notes: An Internet connection is required for online play and product activation
How to fix Dark Soul 3 crashing?
1. Repair the game files
Go to Library and right-click on the game in Steam.
Wait to find potentially corrupted files and repair them.
2. Remove background processes
Open Task Manager and go to the Processes tab.
Repeat the action for any risky programs in the list.
Close the window and retry the game.
3. Update GPU drivers
Open Device Manager on your desktop.
Expand

Display adapters

and select the driver.
Restart the PC.
In fact, you may update the drivers easily with a tool like
DriverFix.
It will get the latest driver versions, repair damaged drivers, and it will also optimize your PC to reach maximum gaming performance and avoid any crashes.
4. Change graphics settings
A useful way to get rid of different crashes while in-game is to modify your graphics settings from the menu and reduce system resources that may result in issues like crashing.
To do so, you have to launch the game > go to the Game Options > Graphics settings, and then change all the settings like the resolution which may affect the game's stability.
💥 Other in-depth Dark Souls 3 problems
Below you can find a list of the top Dark Souls 3 issues that we managed to find a solution or workaround to fix them.
➡ Dark Souls 3 Crashes: Many players are encountering random crashes in the game. Most of them happen at the start of the game, in the tutorial where you need to defeat some enemies and a giant boss, here the game keeps crashing constantly.
"The game will randomly crash with a white screen. This has happened to me twice so far. Is there anybody else out there having this same issue? Is there any way to fix it?"
Some workaround that may help you fix the crashes:
Change your class to Knight. Starting a new game with a Knight character might fix the crashes in the tutorial.
Try lowering the graphics settings.
Verify the integrity cache of the game from Steam Library-> Dark Souls 3 Properties (right click)
➡ Dark Souls 3 Bonfire Crash: this is the most encountered crash in the game. It happens when you try to defeat the giant boss from the tutorial. To fix it follow the solution below.
FIX: According to /u/LamboDiabloSVTT and others from Reddit, crashing at bonfires may be fixed by setting "Lighting" to "Low." This has been corroborated by members of other forums, and it may be considered a semi-confirmed fix. Or you can try to take off any shield and run to the bonfire
➡ Dark Souls 3 Controller Issue: a lot of players are complaining about the incompatibility of the game with the PS4 DualShock 4 controller. To fix this issue follow the solution from Reddit below.
➡ Dark Souls 3 Crashes at Higher Resolution: it seems that the game crashes on higher resolution, like 1440p – 4K. To fix this issue just go back to 1080p resolution. This resolution of 1440p requires a lot of system performance, it requires almost 50% more.
➡ Dark Souls 3 Low FPS: a lot of gamers encounter performance issues like Low FPS and FPS Drops. Most of them are playing the game on an Nvidia graphics card.
We hope that our guide helped you fix your Dark Souls 3 crashing and that now you are playing and enjoying the game. Yet, we also fixed the Dark Souls 3 crashes on consoles in case you're playing the game on a console.
If you encounter any other issue or if you don't know how to apply a solution or a workaround from above, please comment below and we will help you fix your game.
If you encounter any issues or errors while playing your favorite games and require support, feel free to contact us here. Our team is always ready to assist you and ensure your gaming experience is seamless and enjoyable.