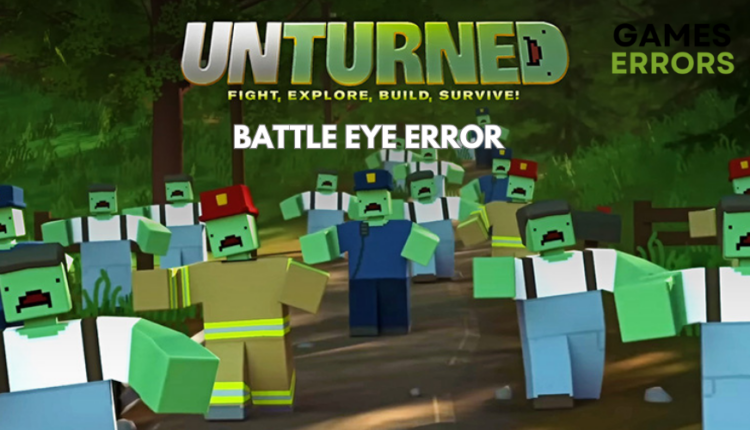 Unturned BattlEye Error: How To Fix It
Unturned BattlEye Error annoying and may occur when you are trying to start your game. Here's everything you need to know about fixing it.🎮
Encountering the Unturned BattlEye error is a common frustration shared by many gamers.
This issue pops up when you launch games with the BattlEye anti-cheat service, showing a message like "Failed to install BattlEye Service."
But don't worry, fixing this is pretty easy. In this article, we will get into the causes behind the Unturned BattlEye error and provide you with the necessary steps to fix it, allowing you to get back to Unturned ASAP.
👁What Causes Unturned BattlEye Error?
Outdated BattlEye version: Using an outdated or incompatible version of the BattlEye anti-cheat software can lead to the error.
Conflicts with security software: Some security programs or firewalls might block BattlEye from installing properly, causing the error.
Corrupted game files: If the game files associated with BattlEye are corrupted or incomplete, it can trigger the error when launching the game.
Admin permission issues: Insufficient administrative privileges can prevent BattlEye from installing, resulting in the error message.
How To Fix Unturned BattlEye Error?
The following are a couple of pre-checks to complete before getting into the solutions:
Verify your internet connection stability.
Make sure your game and BattlEye software are up-to-date.
Ensure your operating system is updated.
Verify the integrity of your game files through the game launcher.
Restart your PC before attempting any fixes.
If you are still experiencing this issue, then try the solutions below. Just work your way down the list until you find one that works for you.
Table of contents:
1. Run BattlEye Installer Manually
Sometimes, the BattlEye anti-cheat service fails to install automatically during the game launch. Manually running the installer ensures that the necessary files and components of BattlEye are properly installed on your PC. If BattlEye fails to install automatically, you can manually run the installer. To do this:
Open File Explorer and go to the BattlEye Service directory (usually C:\Program Files (x86)\Common Files\BattlEye).
Double-click on "install_BattlEye.bat" (or "install_BattlEye" in some cases) to install the BattlEye Service.
Launch your game again to see if the error is resolved.
2. Update Your Device Drivers
Time needed: 4 minutes
Outdated device drivers can lead to compatibility issues with the BattlEye anti-cheat system. By updating your device drivers, you ensure that your system has the necessary components to support BattlEye. Here's how to do it:
Right-click the Start button and select Device Manager.
Identify drivers marked with exclamation marks.

Right-click the driver, choose "Update driver," and select "Search automatically for updated driver software."

Wait for the update process to complete.
📌 Are you feeling lost in the world of drivers? Outbyte Driver Updater is your guide. It scans your computer, detects the drivers that need a refresh, and installs them as you continue to enjoy playing Unturned.
⇒ Get Outbyte Driver Updater
3. Scan for Virus and Malware
Viruses and malware can compromise system files and corrupt important components required for BattlEye to work correctly. So, perform a full scan to remove potential threats. Here's how to do it:
Open Settings by pressing Windows + I.
Go to Update & Security.
Click on Windows Security and go to Virus & Threat Protection.
Click "Run a new advanced scan" and choose "Full scan." Click "Scan now."
4. Disable Windows Defender
By temporarily disabling Windows Defender's real-time protection, you can eliminate any potential conflicts between the antivirus software and the BattlEye system. To do this:
Go to Settings and click on Update & Security
Go to Windows Security and select Virus & Threat Protection.
Click "Manage settings" under Virus & Threat Protection settings.
Turn off "Real-time protection."
Related Articles:
Conclusion
In conclusion, the Unturned BattlEye error can be a frustrating problem for gamers, hindering their experience when launching games with the BattlEye anti-cheat service. However, the solutions we have provided to this issue are simple.
By understanding the potential causes behind the error, such as outdated BattlEye versions, conflicts with security software, corrupted game files, and admin permission issues, players can effectively troubleshoot and resolve the problem.
This guide has outlined a series of pre-checks to ensure a smooth process, including verifying internet stability, updating game and BattlEye software, running the game as an administrator, updating your device drivers, verifying game file integrity, and restarting your PC.
If you are still dealing with the error, try the practical solutions we have provided.
Let us know what worked for you in the comment section below.
Happy gaming!