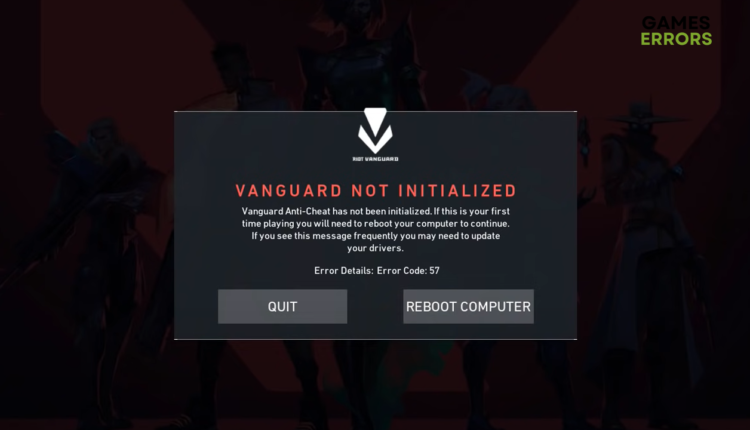 Valorant Error Code 57: Here's the Ultimate Fix to Apply
Error code 57 appears when Valorant is loaded without Vanguard anti-cheat system. 😯
Valorant error code 57 comes with the message 'PlayerAffinityInitFailure,' which doesn't reveal much. In plain language, Vanguard anti-cheat was not initialized properly if you get this error. There are a couple of things that you should do to troubleshoot the issue since it will not disappear on its own.
Recently we also wrote about cases where Valorant randomly freezes and crashes, so check it out if you have such issues.
What is Val code 57?
Valorant error code 57 is an error that appears while the game is loading and prevents players from joining the game. As mentioned, the anti-cheat software of Riot Games, Vanguard, causes this problem. The game will not run without a properly loaded anti-cheat system, so fixing it is a priority if you want to play this shooter soon.
How to fix Valorant Error Code 57?
Start the troubleshooting process by restarting the Riot Client and your PC, as these are the fastest and easiest fixes Riot Games suggests. If this doesn't fix Valorant error code 57, proceed with other listed solutions.
1. Flush the DNS settings
Temporary network files might cause communication problems between different game modules. Clearing this file can solve the issue.
Click on the Windows icon and type Command Prompt.
Click on the Command Prompt from the search results.
Type in the following commands and press Enter after each command.
▫ ipconfig /flushdns
▫ ipconfig /registerdns
▫ ipconfig /release
▫ ipconfig /renew
▫ netsh winsock reset

After completing this process for all five commands listed, restart your PC.
2. Update your graphics driver
Some Reddit users report that the outdated graphics driver caused Valorant error code 57 for them. Having the latest drivers is a good idea, so we advise updating them.
Click on the Windows icon and type Device Manager.
Open the Device Manager from the search results.
Double-click on Display Adapters and find your graphics card in this section.
Update Driver Wizard will ask you how you want to update the driver, select Search automatically for drivers option.
Windows will go through the database of drivers, and once the process is completed, restart your PC.
Depending on the model of your GPU, this process might not be successful. If you want to ensure you run the latest drivers for all devices on your PC, try with Outbyte Driver Updater.
⇒ Get Outbyte Driver Updater
3. Close background programs
If you are running the game on a PC with lower RAM, it is possible that Windows turns off Vanguard to save RAM. To prevent this, close all unnecessary background programs before launching Valorant.
Press Ctrl+Shift+Esc to open Task Manager.
Inspect what apps are using the highest percentage of your RAM.
Do this until you don't have unnecessary apps running in the background before launching Valorant.
Remember: This will close the apps and might cause the malfunction of Windows if you close Windows-related processes.
4. Disable test mode
Windows has a feature called Test Mode. When this feature is enabled, it can prevent Vanguard from running, thus creating Valorant error code 57
Click on the Windows icon and type Command Prompt.
Open Command Prompt from the search results.
Close Command Prompt by typing Exit and pressing Enter.
Restart your PC.
Related articles:
Conclusion
We hope you managed to fix Valorant error code 57 or Valorant Vanguard not initialized error code 57 using the solutions we provided. Let us know which solution worked out for you, and share any other problems you have with Vanguard anti-cheat.