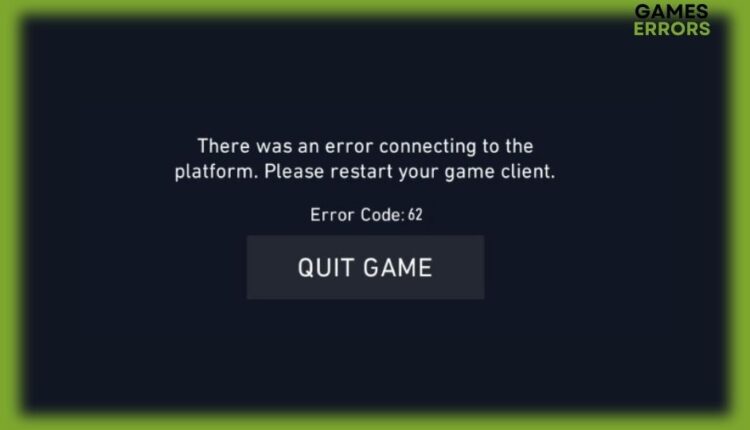 Valorant Error Code 62: How To Fix It Easily
Is Valorant error code 62 keeping you from connecting to the game servers? This connectivity issue can be fixed right here.
You know that feeling when you're trying to get into a club to join your friends but the bouncer stops you at the door? That's what Valorant error code 62 really is. It's the obnoxious gatekeeper that keeps you out when everyone else is inside having loads of fun. So why do you encounter this ugly error and is there anything you can do about it? Read on to find the answers to these questions below.
What is Valorant Error Code 62?
Some errors pop up in the middle of the game, and others occur right when you're starting the game. Valorant error code 62 belongs to the latter category. It's a connectivity issue that usually means that your game client cannot connect to any of the many game servers. The official definition of this error is NoGamepodsToPingFailure which doesn't really shed any new light on the cause of the problem. However, the main causes of this stubborn error are these:
Riot servers are down.
Your current IP address is blocked.
The servers in your chosen region are overloaded with players.
Your DNS cache is damaged or corrupt.
How to Fix Valorant Error Code 62
1. Check the Riot Servers
Before you start panicking and do something drastic such as uninstalling the game or even investing in high-spec hardware, sometimes the explanation of Valorant error code 62 is quite simple. The game servers are having technical issues and are currently down. Head over to the official Valorant Twitter page and check for any tweets about server issues.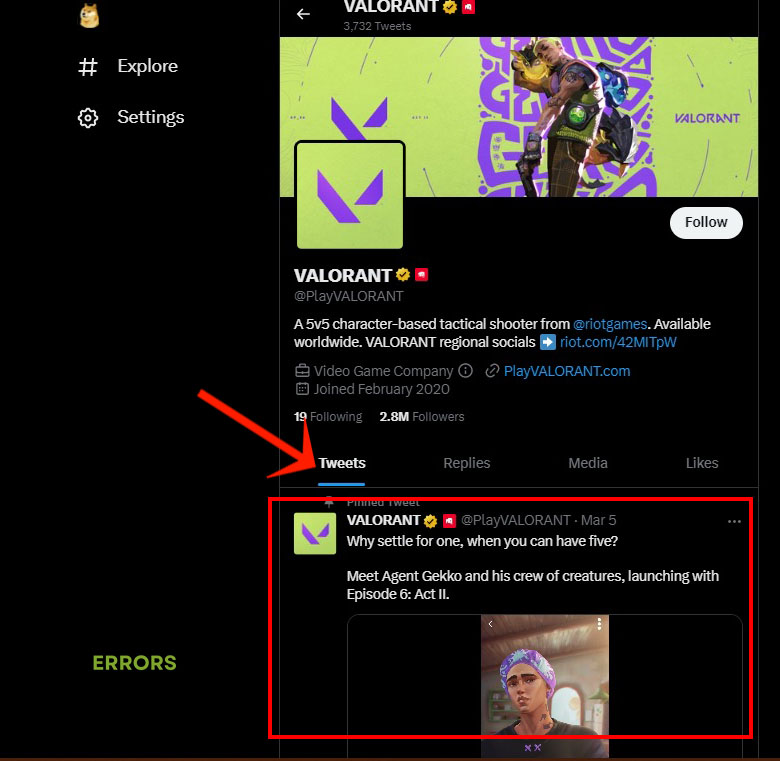 If the game servers are under maintenance, then there's nothing for you to do but wait for the game developers to fix the issue and get the servers back online. Usually, that doesn't take long and you'll be back in the game in no time.
2. Restart your Router
Time needed: 2 minutes
Your modem and router are responsible for giving you access to the internet and assigning you a specific IP address. Unless you have a fixed IP address, your internet service provider could change your IP address randomly. This could land you in hot water if the new IP address is blocked by the Valorant servers. Here's how to get a fresh IP address and regain access to the game.
Close your Valorant game and save all work you have on the machine.
Shut down your PC and unplug both the router and modem from the power source.
Wait for a full minute before plugging the modem back and wait for the LED lights to turn green.
Now plug in your router.
Start your PC and launch Valorant. Check that you can access the game.
3. Select a Server in a Different Region
Like many other online multiplayer games with worldwide appeal, Valorant has dedicated servers across the major regions of the globe. As you might expect, some regions have more servers than others to cater to the increasing number of gamers joining the game every day. So if you get error code 62, chances are, the servers in your region are packed with players. You'll need to select a different region to join with the help of a VPN.
Close Valorant and exit the Riot Launcher client.
Turn on your VPN and select a location in a neighboring continent or region.
Now start the Riot client and log into your account.
Click Account in the client and scroll down to Region.
Select from a list of regions and click Save.
Now launch Valorant and play for a while to make sure you have access.
You can switch back to your own region by switching off the VPN and repeating steps 3 to 5.
4. Flush your DNS
Since Valorant error code 62 is a connectivity issue, then flushing your DNS should be at the top of the list of solutions to try out. This is a complex process, but I'll simplify it here by breaking it down into 5 commands that you can type one by one into the elevated Windows PowerShell. This resets your DNS cache and removes any connection kinks.
Right-click the Start menu and select Windows PowerShell (Admin).
Copy and paste each one of the following commands then press Enter and wait for it to finish.
ipconfig /flushdns
ipconfig /registerdns
ipconfig /release
ipconfig /renew
netsh winsock reset
Close the PowerShell and restart your PC.
Related Articles:
Don't let Valorant error code 62 keep you from joining your friends and enjoying the game. Fix it with one of the above solutions, and tell us in the comments section below if you have other fixes that worked for you.