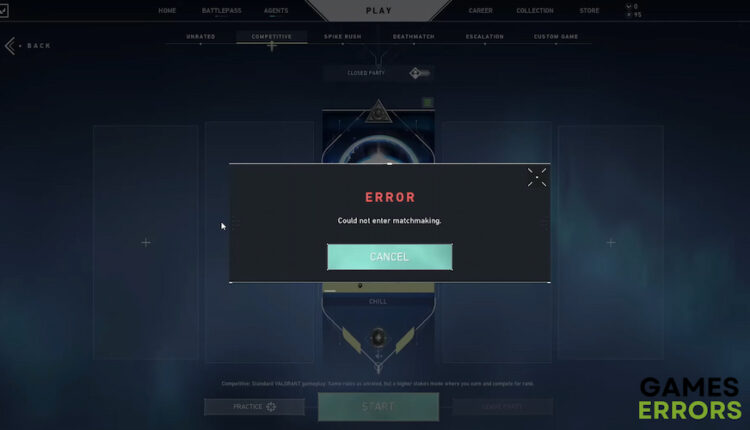 Valorant Could Not Enter Matchmaking: Fix it in a Few Steps
Troubleshooting steps for Valorant matchmaking problems 👏
X
INSTALL BY CLICKING THE DOWNLOAD FILE
Valorant is played by thousands of players daily who grind their way up to the topmost rank before the episode gets over. However, it is pretty frustrating if errors ruin the gameplay experience by not letting them enter the game at all. One of these annoying errors is the one that says "could not enter matchmaking" while you try to enter the queue.
There can be multiple reasons for you to encounter this error in Valorant, and we have explained all of them below, along with their fixes, so that you can continue playing the game.
Why can't I enter matchmaking in Valorant?
One of the most common reasons for the "could not enter matchmaking" error to appear in Valorant is that the in-game servers might be experiencing some technical issues. In addition, you may also face this issue if your internet is not working properly or if any scheduled maintenance is coming soon which can also give you error code 46.
Apart from this, it is possible that Vanguard is not launched properly, which is required to run Valorant properly. Now that you know the possible reasons for the "could not enter matchmaking" error in Valorant, here is how to fix these issues to continue your grind in the game.
How to fix Valorant "Could not enter matchmaking error"?
Before we explain the fixes, ensure that your system meets the minimum system requirements to run Valorant, and also, your game should be updated to its latest version otherwise you might also get the "version mismatch" error. Once done, you can try all the potential fixes below to remove this error.
Table of contents:
1. Check Valorant server status
The first thing that you need to do is go to the official Valorant Server Status website and check if the in-game servers are down for any maintenance or technical issues. You can also follow the official Valorant Twitter handle, where Riot will inform the community if they are taking the servers down for any reason.
In this case, all you can do is wait for the engineers to fix the problem or push the update and once it is done, you can restart the game and try entering matchmaking again, and the issue should not be there anymore.
2. Uninstall and reinstall Vanguard
Vanguard is the anti-cheat software that Riot uses for Valorant, and if it doesn't initialize properly, you will not be able to play the game. Thus, it is worth trying to remove it from your system and let the game reinstall it again. To do so, you can follow the steps listed below:
Go to Control Panel and search for Add or Remove Programs in the window's search bar.
Now, find Riot Vanguard in the list before you and click on it.
Once done, hit the Uninstall button at the top of the list and click Ok to uninstall it.
Launch Valorant, and it will automatically reinstall Vanguard.
Once you are in the game, click the Play button, and you should be able to enter matchmaking without any issues.
3. End Valorant processes
There is a possibility that Valorant processes are not running properly, and simply closing the game might not close them entirely. Thus, you should go to Task Manager by right-clicking on the Taskbar and manually ending all the Valorant processes. After that, restart Valorant and try playing the match again, and you should not get the issue anymore.
4. Turn off Firewall and Antivirus
If you have Antivirus installed on your PC and keep Firewall turned on, they might block various access and permissions, resulting in the "could not enter matchmaking" error in Valorant. Thus, you must first turn them off by searching for them in your Taskbar's "Type Here to Search" column. Once done, restart Valorant, and the error should not exist anymore.
5. Contact Riot Games customer support
While the fixes explained above have solved the problem for the majority of the player, if you are still facing it, you can contact Riot Games customer support by going to their website. Once there, log in with your account and click the "Submit A Ticket" button.
Choose your issue and give all the details you can about the problem you are facing, and a support agent will get back to you with a solution based on the information you provided.
Related articles:
That is everything you need you to know about fixing "could not enter matchmaking" in Valorant.
If you encounter any issues or errors while playing your favorite games and require support, feel free to contact us here. Our team is always ready to assist you and ensure your gaming experience is seamless and enjoyable.