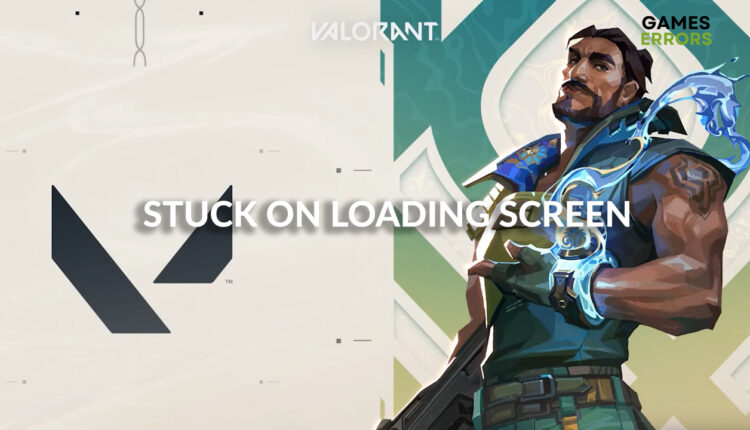 Valorant Stuck on Loading Screen: Why & How to Fix it Quickly
Valorant stuck on loading screen? No problem. Our fix gets you back in the game in no time! 🚀
X
INSTALL BY CLICKING THE DOWNLOAD FILE
Valorant stuck on loading screen created an inconvenience for you? It can be frustrating when you want to play the game, and it doesn't load the map or even the main menu… Luckily, we have a couple of solutions you can use to solve this issue once and for all!
Are you having performance issues while playing this game? If so, check out our guide on how to increase FPS in Valorant.
Why am I stuck in loading screen on Valorant?
Valorant gets stuck on the loading screen for a couple of reasons, such as outdated graphics or network drivers and lack of hardware resources due to the low specifications of the PC or apps running in the background.
Some users report that Vanguard, the anti-cheat system, is also creating troubles for them. Whatever it is, we have a solution for it!
We'll also go through what you can do to jump back in game as quickly as possible if your Valorant update is stuck at 45%.
How do I get out of Valorant frozen screen? 🥶
The first thing to do is to ensure that your PC meets at least the minimum system requirements for the game. Always use Riot Games or Epic Games launcher rather than the game shortcut when launching the game. If this doesn't help you, proceed with the other solutions listed below.
1. Update the graphics driver
Time needed: 4 minutes.
By improving communication between the operating system and hardware, updated drivers can resolve loading screen problems. Updates that replace outdated or corrupt drivers with newer, more suitable ones might help to fix problems like slow loading or crashes.
Click on the Windows icon and type Device Manager.

Open the Device Manager tool from the search results.
Double-click on the Display adapters section to expand it.

Right-click on your graphics card and select Update driver.
Select the Search automatically for drivers option and wait for Windows to look for new driver updates.
Follow any additional steps prompted by Windows.
Restart your PC.
While here, you can follow the same steps to update your network driver, which you can find under the Network adapters section.
If you want to update your drivers simultaneously while gaining access to a big database of the newest drivers, use DriverFix. This tool will scan, update and monitor your device's drivers for you!
2. Close background apps
To give Valorant more resources and avoid being stuck on the loading screen, close all apps you don't need while playing the game. Follow the steps below to get the best overview of all the apps running.
Use CTRL + Shift + ESC shortcut to open Task manager.
In the default processes tab, you will see the list of apps currently running.
Repeat this process for all of the apps you want to close.
Warning: Never end processes used by Windows or your security software since this can lead to system malfunctioning and security vulnerabilities.
3. Restart network settings
Even if you have the latest network driver, you can still experience issues due to misconfigured network settings.
Click on the Windows icon and type Command Prompt.
Right-click Command Prompt from the search results and choose the Run as administrator option.
If prompted by Windows to confirm the action, select Yes.
Type the commands listed below, one by one, and hit Enter after each one.
ipconfig /flushdns
ipconfig /registerdns
ipconfig /release
ipconfig /renew
netsh winsock reset

After you complete the process, restart your PC.
4. Uninstall Vanguard
If Valorant is still stuck on the loading screen, you can try uninstalling Vanguard. This anti-cheat software will be installed automatically once you start Valorant next time.
Click on the Windows icon and type Add or remove programs.
Click on the Add or remove programs tool from the search results.
Select Yes when prompted if you are sure you want to proceed with uninstalling this program.
Restart your PC.
Related articles:
Conclusion
Because Valorant stuck on loading screen once, it doesn't mean it will happen every time. However, using the solutions we provided in this article will help you avoid this and similar problems in the future and will also help you get the most out of your gaming experience.
Tell us what solution worked for you and how you got Valorant to load properly.
If you encounter any issues or errors while playing your favorite games and require support, feel free to contact us here. Our team is always ready to assist you and ensure your gaming experience is seamless and enjoyable.