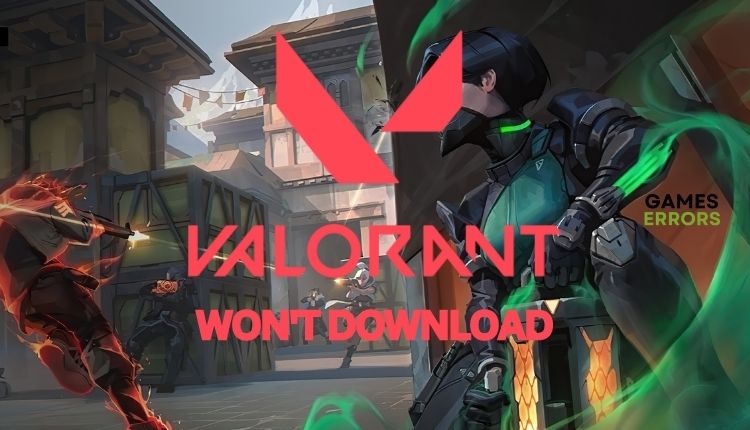 Valorant Won't Download: How To Force It
If you're having issues with Valorant downloading, we're here to help you troubleshoot the problem efficiently. 👍
Valorant is a worthy competitor in the world of competitive gaming, successfully combining elements from its main role models and competitors. It's definitely worth investing your time in. But do you, among affected players, encounter an error where the Valorant download is stuck at 0 % when attempting to download updates? In addition, some users have reported download speeds as low as 0.1 kb, which can be incredibly frustrating when trying to play their beloved game. Luckily, we've created this guide to show you how to fix it if Valorant won't download.
Why my Valorant won't download?
Your Valorant won't download because of game server issues, slow or unstable internet connection, or other issues in your network. Also, this problem can occur due to too many programs consuming bandwidth in the background, a firewall blocking the game, or an unstable Riot client.
How to fix if Valorant is stuck at 0.1 kb?
First, try these simpler steps:
Check the Valorant service status.
Restart the Riot game client, download process, or your PC.
Test and verify your internet connection (download, upload, and latency).
Close any unnecessary background tasks, like multiple downloads or heavy apps.
If you still experiencing that Valorant download stuck is at 0%, follow our tips:
1. Allow Valorant through a firewall
If Valorant won't download, it may be blocked by your firewall. Do the following:
1. Right-Click on the Start, click Settings, then choose Update & Security.
2. Select Windows Security from the left menu and then choose Firewall and Network Protection.
3. Click on the option Allow an app through Firewall.
4. Select the Change Settings button and Allow Another App.
5. Use the Browse option to add the Valorant exception to the firewall.
6. Click the respective checkboxes by allowing Valorant through Public and Private networks.
7. Also add the VGC exception to the firewall. By default, VGC is in C:\Program Files\Riot Vanguard.
2. Flush your DNS
If you have a slow or stuck download speed in Valorant, flushing and renewing your DNS address can be helpful. Do the following:
1. Press the Win+Q keys and type cmd in the search bar.
2. Right-click on the Command Prompt and select Run as administrator.
3. In the Command Prompt, type; "ipconfig /flushdns" and press Enter.
4. Then, type; "ipconfig /registerdns" and press Enter.
5. Finally, "ipconfig /release" and press Enter.
6. Next, type; "ipconfig /renew" and press Enter.
7. To reset Winsock, type; "netsh winsock reset" and press Enter.
8. Restart your PC, and launch Valorant to see slow download speed is fixed.
3. Use public DNS
4. Disable IPv6
Sometimes, Riot Client can conflict with IPv6, so we recommend turning it off.
1. Press the Win + R keys to open the Run dialog box.
2. Type; "ncpa.cpl" in the box and press Enter.
3. Right-click on your network adapter and select Properties.
4. Under the Networking tab, locate and uncheck the box next to Internet Protocol Version 6.
5. Click OK to save the changes.
6. Restart your PC and launch Valorant to check if the download issue is gone.
5. Use a VPN
Your Valorant download issue may also result from possible restrictions imposed by your ISP. You can try using a secure and fast VPN service like ExpressVPN to fix this. Establishing a connection is easy and hassle-free, with speedy and stable connectivity, low ping for gaming, and a vast network of fast servers in over 90 countries for playing with friends online.
✅Extra steps:
If, despite following all our advice, Valorant is still stuck at 0.1 kb, consider these options:
Update Windows to the latest version.
Update DirectX, .NET Framework, and VCRedist.
Try to swap between wireless and wired connections.
Temporarily disable third-party antivirus.
Reinstall the game in a different folder or disk.
Conclusion
If your Valorant has a download issue, we recommend restarting the Riot game client or downloading process or closing any unnecessary background tasks. Additionally, you may want to flush your DNS server cache, change your DNS, and disable the IPv6 protocol. Firewalls may cause issues with the game, so we suggest adding an exception for Valorant. If you require further assistance, feel free to comment below, and we will be happy to assist you.