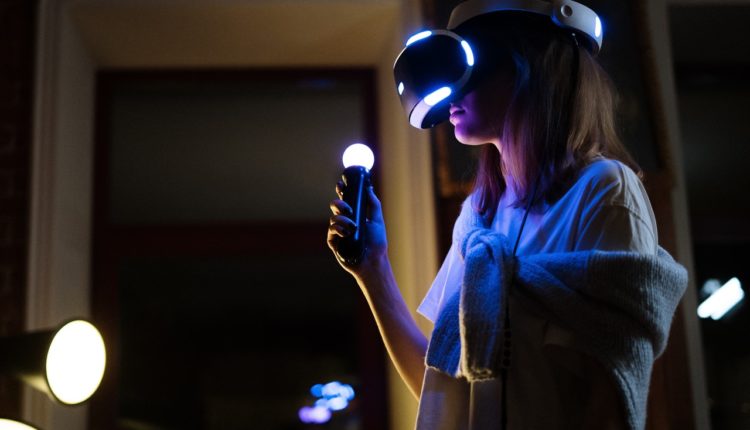 Virtual Reality: The future of the gaming industry?
Gaming studios are seeing a shift in the gaming industry towards virtual reality platforms, mainly fueled by users spending more money on games due to the pandemic.
VR is making gains also because of the improved hardware and software. The release of Valve's "Half-Life: Alyx," a AAA game developed specifically for virtual reality, coupled with more affordable headsets helped bolster the VR market in 2020, according to a recent market analysis.
Another industry that is seeing a lot of potential in virtual reality is the iGaming industry. In the future, you will see more and more virtual online casinos with games like baccarat that have an emerging experience similar to the real one.
In terms of hardware, one of the best-selling virtual reality headsets is PlayStation VR.
It would be interesting to see what Sony will do with PlayStation VR 2. Some rumors suggest that this device could be a wireless model, and it could come with additional tracking sensors for better overall performance. 
There's also talk about 4K support and even some virtual reality games that would take advantage of 8K resolution. However, this seems rather unlikely at the moment, given the current state of hardware technology.
Most likely, we'll probably see HDR support along with higher refresh rates in certain models that are dedicated to providing players with an excellent user experience when it comes to fast-paced action games or horror titles. It remains to be seen how much fans really get from the next generation of PlayStation VR devices but are reasons enough to look forward to the Xbox VR headset release date in 2020.
It can be recalled that PlayStation VR was released just recently, and while some people believe that this device isn't as impressive as it should have been, there are still a lot of people who had fun playing around with the PSVR cockpit racing games on their own unit. With more virtual reality headsets being released each year, gamers can expect to see an even more immersive experience from these devices in the years to come. 
What Will PlayStation VR 2 Have to Offer?
As far as specifications go, Bloomberg claims that Sony is going to use Samsung OLED panels on its upcoming PlayStation VR 2. This would make a lot of sense, especially if the first-generation model didn't sell well enough for Sony to switch to another manufacturer altogether. 
This means better contrast ratios and deeper black levels, which will greatly improve the virtual reality experience gamers are used to through this device. Another interesting piece of information regarding the PlayStation VR 2 release date is that it could sport an upgrade by using two screens instead of just one. 
If you have the current devices, then this might not seem like a big deal, but keep in mind that the industry is moving towards OLED screens, which can improve picture quality tremendously. In any case, we're expecting Sony to stick with at least one 5-inch display since going any higher might make the device less portable and more cumbersome. In other words, it's safe to assume that PlayStation VR 2 release date will be sometime in late 2022, so you have plenty of time to save up for this console if you want to upgrade from its predecessor after all!
How Will PlayStation VR 2 Work?
For those who don't know much about virtual reality technology, then here's a quick rundown: two separate LCDs are used by developers when creating titles, but these images appear on a single screen once the user is wearing the device. The OLED panels on PlayStation VR 2 would use a similar approach with two separate images being shown at once with each different OLED panel, improving resolution quite significantly as a result. This is just one way Sony plans on taking virtual reality experiences to the next level with its upcoming PlayStation VR 2 release date now confirmed for late 2022.
Will it be worth it in the end?
Only time will tell if virtual reality will take a bigger share of the gaming industry. VR game spending still accounts for just a small fraction (0.4 percent) of the $130.6B revenue generated by gaming hardware and software makers in 2020, according to market research firm SuperData. While more top-tier game publishers are launching forays into VR game development, there are few virtual reality titles capable of matching the scope and quality, more or less the revenue, of AAA blockbuster franchises and games like "Call of Duty" or "Animal Crossing: New Horizons," which comprised the three top-selling games of 2020, according to market analysis firm NPD Group.
For example, the PlayStation VR is Sony's most successful gaming initiative ever, with several millions of units worldwide. 
With the 2020 Tokyo Olympics also using virtual reality technology for its games, there seems to be enough momentum to justify releasing PlayStation VR 2 in late 2022. Also, don't forget that Sony itself stated that the first generation of PlayStation VR would be supported for three years. 
In any case, those who already have a PlayStation VR set may not want to upgrade anytime soon. There's still a lot of content coming down the road, including more racing titles and even some horror games which use virtual reality extensively. 
Of course, it remains to be seen how much more game developers can do with this kind of hardware but given enough creativity; there might just be something special under the hood of PlayStation VR 2! Fans will have more reasons to get excited about virtual reality technology in the years to come. However, it's best to wait for official announcements from Sony itself regarding its upcoming PlayStation VR 2 release date.