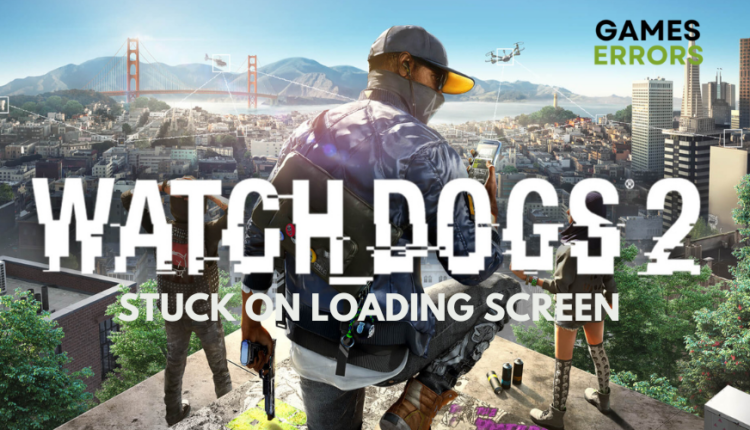 Watch Dogs 2 Stuck on Loading Screen: How to Fix
Here's everything you need to know about Watch Dogs 2 loading screen issue and how to fix it⚡
X
INSTALL BY CLICKING THE DOWNLOAD FILE
Watch Dogs 2 is an open-world action-adventure third-person video game that comes highly recommended by most players who enjoy the game.
Despite its popularity, players have reported various issues with the game, including Watch Dogs 2 stuck on loading screen.
If you are currently experiencing this problem, follow this tutorial, and you should be able to play the game again in no time.
Why is Watch Dogs 2 not loading?
If Watch Dog 2 is stuck on loading screen, some of the common reasons why this might happen include:
Your PC doesn't meet the game's minimum system requirements.
Corrupted, missing, or outdated game components.
Problems with your Driver.
Disk performance issues.
Corrupted game files.
How to fix Watch Dogs 2 Stuck on Loading Screen?
Before going through the methods listed below, complete the following pre-checks:
Ensure that you are not using an older operating system like Windows 8 or 7.
Disable your antivirus and firewall.
Ensure you have a good internet connection.
Try restarting your PC.
Table of contents:
1. Run Watch Dog as an administrator
Running the game as administrator grants it the necessary system permissions and resources. This could potentially fix compatibility or access-related issues. To do this:
Go to the folder where you installed Watch Dogs 2
Right-click the WatchDogs2.exe file.
Click on Properties and Select the Compatibility tab.
Tick the checkbox that says "Run this program as an administrator." and Click OK.
Repeat steps 1-6 for the Ubisoft Connect client.
Test if the game loads successfully.
2. Switch to DirectX 11
Switching to DirectX 11 can improve performance and compatibility for Watch Dogs. Also, It offers better utilization of your PC's resources. To switch to DirectX 11:
Launch the Ubisoft Connect client.
Navigate to the Games tab and click on Watch Dogs2.
Select Properties from the left pane.
Scroll down to Game launch arguments and click Add command line arguments.
In the field, type -dx11 and Click Save.
Re-open Watch Dogs 2 to check if the stuck loading screen issue is resolved.
If the problem persists, proceed to the next method.
3. Update your graphics card
Time needed: 3 minutes
Updating your graphics card not only enhances visual quality and enables new graphical effects, but also ensures compatibility with games like Watch Dogs 2. To update your graphics card:
Press Win + X on the keyboard.
Click on Device Manager.

Expand the device type you want to update, such as Display Adapter, by clicking on the arrow button next to it.

Right-click on your driver and choose Update driver.

Click on "Search automatically for drivers."

Follow any onscreen steps to complete the process.
Restart your PC.
Relying on your PC's Device Manager can be misleading, as it may not have downloaded the latest driver for your PC, even if it says it has. That's why we recommend using DriveFix, a third-party software that will find and install the best and latest driver for your PC.
4. Perform Clean Boot
Performing a clean boot helps identify and resolve software conflicts or issues that may be causing system issues, such as Watch Dog 2 stuck on loading screen.
Open the Run dialog by pressing Win + R on the keyboard.
Type "msconfig" in the Run dialog and press Enter.
The System Configuration window will open. Go to the Services tab.
Click on the checkbox that says "Hide all Microsoft services.
"Click on the "Disable all" button.
Click OK to save the changes.
Restart your PC.
5. Delete locally saved files
Deleting locally saved files can free up storage space on your device, improve system performance, and reduce clutter. This way, you can enjoy playing Watch Dogs 2 without any issues. To delete locally saved files:
Open the File Explorer.
Go to the Documents folder.
Navigate to the My Games directory.
Locate the Watch Dogs2 folder.
Delete all files and folders within that directory.
Related Articles:
Conclusion
We hope one of the solutions listed above has helped you fix Watch Dogs 2 stuck on loading screen. Feel free to leave any questions in the comment section below.