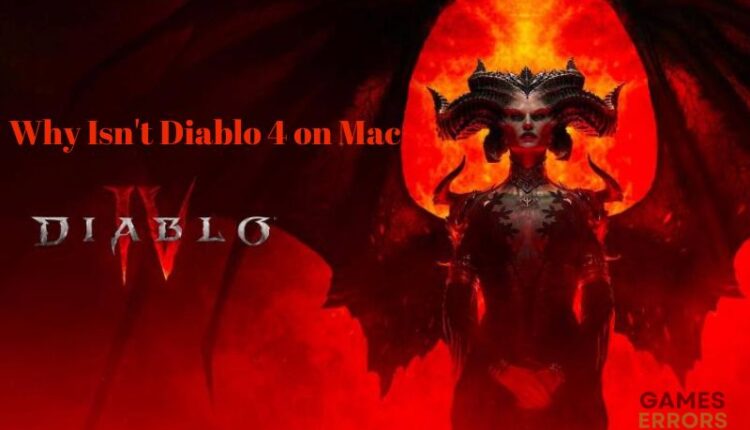 Why Isn't Diablo 4 on Mac: Are There Any Chances to Play it?
Is Diablo 4 Coming to Mac? Discover the Mystery of Mac Gaming's Awaited Masterpiece ⤵️
Diablo 4, the most recent game in the Diablo series, will be released on June 6, 2023. It is a role-playing game where the player assumes a characteristic in a fictional setting. The early access version of this game, which is presently accessible on Windows PC, Xbox, and PlayStation, has been reported by players to be incredibly engaging.
On the other hand, Mac users have been asking the question, "Why is Diablo 4 not on Mac". Well, it would appear that this game is only available for Windows OS and consoles, leaving Mac users out. Hence, this article will cover the reasons why Mac computers cannot run Diablo 4, as well as whether or not there are any workarounds that allow you to play Diablo 4 on a Mac.
Is Diablo 4 Available on Mac?
No, Diablo 4 is not currently available for Mac computers, unlike its prequels. This is presumably due to a variety of factors that Blizzard best knows. Furthermore, we don't believe there are any plans to release the game for Mac, so Mac users who wish to play this game will likely have to get a Windows PC, Xbox, or PlayStation.
Fortunately, you may still play the game using workarounds, such as programs that let you run Windows on a Mac and cloud gaming. However, we will discuss the likelihood of those workarounds later in this piece.
Why is Diablo 4 not on Mac?
We can only answer the question "why is Diablo 4 not on Mac" based on our own opinion. The major reason for Diablo 4's availability on Macs is likely related to how Mac software and hardware are designed and how challenging it is to work with them.
Most game developers prefer to stick with Windows OS because Apple is not renowned for being a gaming-friendly operating system. However, Blizzard's choice not to develop Diablo 4 on Mac OS X could also be motivated by business reasons.
These are merely a general view of why Blizzard chose not to release this game for Mac.
Can I Play Diablo 4 on Mac computers?
In most cases, not having a Mac-compatible game is not an issue because you can easily run it on your Mac using virtual machine software like Parallels or BootCamp. For instance, you can use BootCamp on an Intel-based Mac to play Diablo 4; however, the M-series Macs are not compatible with this workaround. 
Other programs, such as Parallels and CrossOver, can run Windows on Mac computers, including those with M-series processors, but they do not support DirectX 12, one of the basic requirements for Diablo 4 working on Windows.
Fortunately, playing Diablo 4 on a Mac over the cloud is the most effective option, thanks to Amazon Luna, GeForce, and Shadow PC. However, you may have to wait a while before playing the game on other cloud gaming platforms since it is only available on Shadow PC.
If you encounter any issues or errors while playing your favorite games and require support, feel free to contact us here. Our team is always ready to assist you and ensure your gaming experience is seamless and enjoyable.