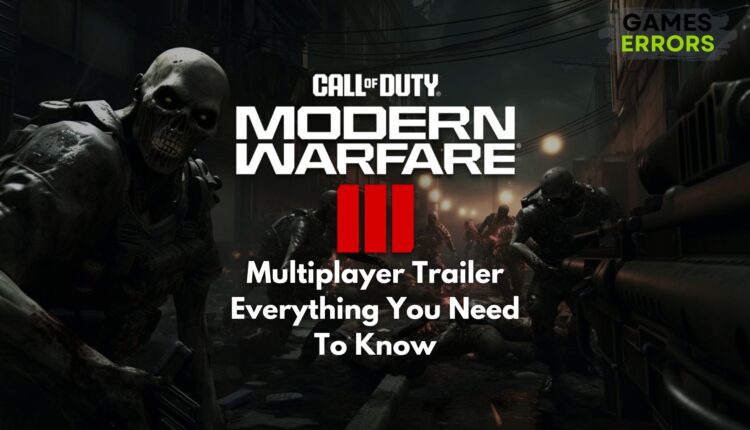 MW3 Multiplayer Trailer & Everything You Need To Know
If you are looking for stuff about Call of Duty: Modern Warfare 3, you are in the right place. You will discover everything you need to know, and you can also check out the MW3 multiplayer trailer.
The gaming horizon is alight with the release of the Call of Duty: Modern Warfare 3 (MW3) multiplayer trailer. As we delve into the complexity of this much-anticipated game, here's a comprehensive breakdown of what MW3 promises to its vast community of fans.
My team and I are impressed by the MW3 multiplayer trailer's visuals. We're eager to test its features and see how they play out. We are looking forward to a great confrontation with other teams, and additionally, there will be competition between us as well.
Elevating the Multiplayer Realm
MW3 stands as a beacon of innovation in the Call of Duty series. Merging elements from its predecessors with new innovations, it offers a familiar yet novel multiplayer experience. This is evident from the MW3 trailer.
Maps Reimagined: Honoring its lineage, MW3 reintroduces all 16 launch maps from the original Modern Warfare 2. These aren't mere replicas; each map has been contemporized and infused with new gameplay dynamics, ensuring a rich gaming experience.
Dynamic Player Movement: The Tac-Stance movement system is a game-changer. This feature promises unparalleled agility, allowing players to navigate the battlefield with fluidity and precision.
Deepening Gameplay Strategy: The revamped Perk system in MW3 adds layers of strategy to every match. Players are set for a strategic treat with the introduction of the Covert Sneakers Perk for stealthy movements and the iconic Ghost Perk's return.
Weapon Customization at its Best: The Gunsmith feature sees a significant enhancement, introducing new After-Market Parts. This ensures players can customize their weapons to their unique playstyles, leading to diverse and unpredictable matches.
Core Offerings of MW3
Striking the Right Balance: MW3 finds the sweet spot between rapid action and tactical gameplay. Enhanced health metrics promise prolonged engagements and the return of the classic mini-map behavior provides players with real-time strategic intel.
Zombies Mode Unleashed: Set against a Modern Warfare backdrop, the Zombies mode is a highlight of MW3. Developed by Treyarch, this mode offers an "unearthly Dark Aether story", where players can collaborate in vast open-world settings, battling iconic foes from the Call of Duty universe.
A Seamless Storyline: The campaign mode picks up from where Modern Warfare 2 left off, revolving around the Russian ultranationalist Vladimir Makarov. Players are in for a narrative filled with suspense, action, and unexpected twists.
Choice-Driven Gameplay: Open Combat missions in the MW3 campaign empower players with choices. These missions offer multiple paths to objectives, ensuring every playthrough is unique and challenging.
Release and Availability
Launching on November 10, Call of Duty: Modern Warfare 3 will be available on PlayStation 4, PlayStation 5, Windows PC (via Battle.net and Steam), Xbox One, and Xbox Series X.
Final Thoughts
The gaming community eagerly awaits the MW3 multiplayer trailer, and this installment in the Call of Duty franchise clearly aims to redefine the FPS genre. With a perfect blend of classic features and innovative additions, MW3 promises an immersive experience for veterans and newcomers to the series.
We don't want to jinx anything yet, but in case of game errors, you can count on us. After all, we discovered fixes for various Modern Warfare 2 problems such as crashing, stuttering, and getting stuck on the loading screen, and we will do our best to add solutions to any Modern Warfare 3 problems too, so bookmark our page for future uses.