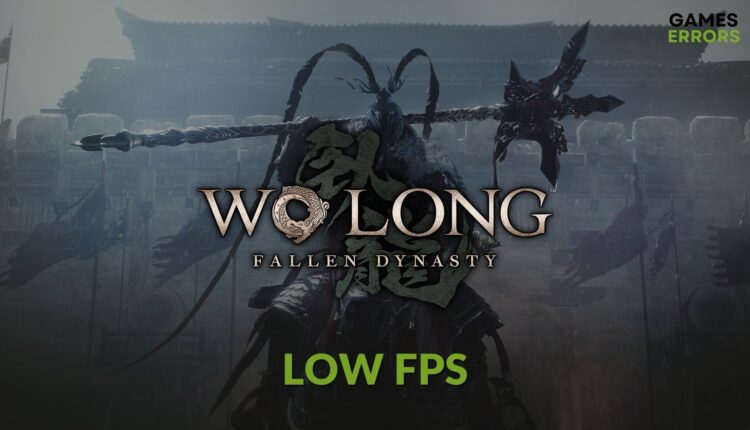 Wo Long Fallen Dynasty Performance Issues: Fix Low FPS Now
Tweak in-game settings, update graphics driver to boost Wo Long Fallen Dynasty's FPS ✅
X
INSTALL BY CLICKING THE DOWNLOAD FILE
When you encounter Wo Long Fallen Dynasty low FPS problem, you should not worry. There are several ways you can follow to boost its performance and improve your gameplay experience.
This historical dark fantasy action RPG game from Team NINJA has a pure fanbase among a huge group of gamers. But, for some of them, the frame rate of this game can be very poor. Sometimes, this problem may make this title completely unplayable.
Why is my Wo Long Fallen Dynasty's FPS dropping?
If you go through stuttering problems along with a low frame rate with Wo Long, it means any of the reasons exist on your PC:
System requirement: If your PC doesn't meet the system requirements, Wo Long Fallen Dynasty will be stuck on the loading screen or give very poor FPS during the gameplay.
Graphics card driver issues: An outdated or problematic graphics card driver can affect the FPS and also can cause Wo Long Fallen Dynasty crashing issues.
Background services: Resource hungry and some other services running in the background on Windows 11 or 10 also can be responsible for decreasing FPS.
Problematic game files: If game files or related components become corrupted or outdated, it also may affect performance.
Improper settings: Playing this game with settings not suitable for your PC is another reason your FPS may drop.
How can I fix Wo Long Fallen Dynasty low FPS problem?
We suggest you do the following things before getting started:
Check if your PC meets the Wo Long: Fallen Dynasty's system requirements.
Disable apps like antivirus, firewall, overclocking tools, FPS booster, etc.
Enable game mode and high-performance mode from Windows settings.
Restart Windows.
Now, try the methods mentioned below to boost Wo Long: Fallen Dynasty's performance and framerate:
1. Update the display driver
Press Win + X on the keyboard and click on Device Manager.

Double-click on the

Display adapters

.

Choose

Search automatically for drivers

and update the driver.
To boost the FPS of Wo Long: Fallen Dynasty, you should use DriverFix to update the GPU driver. It is because this tool can find and install the latest game-ready driver for your graphics card. Else, it also can update multiple drivers with just a single click which is not possible in Device Manager.
2. Reduce background services
Press

CTRL

+

Shift

+ Esc

on the keyboard to open the

Task Manager

.

Go to the

Processes

tab.

In this way, turn off any other resource-hungry and problematic services.
3. Repair the game files
Open

Steam

or the Xbox app.
Go to your game library.

Right-click on

Wo Long: Fallen Dynasty

and go to its

Properties

.

Navigate to the

Local Files

tab.
It may take a while to scan and repair the game files. In the Xbox app, you will get a similar option. For this, after right-clicking on the game, go to Manage and then Files.
Doing this may improve FPS on Wo Long: Fallen Dynasty.
4. Increase in-game FPS limit
Go to

Graphics Settings

.
Now, relaunch the game and see if it has worked.
5. Change in-game graphics mode
Go to the in-game graphics settings again.
Relaunch the Wo Long: Fallen Dynasty and see if it has fixed the low FPS problem or not.
6. Disable Vsync
Open the

NVIDIA Control Panel

or any other app, depending on your GPU chipset.

Go to

Manage 3D settings

.

Now, run the game and see if it has helped.
7. Roll-back graphics card driver
Go to the Device Manager like before.

Double-click on the GPU driver to go to its

Properties

.

Navigate to the

Driver

tab.

Follow any on-screen steps to complete the process.
8. Re-install the graphics card driver
8.1 Uninstall the driver
Open the Device Manager again.

Right-click on the GPU driver and choose

Uninstall

.

Check

Attempt to remove the driver for this device

and click on

Uninstall

.

Restart Windows.
8.2 Install again
Depending on the GPU chipset, visit

AMD

,

Intel

, or

NVIDIA driver download page

.

Download the correct driver for your PC.

Install it on your PC.
Now, play again and see if it has solved Wo Long: Fallen Dynasty's low framerate problem or not.
Additional steps:
If the problem still persists, follow these methods as well:
Update Windows to the latest version.
Re-install this RPG game on an SSD.
Disable fullscreen optimization.
Try to disable Steam and Xbox overlay. If you use Geforce Experience, disable the in-game overlay from there too.
Also, consider playing this game with lower graphics settings and resolution.
These are the most effective ways to fix Wo Long Fallen Dynasty low FPS problem. You can let us know if you have any better suggestions.
If you encounter any issues or errors while playing your favorite games and require support, feel free to contact us here. Our team is always ready to assist you and ensure your gaming experience is seamless and enjoyable.