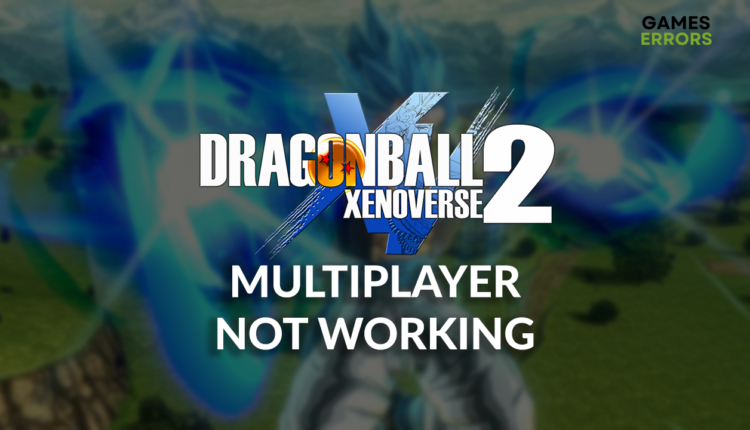 Xenoverse 2 Multiplayer Not Working: How to Make It Work
The game isn't that fun if you can't enjoy it with others! Learn how to fix problems with the Xenoverse 2 multiplayer. 👌
X
INSTALL BY CLICKING THE DOWNLOAD FILE
Many action-roleplay fans complain that the Xenoverse 2 multiplayer not working problem makes them miss out on so much fun. We decided to step in with the complete list of causes and solutions for this annoying problem so you can play Xenoverse 2 in multiplayer ASAP.
If you experience frequent problems with the game's stability, learn to prevent Xenoverse 2 from crashing on your PC.
Why is it saying I can't use multiplayer features in Xenoverse 2?
You can't use multiplayer features in Xenoverse 2 because you still didn't unlock it. Additionally, the problem can be technical and related to issues with an internet connection, corrupted game files, an outdated network driver, unreliable DNS settings, Windows Firewall recognizing the game as a threat, or outdated network settings.
How to fix Xenoverse 2 multiplayer not working?
Fix problems with Xenoverse 2 multiplayer by applying these checks and fixes:
Complete quests: Before playing multiplayer, you must complete single-player quests, including the defeat of Vegeta. After that, your account will be MP-ready if there are no other technical issues.
Check your internet connection: Use the Google Internet speed test to check if your internet is working and what are the speeds and latency.
Verify game files on Steam: Follow our complete guide to easily verify Xenoverse 2 files so you are sure no game files are corrupted.
Here is the complete list of solutions to make multiplayer in Xenoverse 2 work.
1. Update the network driver
Time needed: 5 minutes
An outdated network driver will create trouble when your game client tries to communicate with the Xenoverse 2 server. Keep the network driver updated to avoid this and other network-related issues.
Click the Windows icon, type Device Manager, and open it.

Double-click on the Network Adapters section.

Right-click on your internet adapter and select Update driver.

Select the Search automatically for drivers option.
Install the driver update.
Restart your PC.
To automatize the complete process and always have the latest network (and other devices) driver on your PC, use Outbyte Driver Updater. This tool will do complete driver management, from scanning to update installation!
2. Use the Google DNS
Manually select Google DNS instead of allowing Windows to automatically chooses the DNS server for you. This way, you will ensure you use the best DNS for Xenoverse 2 and other multiplayer games.
Using the Windows Key + R shortcut, open the Run dialog, type control, and hit OK.

Click on View network status and tasks.

Click on the Change adapter settings.

Right-click the internet network you use and select Properties.

Double-click Internet Protocol Version 4 (TCP/IPv4).

Enable Use the following DNS server addresses and add:
➡ 8.8.8.8 for the Preferred DNS server
➡ 8.8.4.4 for the Alternate DNS server

Click OK and restart your PC.
3. Allow Xenoverse 2 through the Firewall
You must add the game as a Firewall exception to prevent the Firewall from blocking Xenoverse 2 multiplayer.
Click on the Windows icon, type Windows Defender Firewall, and open it.

Click on Allow an app or feature through Windows Defender Firewall.

Click on Change Settings and Allow Another App.

Select Browse, and navigate to the DRAGON BALL XENOVERSE 2 installation folder.
Click on the DRAGON BALL XENOVERSE 2 executable file (.exe) and select Open.
Check the checkbox in columns Private and Public in the DRAGON BALL XENOVERSE 2 row and hit OK.
Restart your PC.
4. Restart network settings
Some network settings stay stored on your PC even after you install the network driver update. Follow the steps below to restart outdated network settings on your PC.
Click on the Windows icon, type Command Prompt, and open it.
Paste the following commands and hit Enter after each one:
ipconfig /flushdns
ipconfig /registerdns
ipconfig /release
ipconfig /renew
netsh winsock reset

Restart your PC.
Extra steps
If Xenoverse 2 multiplayer still isn't working, try to do the following:
❌ Disable game modifications: Besides standard mods that can cause compatibility issues, this one applies explicitly to illegal mods that give you an in-game advantage.
🌐 Use a VPN: You can use a reliable VPN service to bridge your connection to another server. This can solve the Xenoverse 2 multiplayer issue if a faulty game server causes it.
🔁 Reinstall Xenoverse 2: Uninstall the game, delete all files and folders, and restart your PC. Perform a clean Xenoverse 2 installation and check if multiplayer works after.
Conclusion
These solutions were the most useful when troubleshooting the Xenoverse 2 multiplayer not working issue. Let us know how it went for you, and if you discover a new method to fix it, share it so others can join you in a unique Xenoverse 2 multiplayer experience!