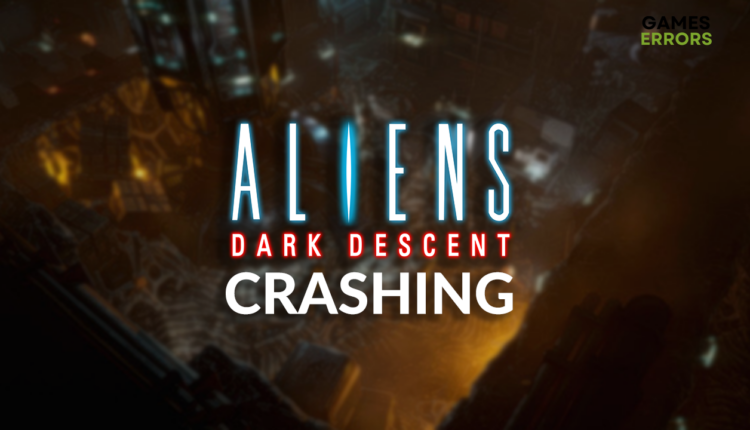 Aliens Dark Descent Crashing: How to Fix It
If you don't have a strategy for strategy game crashing, simply use ours and stop the stability issues! 🚀
Is Aliens Dark Descent crashing on your PC, and you can't enjoy this real-time strategy game? Stop the stress with the ultimate solutions for troubleshooting crashing issues! Enjoy Alien Dark Descent the way you deserve, without interruptions!
If you can't even open the game, learn what to do when Aliens Dark Descent gets stuck on the loading screen.
Why is Aliens Dark Descent crashing?
Aliens Dark Descent is crashing due to compatibility problems with background apps, poor PC specifications, corrupted game files, an outdated GPU driver, pilled-up cache files, unnecessary startup services, faulty overclock settings or high system temperatures.
💡 Since Alien Dark Descent is a single-player-only game and doesn't require an internet connection, you can focus on resolving issues only on your PC.
How to fix Aliens Dark Descent crashing?
Get started with some quick checks and fixes:
Close background apps: Before launching the game, close all running apps in the taskbar. Additionally, you can use Task Manager to close other apps you don't see running.
Check the ADD system requirements: If your PC doesn't meet at least the minimum system requirements, consider upgrading it so you can play Aliens Dark Descent without interruptions.
Verify game files on Steam: This fantastic feature will save you plenty of time. We described it in detail in our ultimate game file verification guide.
Prevent crashes in Aliens Dark Descent by applying the solutions listed below.
1. Update the GPU driver
Time needed: 5 minutes
An outdated GPU driver is the most common cause for Aliens Dark Descent crashing. This software manages your graphics card and communicates with the rest of the system regarding graphics processing. Always keep it updated to get the latest patches and avoid crashes.
Click on the Windows icon, type Device Manager, and open it.

Double-click on the Display Adapters section.

Right-click on your GPU and select the Update driver option.

Choose the Search automatically for drivers option.
Install the GPU driver update.
Restart your PC.
Our recommendation is to use a driver updater tool, such as Outbyte Driver Updater. This way, you will automate the whole process and can rely on always having the latest GPU driver installed.
⇒ Get Outbyte Driver Updater
2. Delete cache files
Aliens Dark Descent and the game distribution platform it uses for PC, Steam, store temporary files on your device every time you run them. If these files are corrupted, deleting cache files is the only way to stop crashes.
Use the Windows Key + R shortcut to open the Run dialog, type %localappdata%, and hit OK.
Press CTRL + A to select all files in the folder.
Hit the Delete key to delete all the files in the folder.
➡ If prompted to confirm, click on Yes.
➡ If some files can't be deleted, click on Skip.

3. Perform a Clean Boot
Similarly to the background apps, which you should have disabled by now, certain services start together with your Windows. To avoid crashing in Aliens Dark Descent, we advise you to disable all unnecessary startup services and perform the Clean Boot.
Use the Windows + R shortcut, type msconfig, and hit Enter.
Navigate to the Services tab.
Check Hide all Microsoft services and then hit the Disable All button.
This way, only Microsoft services will run when you restart your PC.

Click OK and restart your PC.
Extra steps
Some players will notice that Aliens Dark Descent is crashing even after doing everything we proposed. If you are one of them, try to:
💻 Disable overclock settings: If you boost your PC performance by overclocking the GPU, CPU, or other PC components, disable these settings and check if the game stability improves.
🥶 Keep it cool: Ensure your PC is adequately ventilated, and change the thermal paste on components that require it.
⬆ Update your Windows: Click on the Windows icon, type Check for updates, open these System Settings, and install any pending updates.
🔁 Reinstall Aliens Dark Descent: The last option is to uninstall the game, remove all game files and folders, restart your PC, and perform a clean Aliens Dark Descent installation.
Related articles:
Conclusion
The Aliens Dark Descent crashing is annoying, but hopefully, you will not experience it anymore after applying all of the solutions we proposed.
💬 Comment with information on how it went for you and what solved ADD stability issues for you.