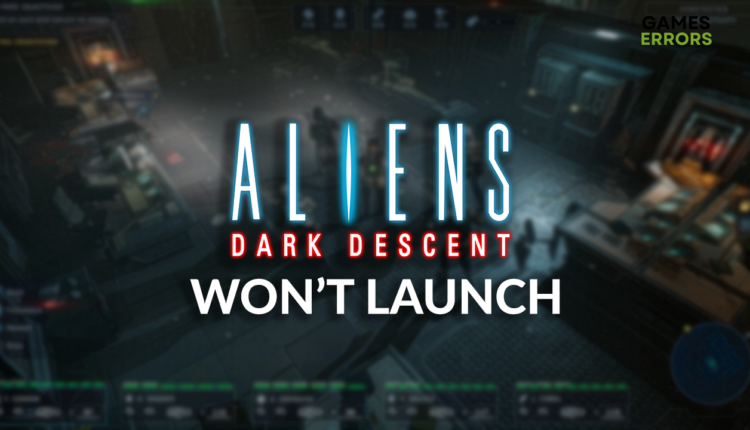 Aliens Dark Descent Won't Launch: How to Force It
There is that split second between clicking on the game and waiting for it to launch. The problems begin when it becomes minutes or even hours! 😱
Some players complained that Aliens Dark Descent won't launch on their PC, so we decided to make a complete guide on what causes this issue and how to resolve it. Follow the solutions described below to force Aliens Dark Descent to launch and enjoy this awesome game from the Alien series.
If the game does launch but doesn't load, learn how to fix Aliens Dark Descent is stuck on the loading screen.
Why wouldn't Aliens Dark Descent launch?
Aliens Dark Descent won't launch due to a lack of system requirements, problems with Windows permissions, corrupted game files, Windows Firewall settings, an outdated GPU driver, missing Visual C++ dependencies, or pilled-up cache files.
How to fix Aliens Dark Descent won't launch?
Perform these checks and fixes to ensure everything is running correctly before launching Aliens Dark Descent:
Check the system requirements: If your PC doesn't meet some criteria, upgrade your PC, operating system, or DirectX version.
Run the game with administrator permissions: Right-click on the executable (.exe) file, click on the Properties and navigate to the Compatibility tab. Enable Run this program as an administrator and hit OK.
Verify Aliens Dark Descent files: This can be done through Steam's game file verification system.
The solutions listed below will help you force Aliens Dark Descent to launch.
1. Allow the game through the Firewall
Time needed: 5 minutes
Windows Firewall is a core security feature of your system, yet it is known that it sometimes falsely recognizes the Aliens' Dark Descent as a threat. Resolve this by adding this game as an exception.
Click on the Windows icon, type Windows Defender Firewall, and open it.

Click on Allow an app or feature through Windows Defender Firewall.

Click on Change Settings and Allow Another App.

Select Browse, and navigate to the Aliens Dark Descent installation folder.
Click on the Aliens Dark Descent executable file (.exe) and select Open.
Check the checkbox in columns Private and Public in the Aliens Dark Descent row and hit OK.
Restart your PC.
2. Update the GPU driver
An outdated GPU driver will limit your graphics card's performance and cause issues resulting in the game's inability to launch. Prevent this from happening by regularly updating the GPU driver.
Click on the Windows icon, type Device Manager, and click on it.

Double-click on Display adapters.

Right-click on your GPU and select the Update driver option.

Click on Search automatically for drivers.
Install the driver update.
Restart your PC.
We recommend you try Outbyte Driver Updater, a tool for complete driver management. It will scan, monitor and update all necessary drivers for your PC, so you have more time to enjoy an interruption-free gaming experience.
⇒ Get Outbyte Driver Updater
3. Install Visual C++ dependencies
Aliens Dark Descent and other Windows games rely on Visual C++ dependencies regarding compatibility. Usually, these would be installed together with the game, but if this didn't happen, you must install Visual C++ dependencies manually.
Open the official page for the Visual C++ Redist Packages download.
Click on the Link to download vc_redist suitable for your operating system architecture.
➡ X86 is for 32-bit systems.
➡ X64 is for 64-bit systems.

Run the installation package and follow the installation steps.
Restart your PC.
4. Clear cache files
Cache file problems can happen with any game, so whenever you experience issues launching it, don't forget to clear cache files from the AppData folder.
Use the Windows Key + R shortcut to open the Run dialog, type %localappdata%, and hit OK.
Press CTRL + A to select all files in the folder.
Hit the Delete key to delete all the files in the folder.
➡ If prompted to confirm, click on Yes.
➡ If some files can't be deleted, click on Skip.

Extra steps
If you still can't open Aliens Dark Descent, try to do the following:
❌ Close other apps: Apps running in the background while you are trying to launch ADD will use your PC resources and cause compatibility issues, so the best is to close them.
🛡 Temporarily disable the antivirus: Like the Windows Firewall, your antivirus can treat the game as a security threat. If this turns out to be accurate, whitelist ADD and re-enable the antivirus.
⬆ Update Windows: If any Windows components or the OS is outdated, your system might not have all the dependencies needed for the game to run. Install any pending updates and restart your PC.
Related articles:
Conclusion
Let us know if these solutions effectively troubleshoot the Aliens Dark Descent won't launch issue. Share with us any additional solutions you find!